2-PIECE VS. 3-PIECE SUIT: WHAT'S THE DIFFERENCE?
The kind of suit you choose is a great way to reflect your personality since the styles, designs and fabrics are endless.
Whether you opt for a 2-piece suit or a 3-piece suit, there's simply not one look that fits all. The kind of suit you wear can also be influenced by the occasion you're heading to, and what time of year you plan to wear it.
Starting off with the fundamentals of choosing what suit to wear, a common question is "should I buy a 2-piece or 3-piece suit?"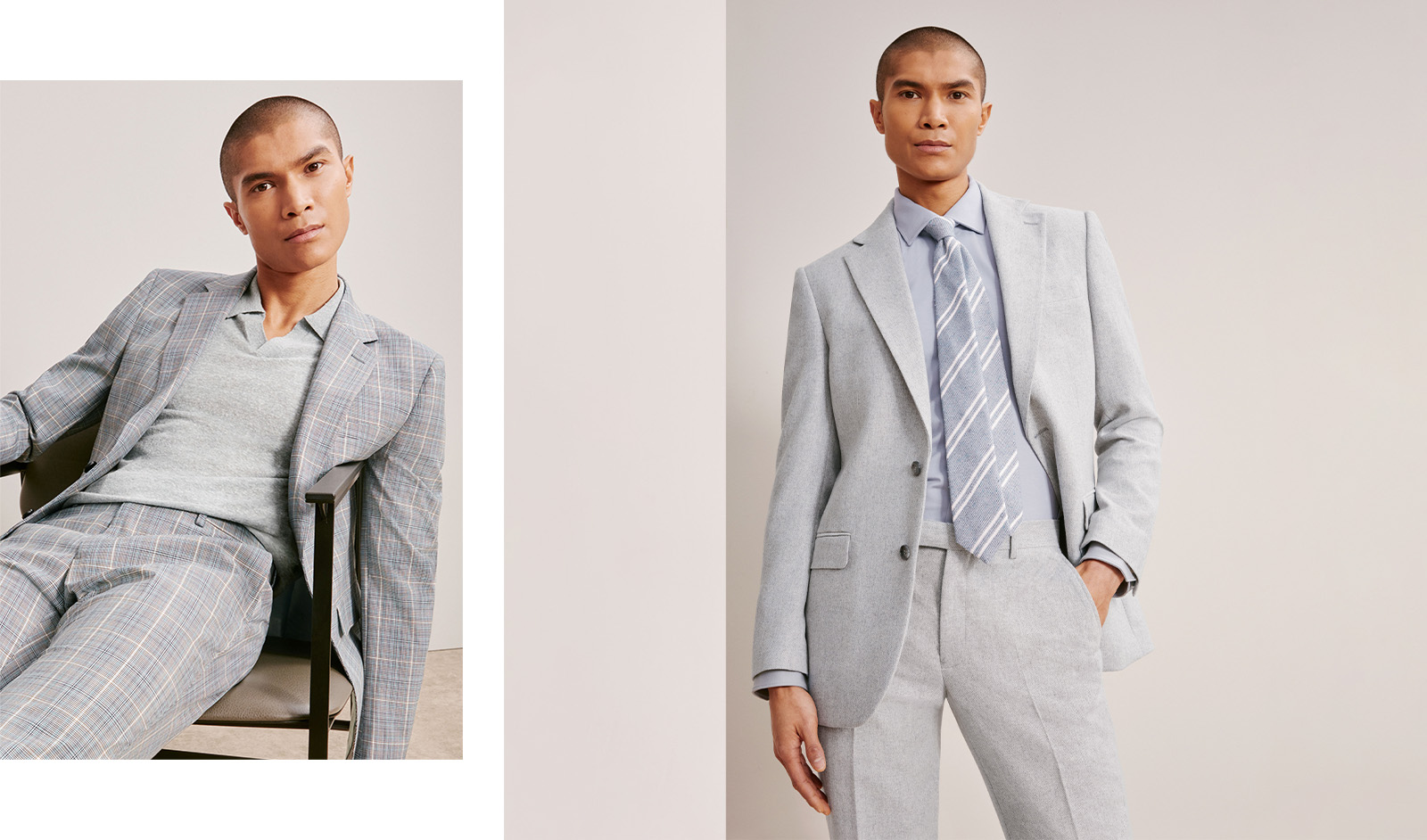 WHAT IS A 2-PIECE SUIT?
A 2-piece suit is exactly as you might imagine: the duo consists of suit jacket and matching trousers. It is simple yet effective and if you choose the right one, it can be perfect for many occasions, from date night right through to that big job interview you've been prepping for.
To find the right one for you, you'll need to choose a fit that suits your body shape, and the right material. If you nail this, you'll be making a great investment that'll serve you for years to come.
One big reason to invest in a 2-piece suit is the level of versatility that comes with it. You can break the duo apart and style it down with your everyday favourites.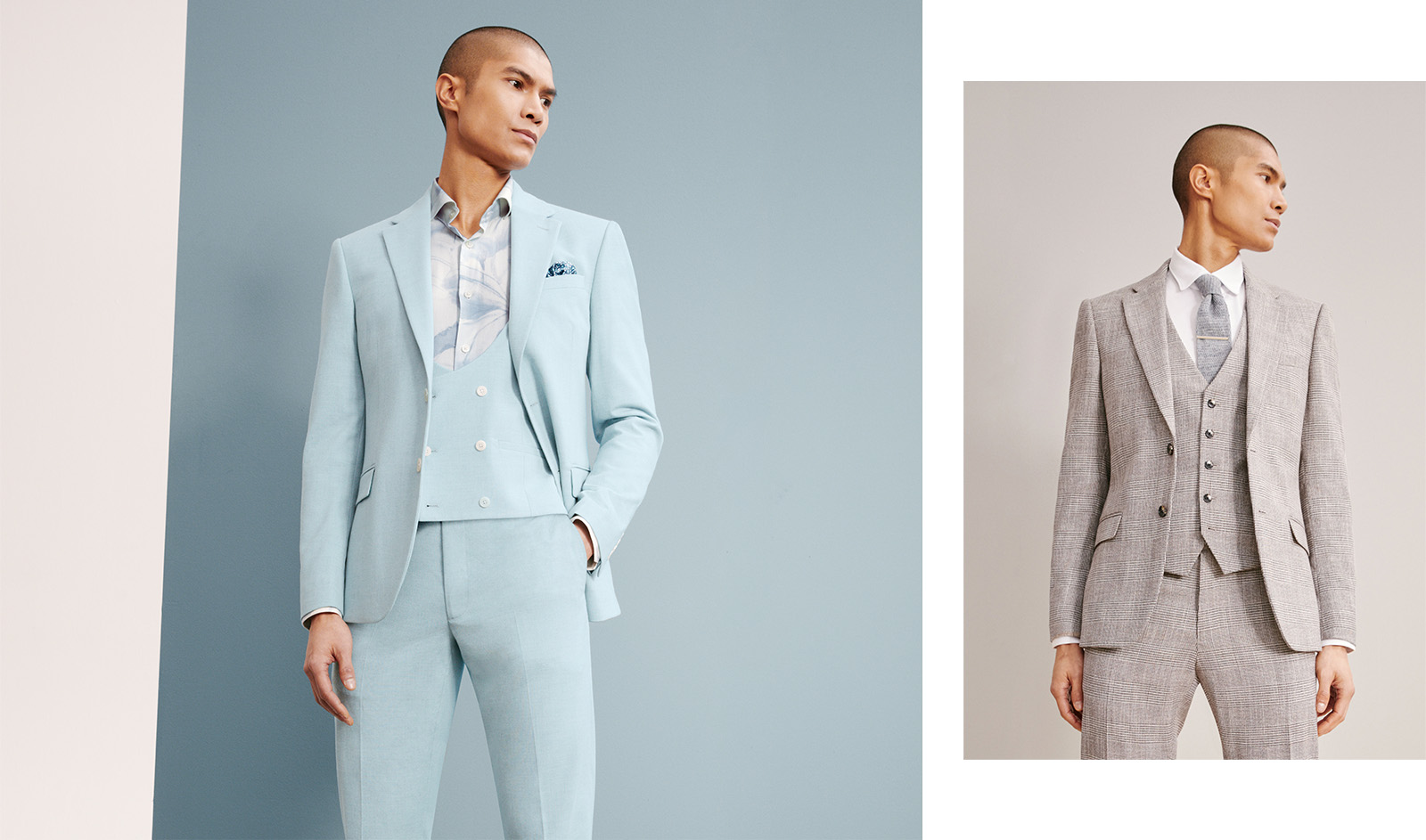 WHAT IS A 3-PIECE SUIT?
Where a 2-piece suit is great for versatility, nothing beats a 3-piece tailored suit if the occasion demands that you dress your best.
Sometimes called a waistcoat suit, a 3-piece suit consists of a matching set of waistcoat (vest), jacket and trousers.
Typically, this type of suit consists of a double-breasted vest worn under a single-breasted jacket. However, for some, this can be seen as a risky fashion move and thankfully there are plenty of alternatives if traditional isn't your thing.
Three-piece suits are usually referred to as a men's full suit, and mostly associated with formal occasions. It should be worn with a coordinating shirt, tie and shoes.
This is your moment to dress to impress. An easy way to make a style statement is to mix and match your waistcoat suits. Combine different colours and patterns to reflect your personal style.
WHAT OTHER TYPES OF MEN'S SUITS ARE THERE?
Usually, the three most popular styles of men's suits are slim fit suits, tailored suits, and classic fit suits, but they don't stop there. There are so many other details to look for when choosing the right suit. Patterns, textures, trouser styles and lapels can all play a big role in finding the perfect suit for the occasion.
TWEED SUITS
If you're looking for a suit for a country wedding or hoping to stand out at your next event, tweed suits are a great choice.
Whether it's a 3-piece or 2-piece suit, well-tailored tweed presents a modern take on a British classic. You also have the option to dress it up or down, pair your tweed jacket with a pair of chinos or jeans for a more casual look, or sharpen it up by adding a custom-made buttoned shirt.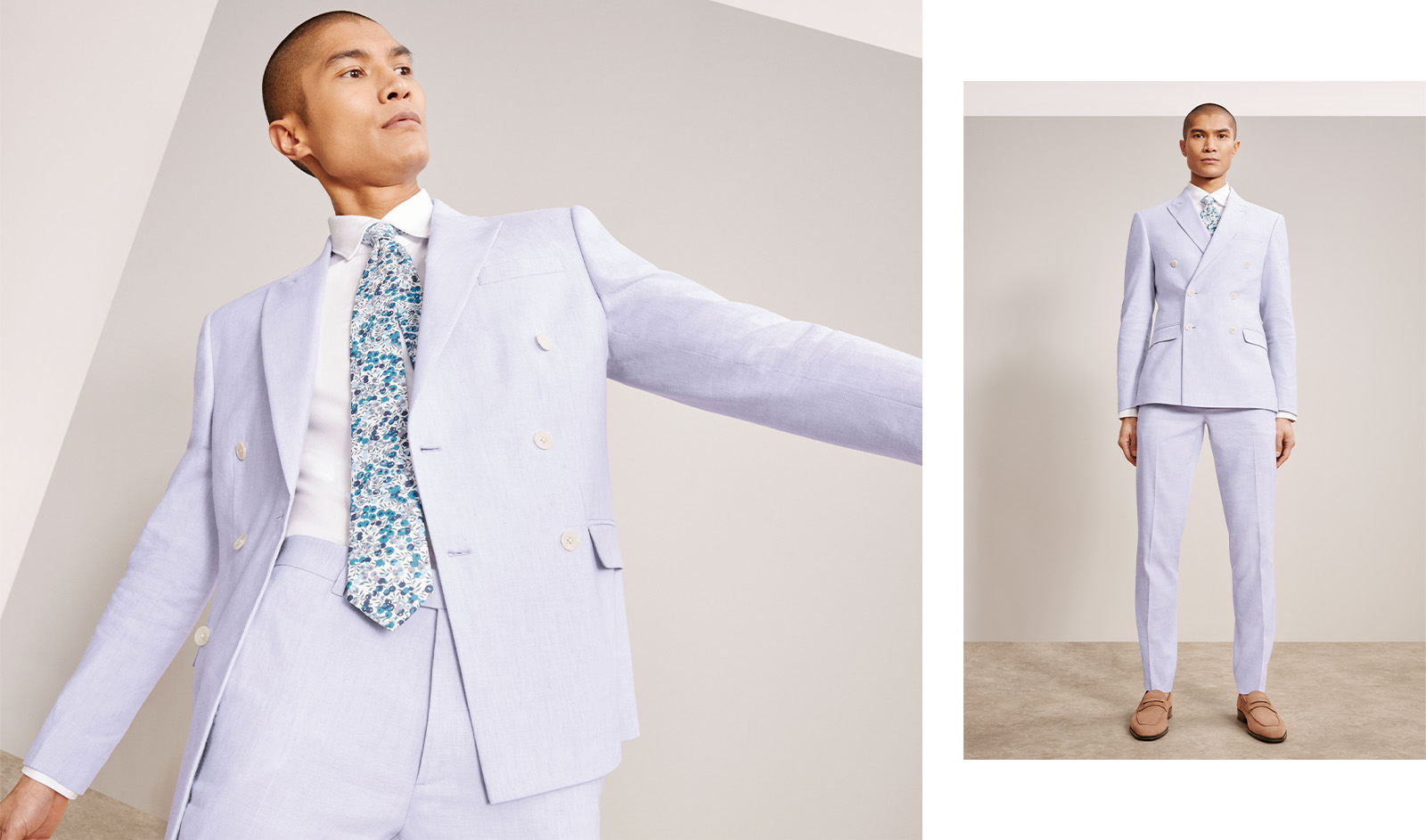 LINEN SUITS
Prepare for those balmy summer evenings, destination weddings and special events during the warmer months with a linen suit.
The combination of a tailored suit and natural fibres is perfect for the blazing hot weather as the material is lightweight and airy, shaking off any hint of dishevelment.
Buggy-lined jackets will help avoid bulkiness, so your profile will look sharp and you'll remain cool without compromising one bit of style.
CHECK SUITS
This summer, be bold and try a check suit. Whether it's a more subtle, muted check or a strong, contrasting windowpane fabric, a check suit will give you a modern look this season.
Check suits are perfect for many events, whether you're going to work or a wedding. Mix it up and combine colours and patterns, pair your 2-piece check suit with a monotone waistcoat, or a monochrome and wear your 2-piece with a check waistcoat.
TUXEDOS
As the height of the wedding season approaches, look the part in a stylish and classic tuxedo. Make a lasting impression at that black-tie event, wedding reception or prom night. A true upgrade to the traditional 3-piece suit, pair your tuxedo with a crisp white dinner shirt and don't forget a pair of cufflinks.
Are you planning to invest in a new suit for your next wedding or event? Explore our custom-made range of 2-piece and 3-piece suits. Look to leading brands like Moss, Ted Baker and Ermenegildo Zegna Cloth to nail your look.