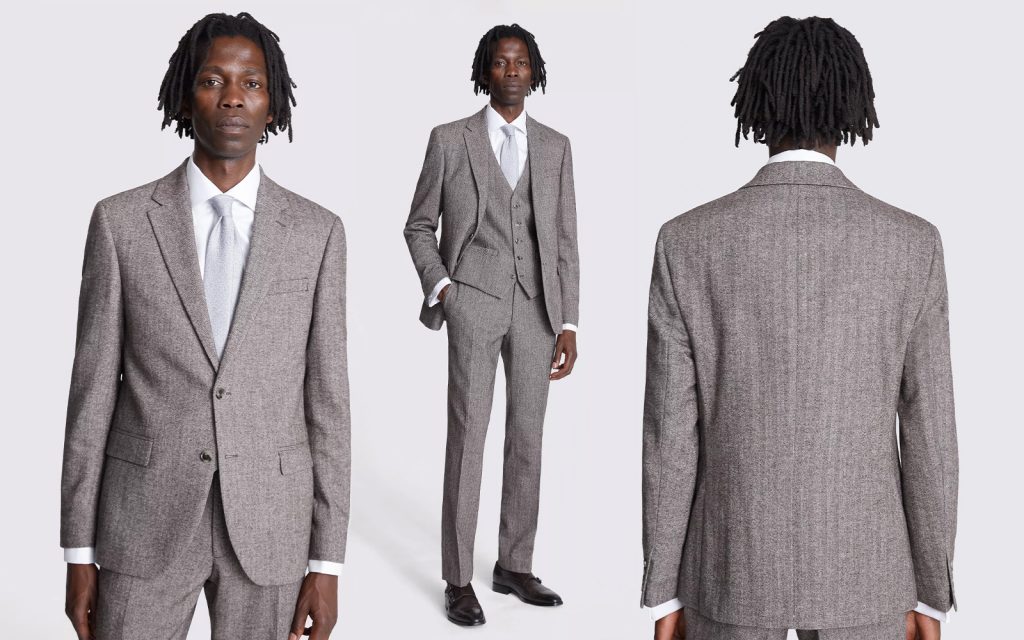 HERE ARE THE TOP-TIER FABRICS WE'VE FOCUSED ON THIS SEASON
Every season we work harder to bring you the everyday wardrobe staples you need, created with our tailoring know-how and decades-long commitment to quality. From super-soft worker joggers to warm coats, to the jackets and suits we're known for, we're bringing you all the pieces to round out your wardrobe in winter fabrics you'll love to. Read on to learn more about our favourite winter fabrics.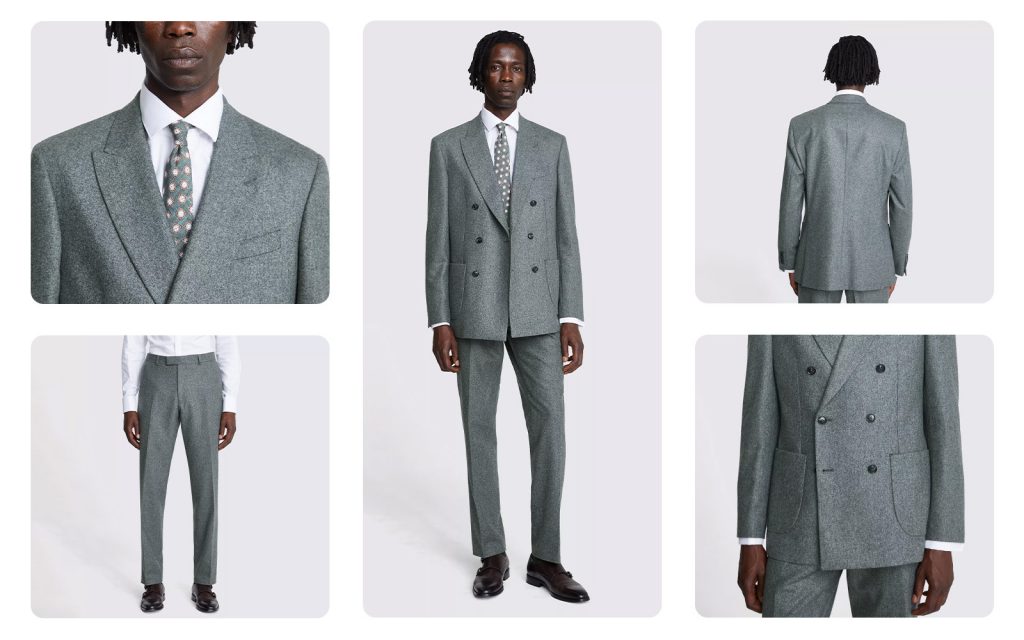 Flannel
Flannel, with its brushed finish and breathable warmth, is a great option for winterwear. From suits to shackets to puffers, it's a durable, wearable material that'll hold its shape over time – plus it's lightweight and comfy to wear.
This season at Moss, you'll find our go-to flannel suits and shirts in updated, on-trend colours. Our sage suit is crafted from the finest Italian wool and cut to a tailored fit, making it a great choice for winter weddings. Worn as separates or together, it'll keep you warm on cooler days without compromising on smart.
You'll also find our new favourite worker joggers in updated tones too, as well as a navy flannel gilet that will see you through the commute as well as office days. No matter the flannel piece you choose this season, you'll love layering it or wearing it on its own on slightly warmer days.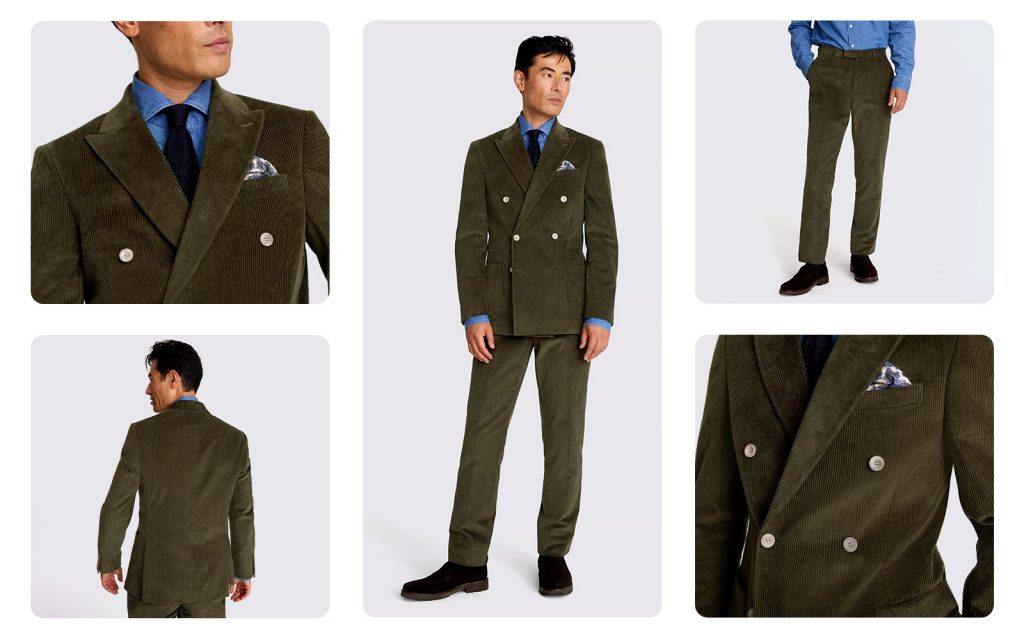 Corduroy
Cord is another classic fabric that's been reworked to fit with this season's style. It may be comfortable and easy to wear, but it has a reputation for being a bit outdated.
Thankfully, our contemporary cord pieces are anything but. Cut in tailored and slim fits, our corduroy suits come in plenty of different colours and various cord weights that work well for every occasion. Our olive green cord suit is a particular favourite, crafted from a fine needlecord to sculpt the frame, and features a double breasted closure for a smarter feel. It also comes in a season-appropriate red colour, which works great as separates or as a suit.
You can still go casual with cord by going for an overshirt – our vicuna shirt comes in a sophisticated and autumnal chestnut tone – or pairing some cord trousers with a jumper or t-shirt. The ribbed texture makes cord a strong fabric that lasts, ensuring it's great for everyday wear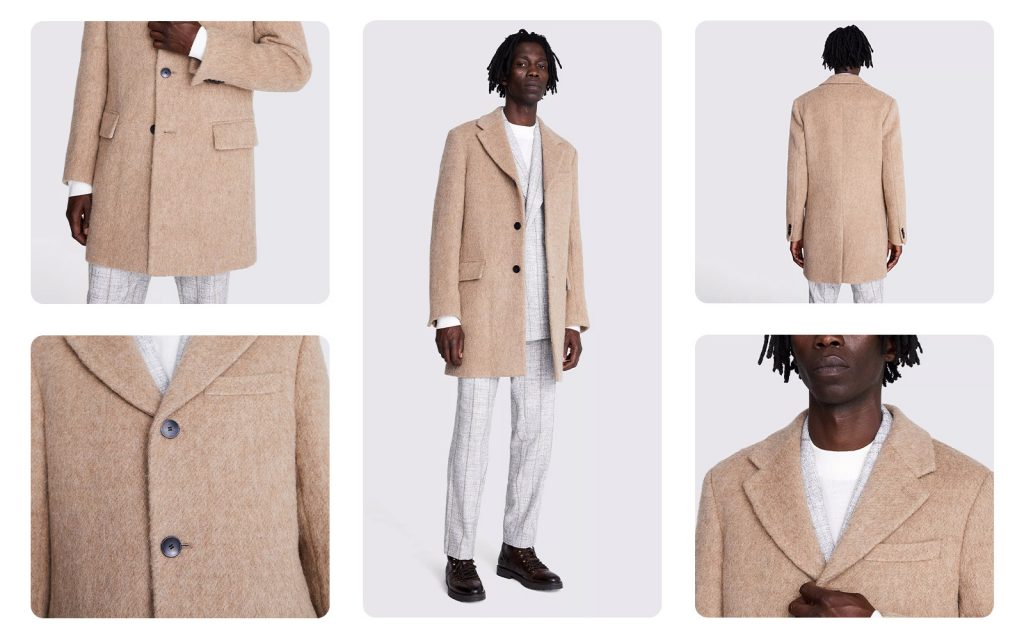 Wool
From woolly coats that add both warmth and refinement to an outfit, to comfortable jumpers that are smart enough to wear for any occasion, wool is a winter must-have.
There's a reason it has been a fabric of choice for centuries – it's practical, warm and looks good in every setting. Plus it comes from a natural source and comes in lots of different finishes, from fine knit cashmere jumpers through to pure wool suits. Add some texture to your outfit with a chunky knit, choose to layer it up in a fine knit merino jumper, or go head to toe wool in a luxurious pinstripe wool suit. Our camel brushed overcoat does wonders as a top layer – made from 100% wool in a brushed finish, it can easily work as an extension of your suiting, but can uplift a casual outfit too.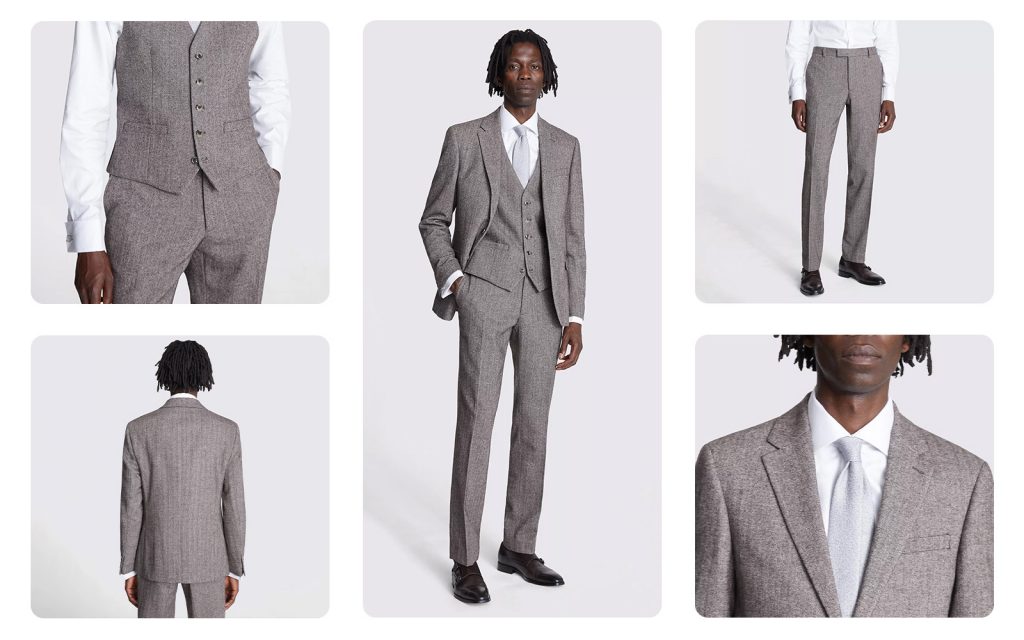 Tweed
You might see tweed as a rather traditional choice of fabric. And while that may often be the case, tweed doesn't have to feel old fashioned. Our tweed suits offer timeless elegance, whether you're wearing them somewhere formal or as part of a more casual look. Tweed has a slightly rustic, heritage feel that makes it good for dressing up or down – and it's not just for the countryside.
If you're wearing tweed to a winter wedding, go for a macro herringbone weave like our slim fit brown tweed suit. It feels slightly more contemporary than a larger weave, and can be worn as a three piece, two piece or as separates. If you're going for a rustic feel, accessorise with a tweed baker boy cap. For more casual looks, tweed trousers go particularly well with chunky knitwear and boots, so if you want to add some texture into your outfit, tweed is the way to go. It has a coarser, more rugged feel that's warm and cosy, and works especially well in the colder months.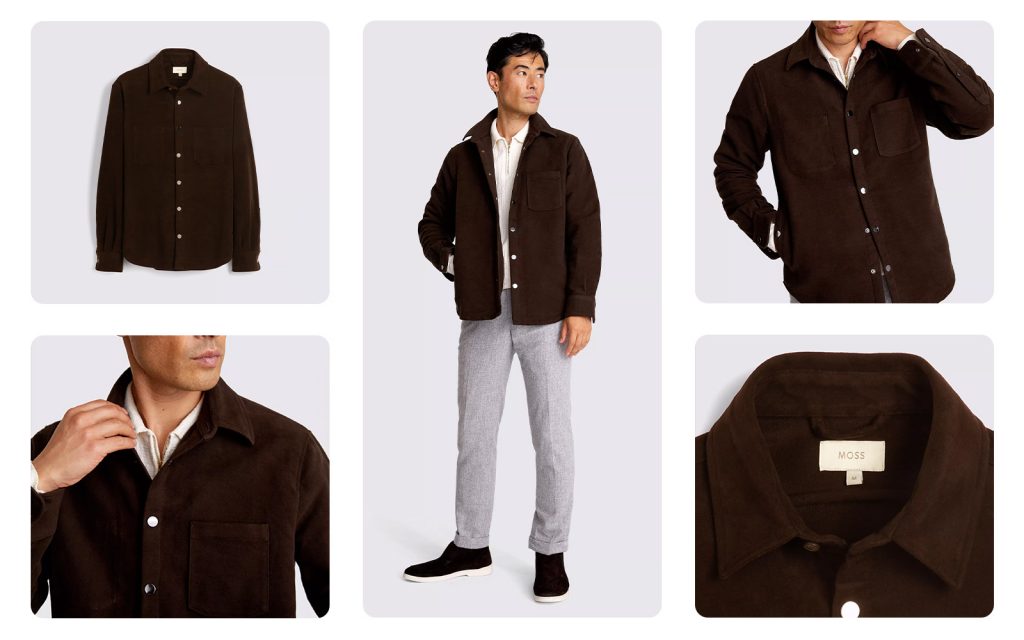 Moleskin
Soft, velvety and luxurious, moleskin is also known for being hardwearing and great for everyday wear. It also drapes really well, making it a tailoring favourite too.
Beyond its durability, moleskin can elevate almost any outfit. From tailored moleskin trousers through to shirts and shackets, it's cosy, soft to the touch and feels great against your skin. Our moleskin overshirt is crafted from 100% cotton and has a sateen effect, offering a super-soft hand feel that makes it a great winter layering piece.
Need some tips for your colder weather styling? Here's our guide to how to build your autumn/winter wardrobe.