BEST PHOTO LOCATIONS IN BRIGHTON REVEALED
An analysis of TripAdvisor reviews, Google Maps ratings and how many times photos of an attraction have been shared on social media has revealed Brighton's best photo locations. This data has been collated to celebrate the opening of our new Moss Brighton store, for your casualwear, menswear, formalwear and men's suits in Brighton.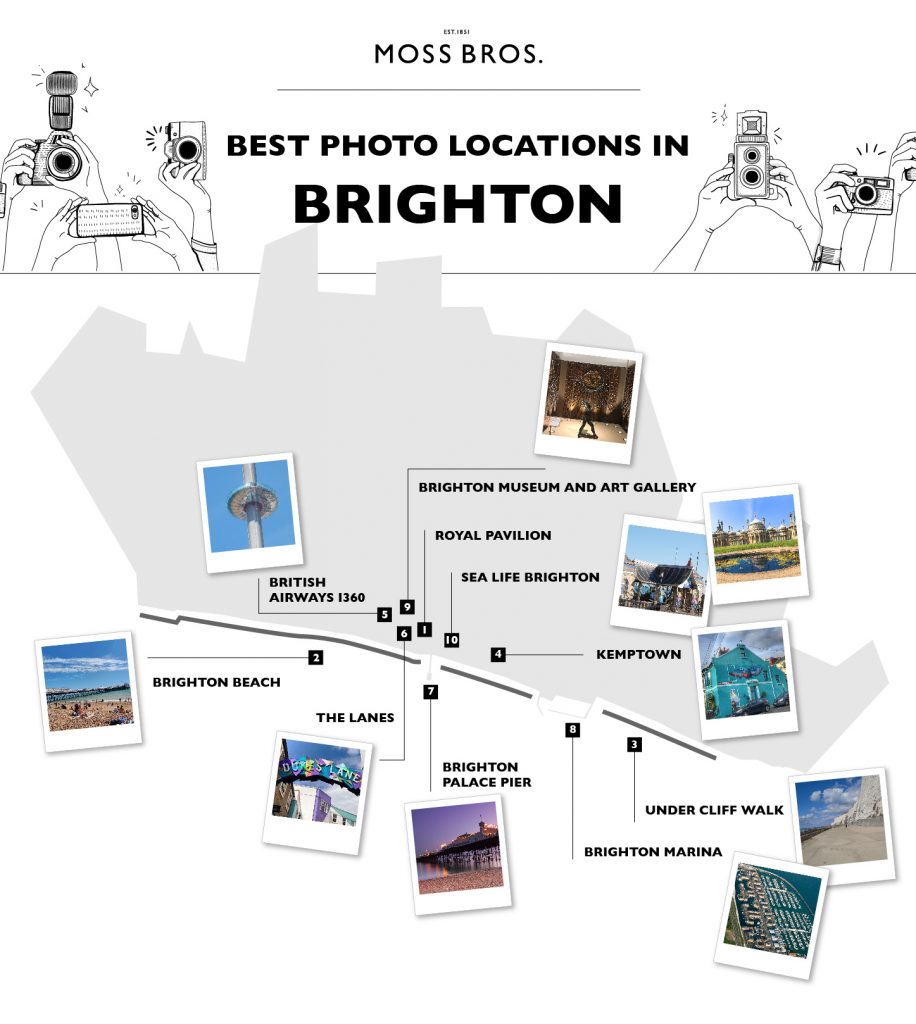 The Royal Pavilion
According to the data, the best photo location in Brighton is The Royal Pavilion. Also known as Brighton Pavilion, this Grade I listed former royal residence was built as a seaside retreat for George, Prince of Wales in 1787.
It's now a public attraction, iconic wedding venue and museum with over 400,000 visitors per year. Filming and photography is allowed at the venue, with over 44,000 Instagram tags sharing the gothic and Indo-Saracenic architecture.
Visitors to the Royal Pavilion described it as "spectacular," "beautiful," and "well worth a visit."
Brighton Beach
Brighton Beach has been voted as one of the top 10 city beach break destinations in the world. Plus, it's one of the most famous beaches in the UK, so it's no surprise it's also one of the best photo locations in Brighton.
The pebble beach is surrounded by certified Blue Flag waters and a four-mile promenade, with plenty of water sports, a pier and traditional fairground. It was tagged on Instagram over 970,000 times in the last year, making it Brighton's most tagged attraction.
Visitors to Brighton Beach said that it was "beautiful" and praised the entertainment, water sports and refreshment options available on and around the beach.
Undercliff Walk
Running from Brighton Marina to the Brighton & Hove City boundary at Saltdean, the Undercliff Walk pathway is just over  five km long and is accessible on foot, as a wheelchair user or by bike. It's a popular running route as it's uninterrupted and gives great views of the sea. Part of Brighton's coastal defences, this route protects the city from erosion, with dramatic waves crashing into the seawalls below
It's rated highly on Google and TripAdvisor, with visitors praising it as an accessible route that's also great for running or relaxing.
Kemptown
Brighton has a reputation as the UK's LGBTQ+ capital, and has been for hundreds of years. Kemptown is at the heart of this today. It's an area of Brighton that centres on St. James's Street, and features a range of bars, clubs, cafes and B&Bs adorned with rainbow flags. You'll find vintage fashion, vinyl, antiques, boutiques and the Brighton Flea Market sitting alongside the Marlborough Pub & Theatre, known for its drama and cabaret performances.
It's been tagged more than 41,000 times on Instagram and rated highly across both TripAdvisor and Google Reviews.
British Airways i360
This glass viewing pod allows you to enjoy 360-degree views of Brighton, the South Downs and the coastline. You'll be able to see Brighton's landmarks, rooftop art, windfarms and the coastal views from Seven Sisters cliffs right through to the Isle of Wight.
Designed by Marks Barfield Architects, who designed the London Eye, it opened in 2016 as Britain's first 'vertical pier' and serves drinks from the South coast's highest bar. Visitors praised the excellent views and the great experience, rating it highly on Google Maps and on TripAdvisor.
The Lanes
The Lanes make up part of Brighton's rich history, with 16th and 17th century houses and a medieval town feel. It has the oldest pub in Brighton's centre, immortalised in Graham Greene's classic novel Brighton Rock, and is filled with independent boutiques, jewellery shops and antique shops. It also has plenty of places to eat and drink while you visit, with everything from traditional pubs and tea rooms to fantastic restaurants.
It's rated highly on TripAdvisor, and has been tagged in photos almost 44,000 times. Visitors praise the atmosphere of the area and the fact that there's plenty to do when you visit this location.
Brighton Palace Pier
Brighton Palace Pier (also known as 'Brighton Pier') is a Grade II listed pier in the city centre of Brighton and is the only pier that's still in operation. It's an entertainment venue with fairground rides, coastal views and places to grab food and drink. It has millions of visitors every year and is regularly featured in film, TV and books.
Visitors praised it on TripAdvisor and Google for its entertainment, nostalgia and the fact that it's an iconic Brighton destination. It was tagged in over 27,000 photos by visitors to the city.
Brighton Marina
Brighton Marina is one of the biggest marinas in Europe and centres on the harbour. It's full of places for food and drinks, boutiques, shops, galleries and crafts. From here you can charter a boat, head out fishing or diving and see the Brighton Walk of Fame. Whether it's a weekday or a weekend, there's plenty to do here.
Visitors to Brighton shared their love of the welcoming destination and the choice of places to shop and eat, tagging it over 46,000 times on their socials.
Find your local Moss store.