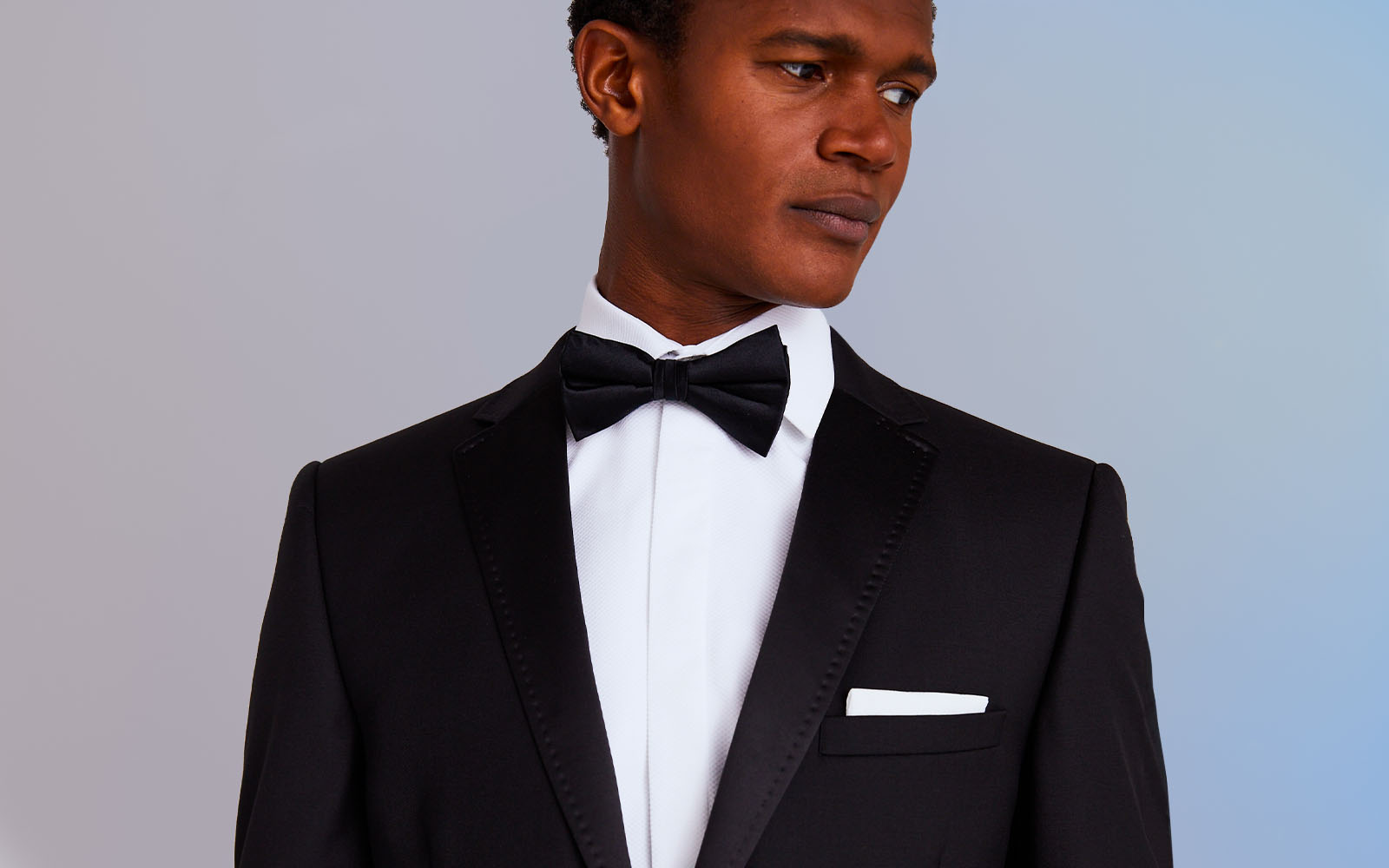 EVERYTHING YOU NEED TO KNOW ABOUT BLACK TIE DRESS CODES
Looking forward to an upcoming wedding but need inspiration for the strictly black tie dress code? Our quick guide to sophisticated black tie wedding attire for men will have you looking your best in no time.
What is a black tie wedding?
A wedding with a black tie dress code is as formal as it gets. The gents in the wedding party will be dressed to the nines, wearing black tuxedos and white dress shirts, likely accessorised with bow ties and cummerbunds.
Wedding guests are also expected to dress formally in a tuxedo or dinner suit with elegant accessories.
What sets tuxedos apart from regular suits? Tuxedo jackets have satin facing on the lapels, while standard suit jackets don't. Tuxedo trousers have a stripe of matching satin running down the outer seam. This adds an extra touch of sophistication to the suit. Read more about tuxedos vs. suits here.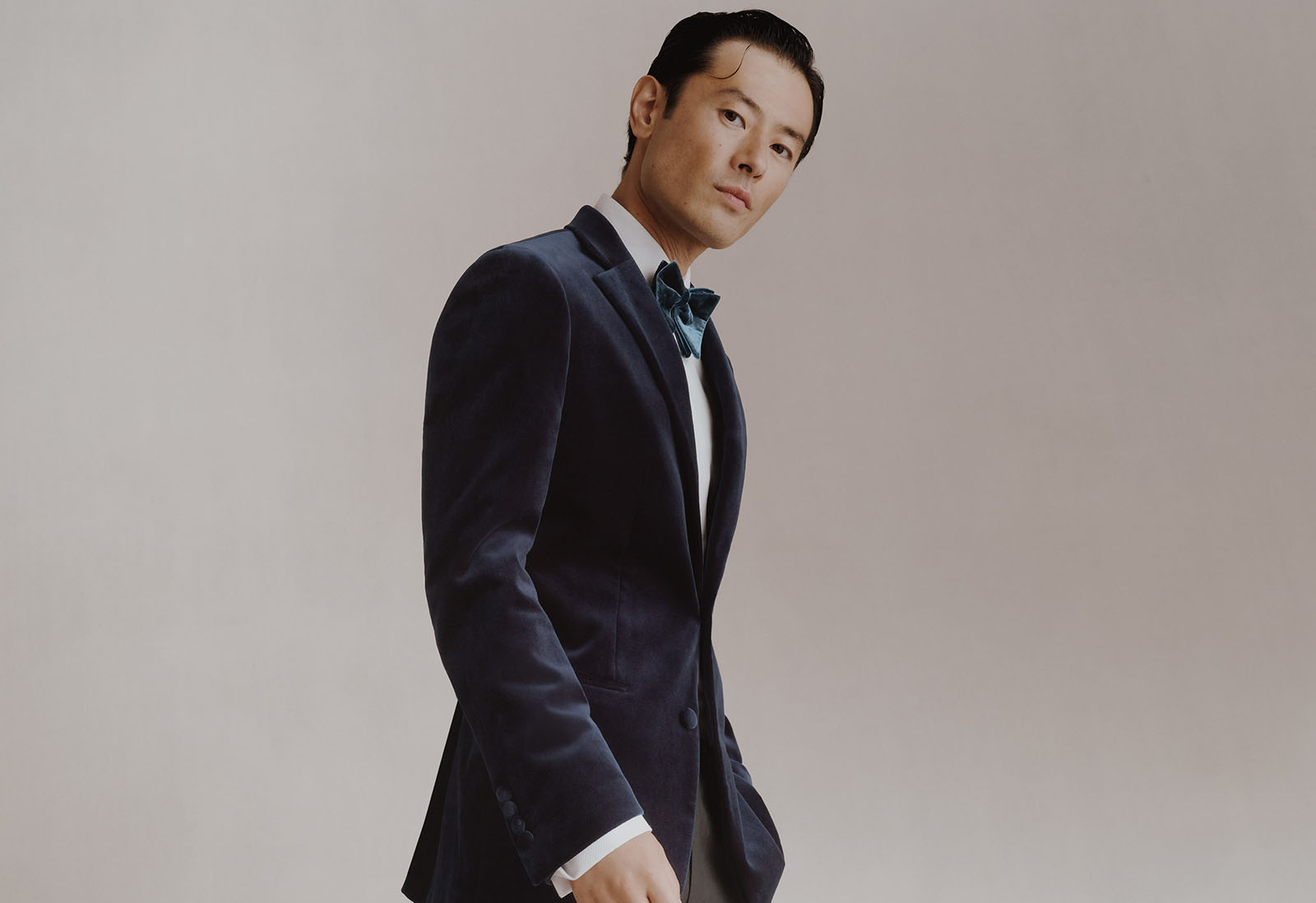 What should men wear to a black tie wedding?
Here's what to look for when choosing your black tie outfit:
Shirt: This should be a white dress shirt, preferably in a style known as Marcella or piqué, meaning the fabric of the shirt has a naturally stiff cotton weave. Choose a shirt with a classic turn-down collar and white or black buttons. Your shirt should also have a double cuff (also called a French cuff), and you'll need a smart pair of cufflinks to go with it.
Jacket and trousers: Wear a black dinner jacket or tuxedo jacket (the design must include buttons, pockets and satin lapels). Wear matching tuxedo trousers, which are high-waisted trousers that don't have belt loops or cuffs. They should also have a satin stripe down the outer seam of each leg.
Pocket square: A flat-fold pocket square in your tux jacket will add a little colour and tie the look together. Choose a silk or linen pocket square in a colour that complements your tie but doesn't match it.
Tie: Always wear a black bow tie for an event with a black tie dress code. The bow tie should be silk, hand tied, or pre-tied, but never a clip-on.
Shoes: Patent shoes in black are the ideal pairing for a tuxedo suit.
Waistcoat: Waistcoats are optional, but if you want to add one to your outfit, make sure it matches your suit. You could also wear a cummerbund instead of a waistcoat but never wear the two together.
Suspenders: Tuxedo trousers aren't designed to be worn with a belt, so if you're worried about a wardrobe malfunction or just looking to style your tuxedo with a finishing detail, suspenders are the way to go. Choose a high-quality fabric and a colour that complements your suit, like black, white or a dark neutral colour like navy or charcoal.
Modernising the black tie wedding dress code
You might find it ironic to hear that back in the 1880s, black tie was considered a way of dressing down rather than dressing up. Edward VII popularised the trend by wearing a silk suit (a smoking jacket and matching trousers) as a more comfortable alternative to the traditional knee-length tailcoat. Today, however, it's one of our most formal event dress codes.
There are a few ways to put a modern spin on a black tie ensemble and add your own signature style. It's all in the details – you can choose a colourful pocket square or a unique pair of cufflinks to make your outfit stand out.
More daring modern takes on the black tie dress code include wearing a velvet jacket instead of the traditional tuxedo jacket or replacing the traditional black bow tie with a much bolder colour. However, if you're going to a wedding, it's always best to stick with the classics – it's considered bad form to wear something too flashy that will upstage the bride and groom. Channel your inner 007 with a time-honoured black tux and bowtie, and save the more adventurous style choices for another time.
For a black tie look that's all about style and confidence, browse the selection of formal men's attire from Moss.