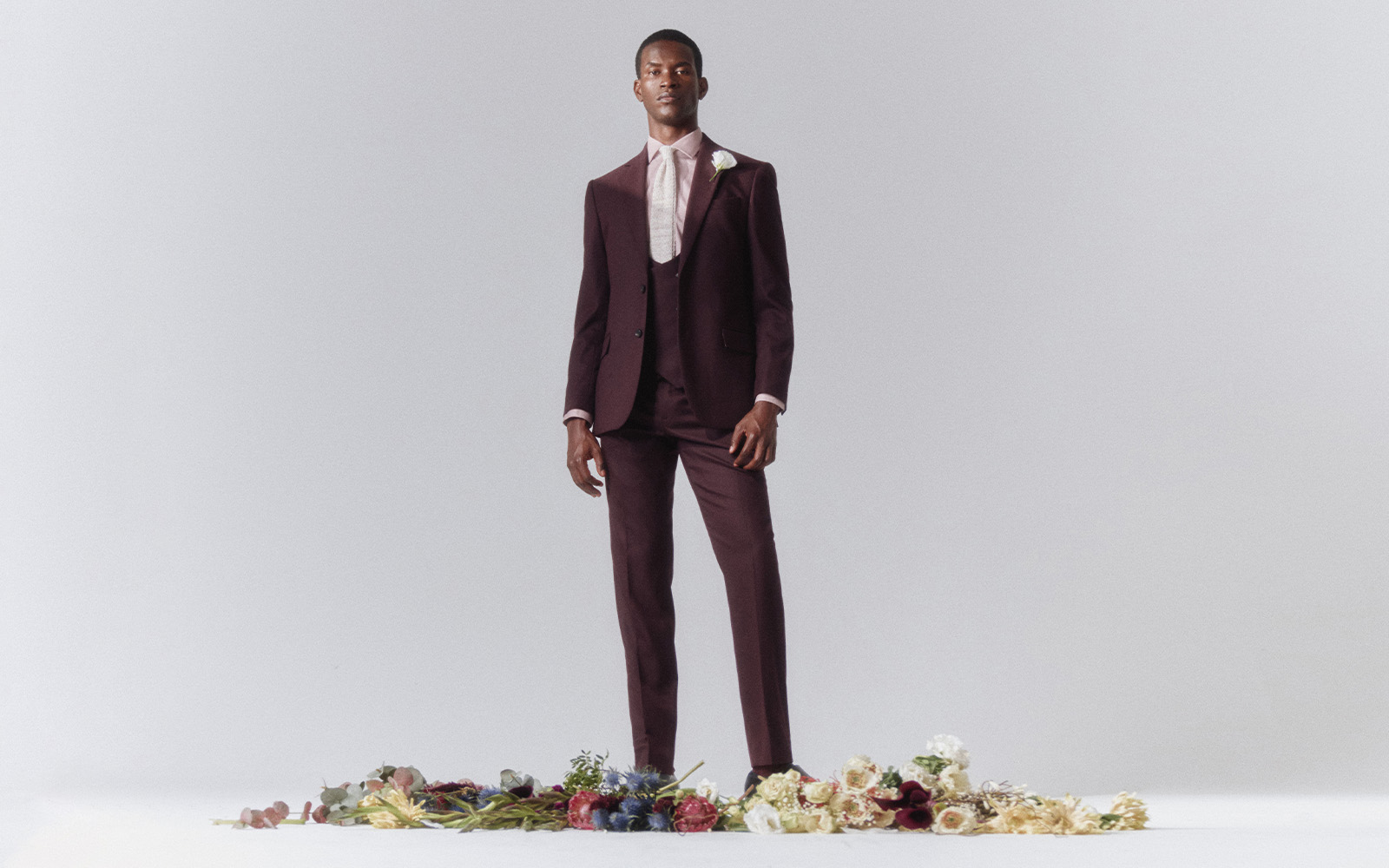 GROOM'S WINTER WEDDING STYLE
If your big day is happening in the coldest months of the year, summery groom staples aren't going to cut it in a draughty church or wintry outdoor wedding shots. So, what to wear?
Your wedding's location and styling themes will influence your outfit – perhaps the flowers for your day will have a wintry theme, or your country manor location is more suited to a heritage look. There are still ways to stand out in a look that's all yours, though.
As a general rule, dark hues and winter-weight fabrics are made for crisp weather and shorter days, but cooler shades can also look great in winter light so don't be afraid to step beyond the cold-weather clichés.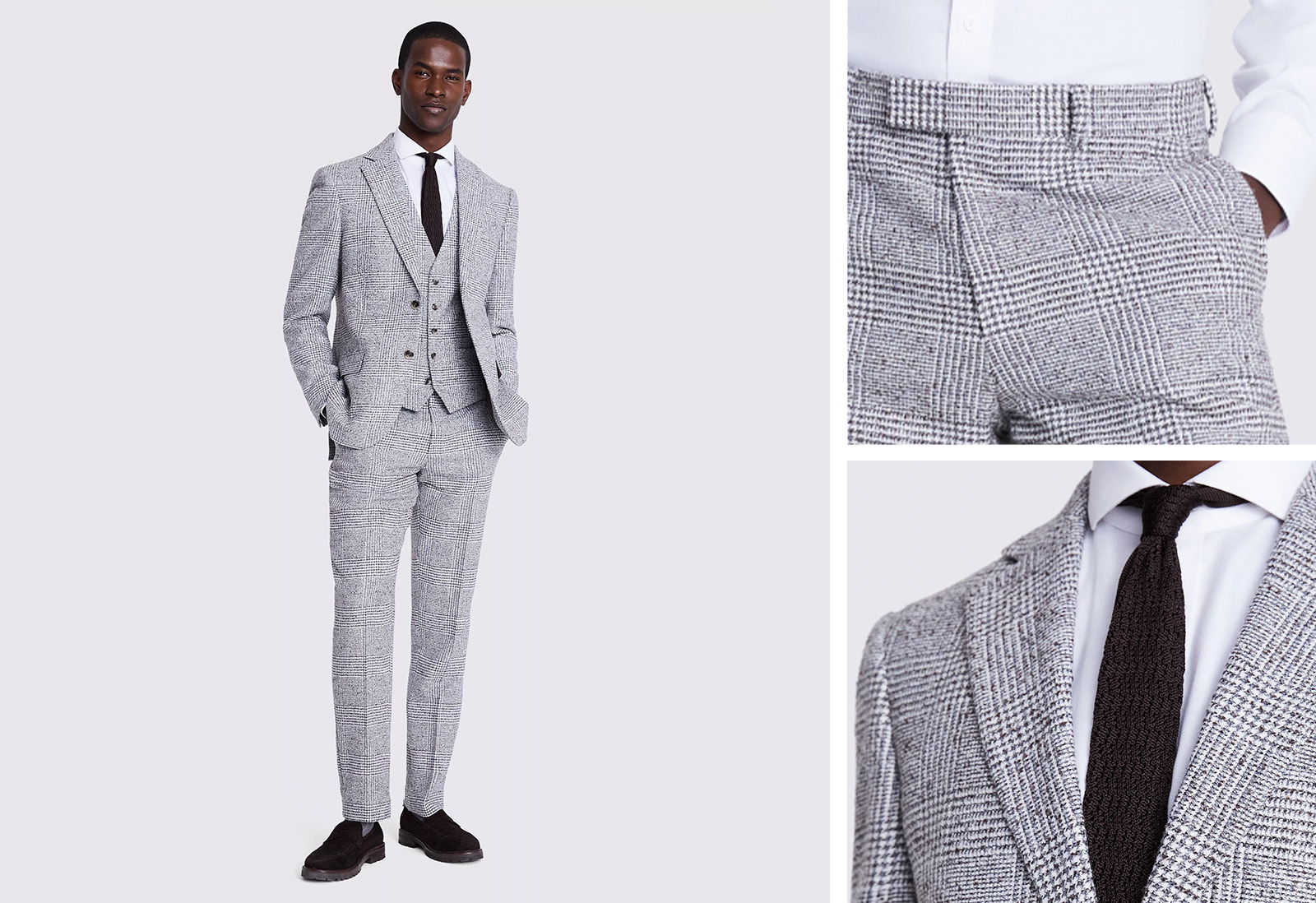 Tweed for grooms
Tweed tailoring is a popular choice for grooms, and with good reason. This heritage cloth has a warming hand-feel that's great for a rustic wedding theme. But today's tweeds also lend themselves to city celebrations and more minimalist tastes in sharp cuts and less traditional colours.
Crafted from a warm wool blend, our check tweed suit is designed for cold-weather occasions. It's not too heavy either, which means that you won't feel bogged down by fabric on your big day. And with a tailored fit, it offers definition on the shoulders on legs without feeling too restrictive.
For more texture, try a herringbone-weave tweed. With both visual and tactile interest, it's a proper departure from any weekday suiting – exactly as your wedding outfit should be.
Deep shades will particularly suit winter wedding days, but light grey or blue are curveball choices that will look great in icier themes. For accessories, a knitted tie and velvet dress slippers will set off the matte texture of your tweed suit nicely.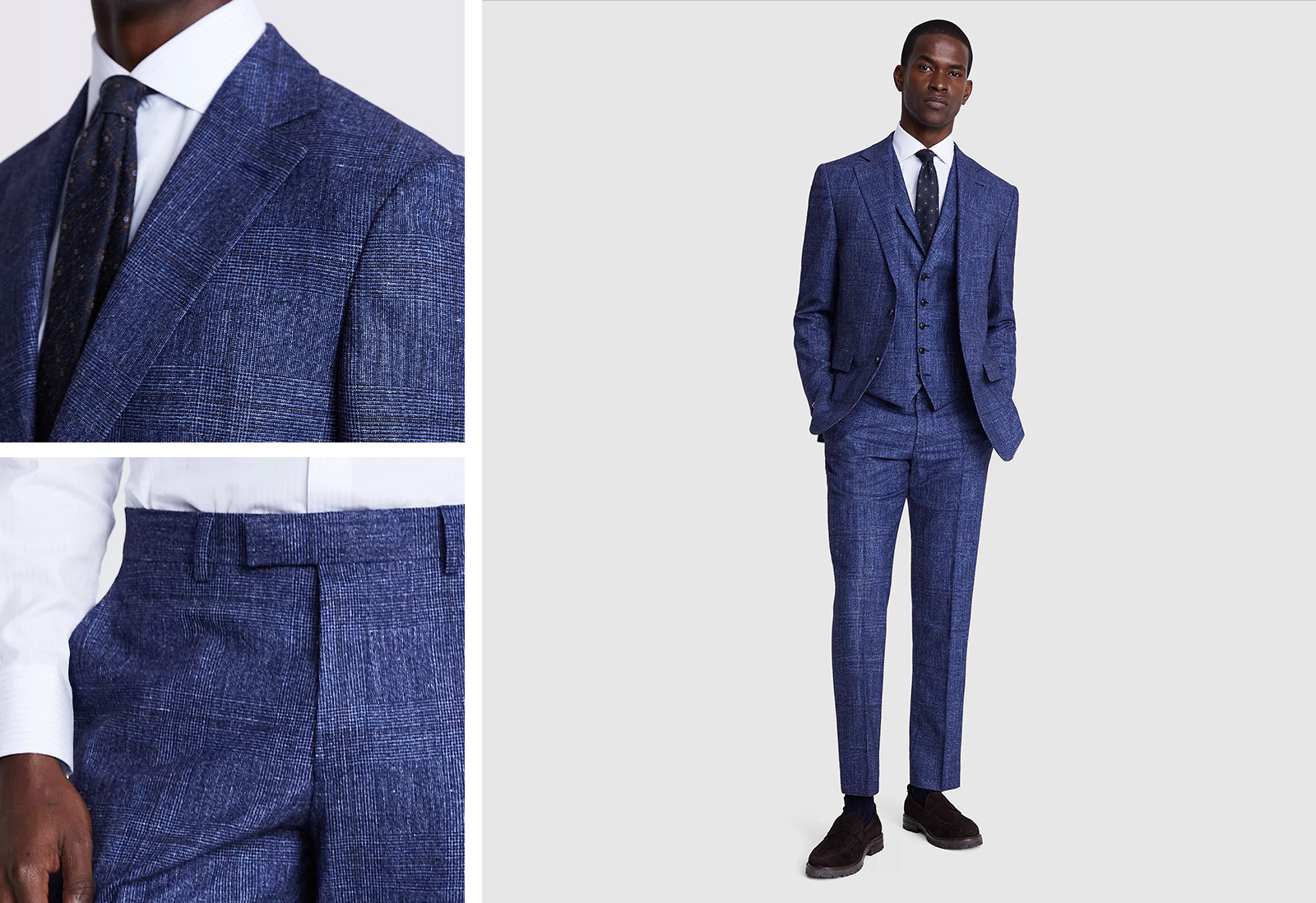 Checked wedding suits
Pattern's a bolder tailoring take on any day, but we're seeing more grooms squaring up to braver looks on their big days too. A classic Prince of Wales or glen check will never date, while graphic-check fabrics are a modern choice that'll set you apart from your guests.
Tone-on-tone check suits in navy or grey will always look elegant and form a great base for just about any shade of accessories. If you're looking to embrace the spotlight, there'll be no mistaking you for anything but the man of the moment in an Italian tailored fit number. This one is spun from 100% wool at Vitale Barberis Canonico, one of Italy's finest mills, with a luxurious textured finish.
Alternatively, make grey work even on grey days by choosing a checked suit with rich accent tones, like our grey and brown version above. It's made with insulating wool so will help to keep you warm no matter how long you have to pose in the cold for photos.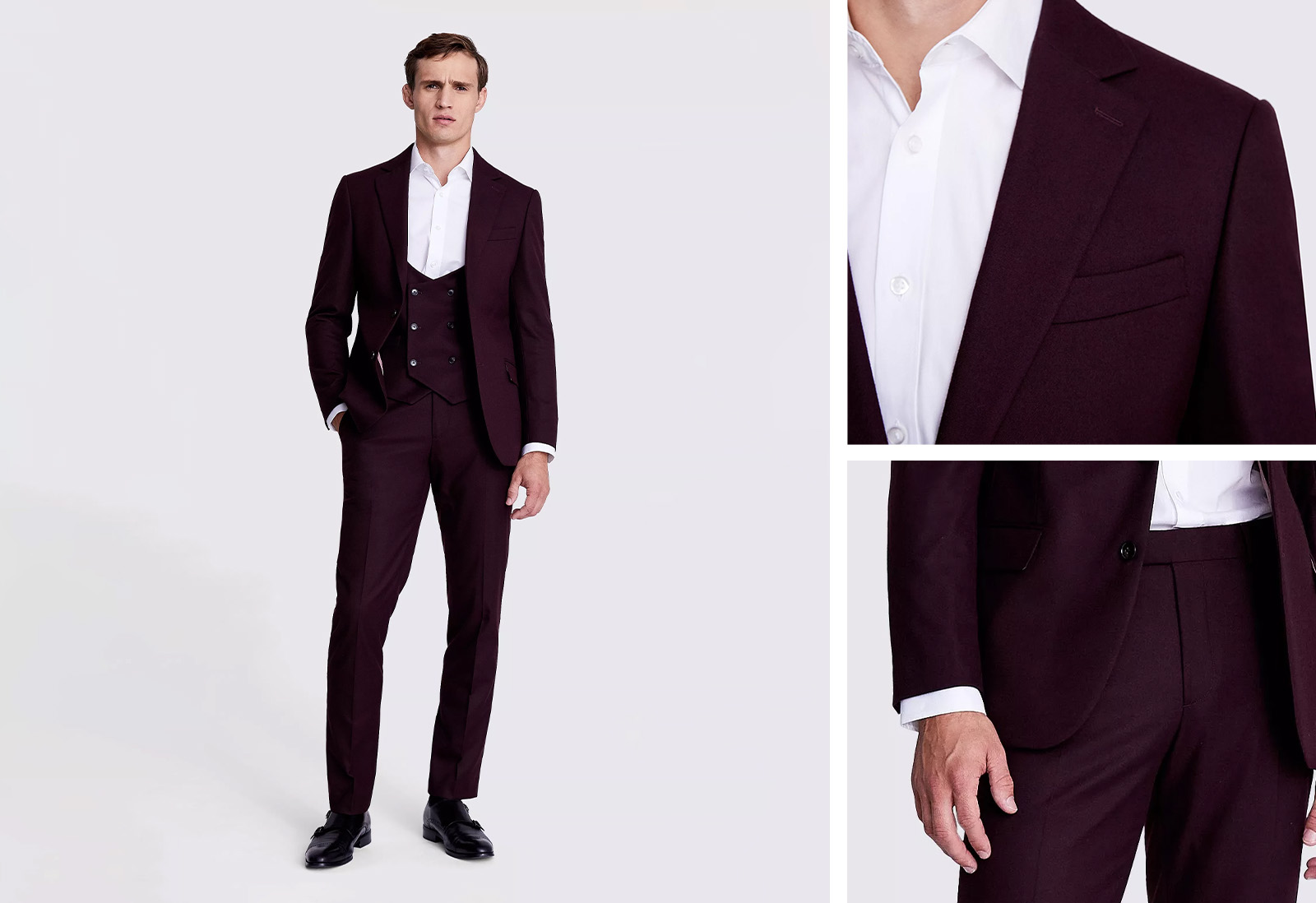 Flannel groom suits
If your big day's taking place in the depths of winter, you need a cloth that can stand up to the cold. Enter: flannel.
Spun using insulating wool, our flannel suits have a brushed finish that traps warm air, making them an extra warm choice. It was originally worn by Industrial Revolution railway workers, so if it can keep them warm you can rely on it to keep the cold out at your wedding – and you can get on with warming everyone's hearts with your vows instead.
Today, it's less workman and more refined with a super-soft handle and saturated colours like plum, green and blue in a modern, matte finish. Wear yours as a three-piece or try it with a woollen knit for a more relaxed take.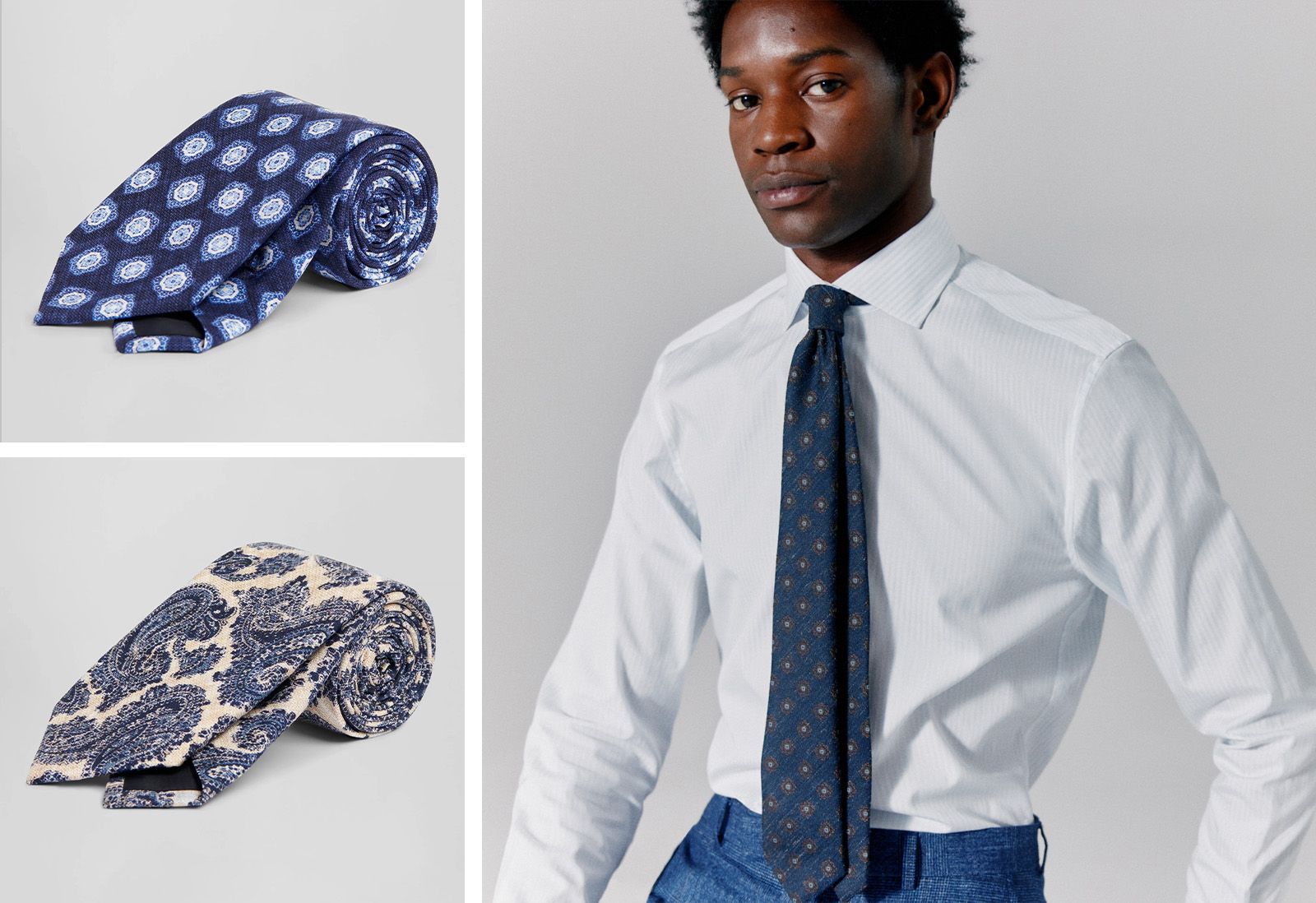 Groom's accessories
No groom outfit is complete without the small, distinct elements that bring it all together. As it's your big day, choose something that truly makes a statement with a silk tie, designed and hand printed at the Tessitura Bottinelli mill. Based in Italy's Lake Como, this family-run business has been crafting luxurious accessories for almost 100 years, using some of the world's finest silks.
Classic paisley is always a hit, but more muted patterns work equally well too. Add a matching pocket square and silver cufflinks for a sharp finish.