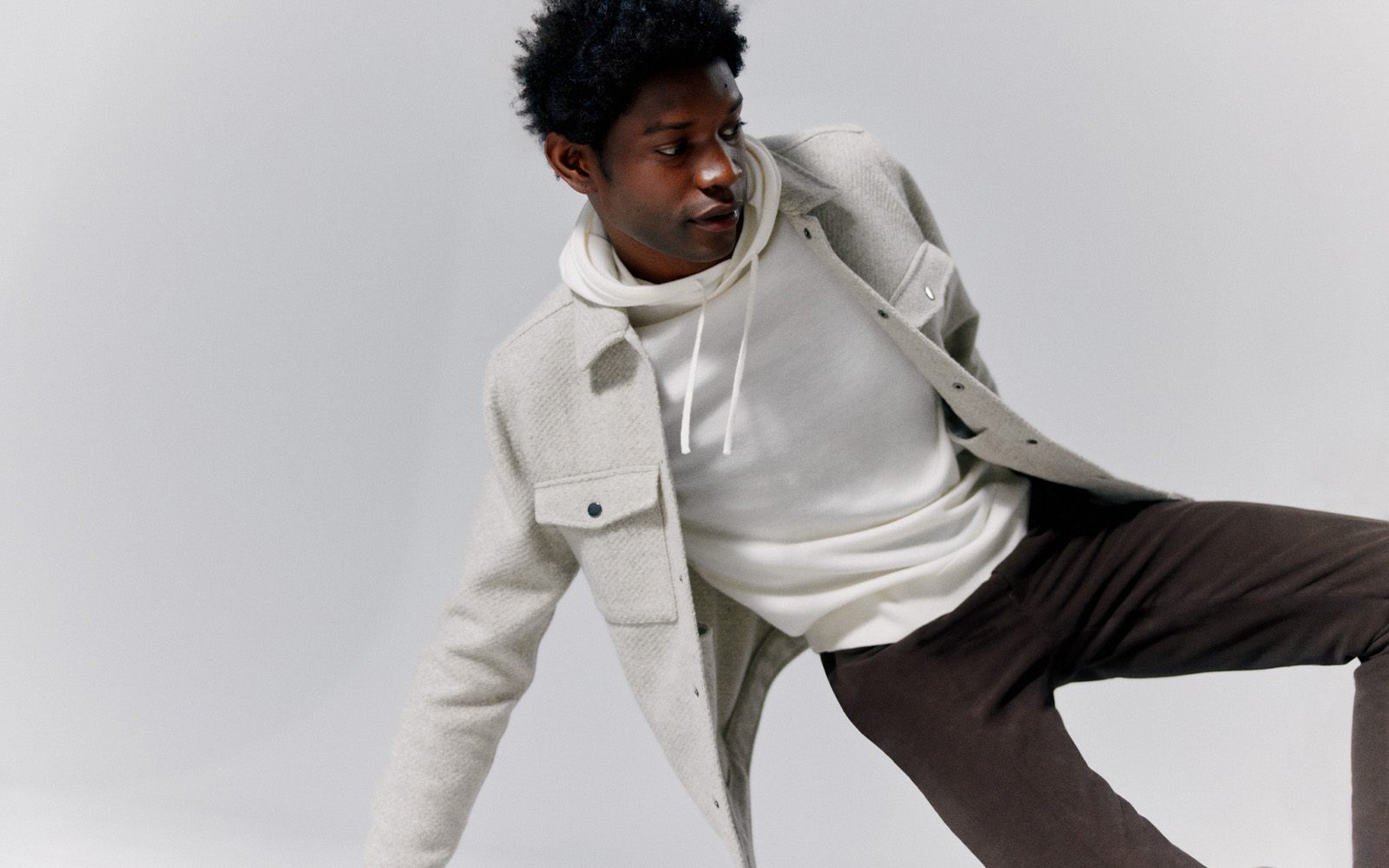 THIS IS HOW YOU LOOK AFTER MEN'S KNITWEAR
Knitwear is a styling hard-hitter for any winter wardrobe. Whether it's warm jumpers, roll necks, chunky knits or knitted accessories, you can rely on any type of men's knitwear to stay warm in the cooler months. After all, there's a reason why it's one of the oldest types of clothing that's still worn today.
Knitted clothing is made by weaving wool – usually from sheep or goats, depending on the type of fabric – or other materials like cotton, acrylic or polyester together to create fabric that regulates body heat. That's why knitwear helps to maintain your body temperature when it's cold, but is also breathable if you wear it in warmer weather.
Although wool is hardwearing, durable and stays looking good for a long time, it needs some special care when it comes to washing and storing it. Because it comes from animals, it can be more susceptible to wardrobe pests like moths. And because it's woven, it can fall out of shape if it's not washed and dried properly.
If you're not sure of how to take care of your knitwear, or you've ended up with clothes that are misshapen after just one wash, here's our advice on how to keep it looking good.

What to look for on the care label
The first thing you want to check is the fabric your knitwear is made from. We'll go into more detail about how to wash the different types of wool later, but in the meantime it's best to check what fabric you're dealing with so that you can care for it appropriately.
As for washing, the care label on men's knitwear will usually show you the maximum temperature to use and should also mention whether you can tumble dry or iron your knitwear too. Some knitwear might not be suitable for machine washing, tumble drying or dry cleaning. You'll usually have to wash these by hand, so it's always better to check before you throw them in the washing machine.
In general, wool blends are more durable and easier to care for than pure wool men's knitwear, which can make them a better choice if you don't have the time for something that takes a little more care.
It's important to remember a few tips that you won't see on the care label too. Water, bleach and heat can all damage your knitwear, so these are usually best avoided. Although wool doesn't wrinkle as much as other types of material such as cotton, you might still want to get some creases out. Steaming without direct heat is the best way to do this if the care label specifically says 'no ironing'.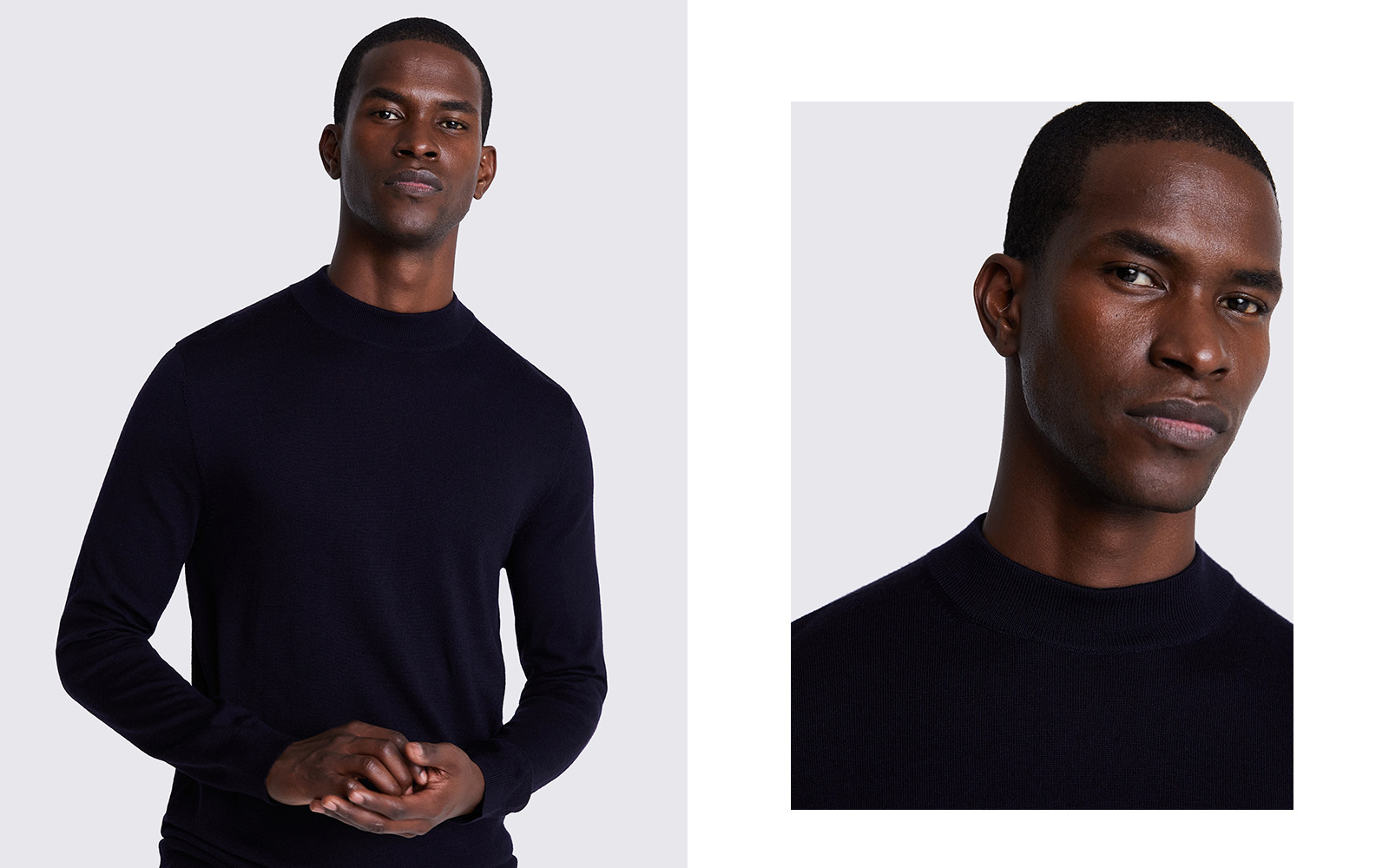 How to wash a wool jumper
Follow the instructions on the care label inside your wool jumper or knitwear item carefully. Those instructions are there for a reason and will help increase the longevity of your knitwear. If it says to wash them by hand or dry clean them, you should avoid using the washing machine. Some wool blends can be washed in a machine but it's best to do this on a lower temperature.
How you dry and store your knitwear makes a difference too. With delicate men's knitwear, it's always best to dry it flat to avoid stretching the fabric and fibres. Lay it on top of a dry towel if you're worried about your table or worktop getting wet.
Ideally, you want to avoid hanging your knitwear in your wardrobe too as this can mean that it stretches out of shape. Knitwear should be folded carefully and stored in a drawer or on shelves to make sure it stays looking good for as long as possible. You can carefully use a lint remover to get rid of any pilling or bumps on the material. Be careful with loose threads or pulls too; it's usually best to cut them or pull any loops back through from the inside.
It's important to only store clean knitwear too (sorry if you like to wear it once and put it back in your wardrobe if it seems clean). Pests like moths are attracted to clothes that have been worn (our body leaves proteins on the fabric) and are left sitting in spaces like the wardrobe as their larvae love to eat natural fibres. No-one wants to pick out their best jumper only to find it's full of holes. Lavender bags and mothballs in your wardrobe or drawer can help keep these pests away.
Let's look at some of the most common wools we use in our knits so that you can take care of them properly. When you're working with wool blends, it's always best to follow the care instructions of the most delicate yarns in the fabric.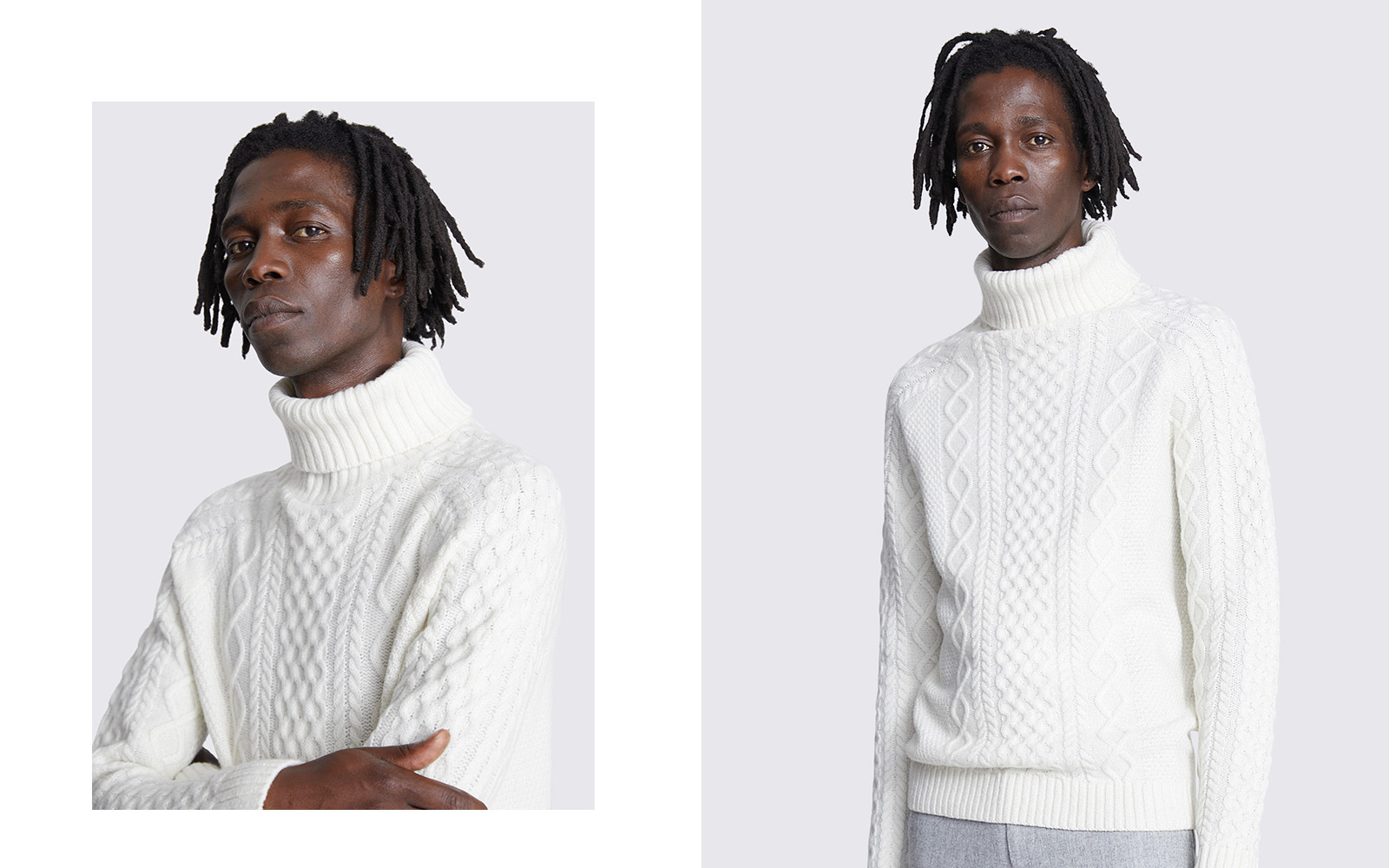 Lambswool care instructions
Lambswool is super-soft, hypoallergenic and breathable. It's moisture-wicking and less likely to feel itchy too. You'll recognise it by how soft it is. It's used for everything from jumpers, cardigans and roll necks through to hats, gloves and socks.
To keep it soft, it should always be hand-washed. Machine washing can make it feel rough and pill. To hand-wash your lambswool item, you need to soak it in warm water and use a gentle detergent (ideally one that's been formulated for wool items). Squeeze soap through your knit, being careful not to wring or stretch the item out.
Rinse it carefully and remove any excess water (again being careful not to stretch it) then lay it flat to dry. Once it's dry, fold and store it flat until you're ready to wear it again.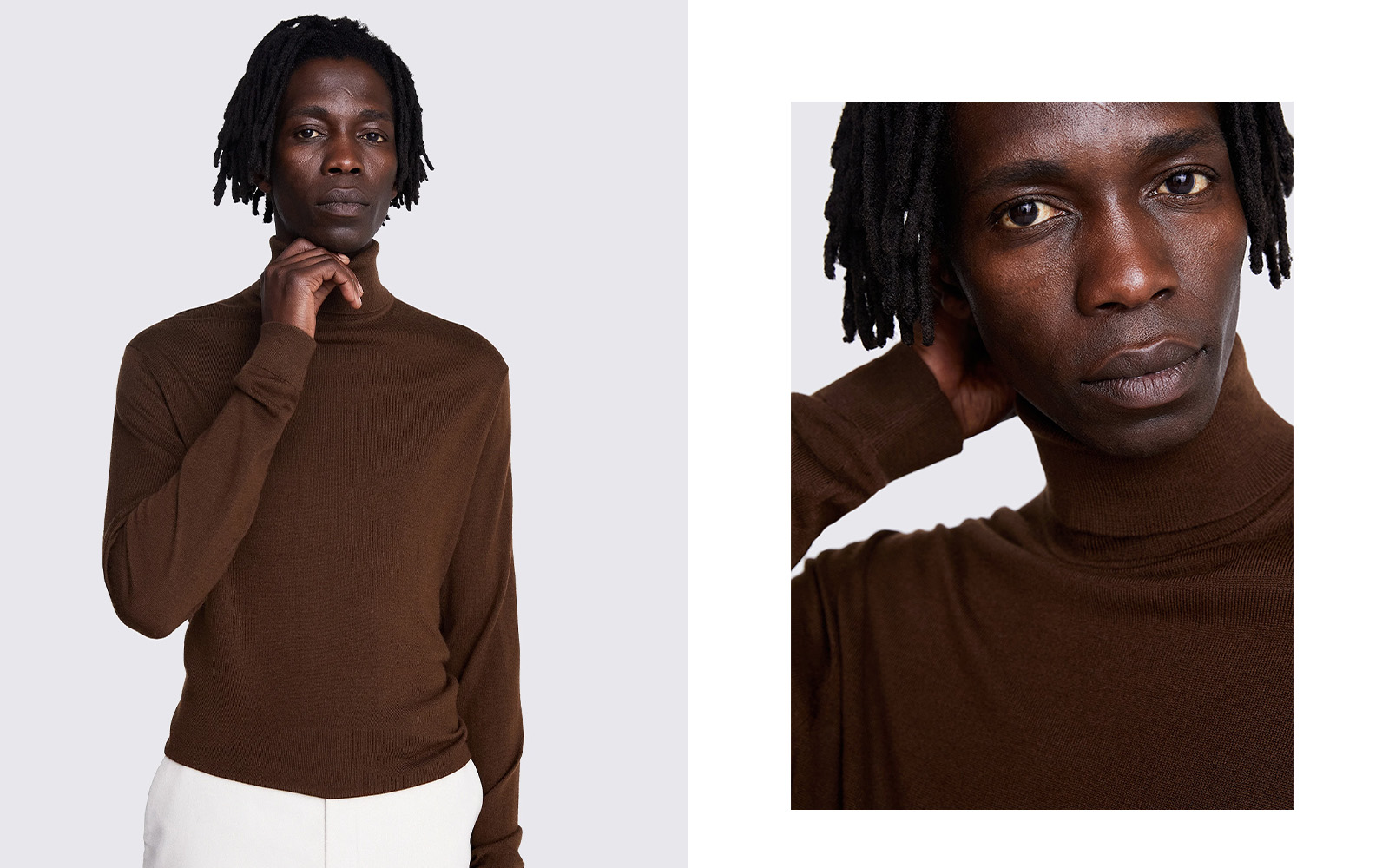 Merino wool care instructions
Merino wool comes (unsurprisingly) from merino sheep. It's thinner and softer than regular wool so usually has a better handfeel.
What's great about merino is that it can often be machine-washed on a cool cycle; avoid using hot water as this can make the fibres in the wool shrink. Use mild detergent and skip the bleach or fabric softener as this can damage the merino wool fibres.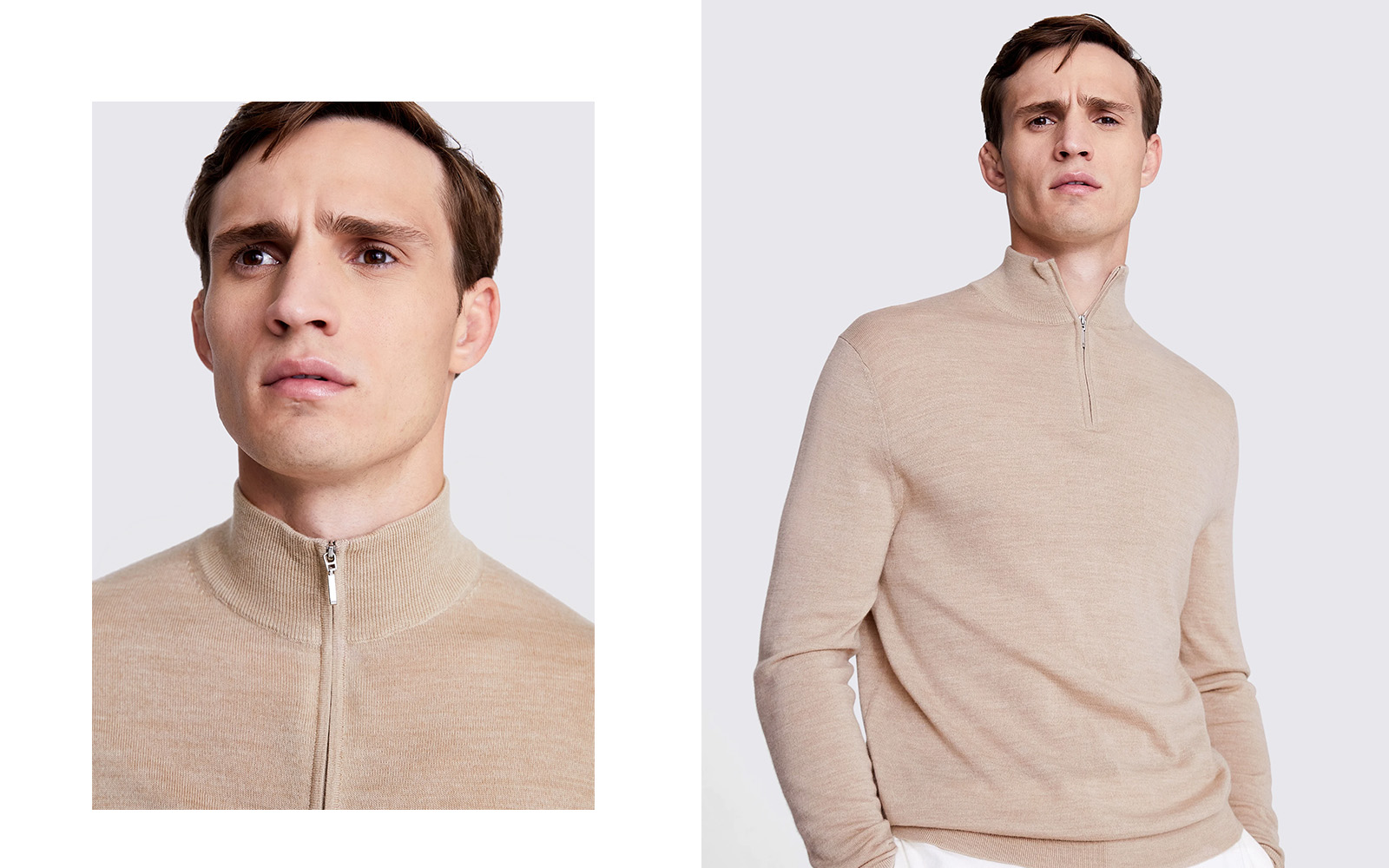 Men's knitwear style ideas: How to wear it
Men's knitwear is easy to style and can be worn just about anywhere. You can layer it, wear it alone, try out contrasting colours or go tonal depending on the look you're after.
Pairing more casual styles like polo necks and zip jumpers with jeans or worker joggers is great for a laid-back look that's easy to throw on. Chunkier knits, looser fits, colour blocks and checked patterns will all deliver on comfort, warmth and style for more relaxed plans.
When you need something more formal, a roll neck looks fantastic with a double breasted suit suit like our copper flannel, and is just about as refined as a shirt and tie but a lot comfier. Neutrals always work well together, but sometimes a shot of complementary colour can really liven up a suit, especially if you want to avoid looking overdressed. A mock neck or knitted polo can also work well for those in-between days when you want to look like you made the effort.
The best way to wear knitwear is to make sure that it fits your style as well as the occasion. Your goal is to feel comfortable and confident in what you're wearing, and knitwear's up there as one of the easiest ways to achieve it. Best you take care of it, then.