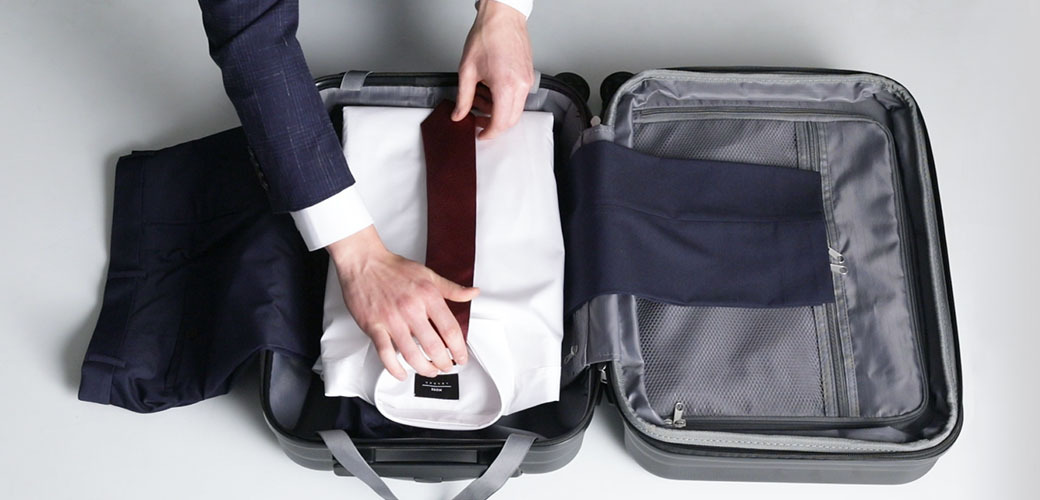 RESOURCEFUL, EFFICIENT, SKILLED – AND YOU'VE NOT EVEN HAD YOUR MEETING YET
• WORDS: C. STEWART
There are many takes out there on how to pack a suitcase, but our take is that the way you pack a suitcase for a business trip and how you'd do it for a holiday are two different things. Less squeezing in one too many pairs of swim shorts and an ill-thought-out novelty print shirt you definitely won't wear, more select items folded for minimal wrinkles and in outfit-ready bundles so you can hit the ground running.
Here's how to do it.
HOW TO PACK A SUITCASE
SUIT
Lay your jacket face down
Fold over one shoulder
Tuck the other shoulder inside
Fold again
Lay your trousers lengthways
Place your jacket on top
Wrap your trousers around
SHIRT
Fold one side in and line up the sleeve's edge
Repeat on the other side
Fold your shirt in half
SOCKS AND SHOES
Fold then roll your socks
Stuff them inside your shoes
TIP: roll your belt to fit into your shoes too.
YOU'RE ALL SET