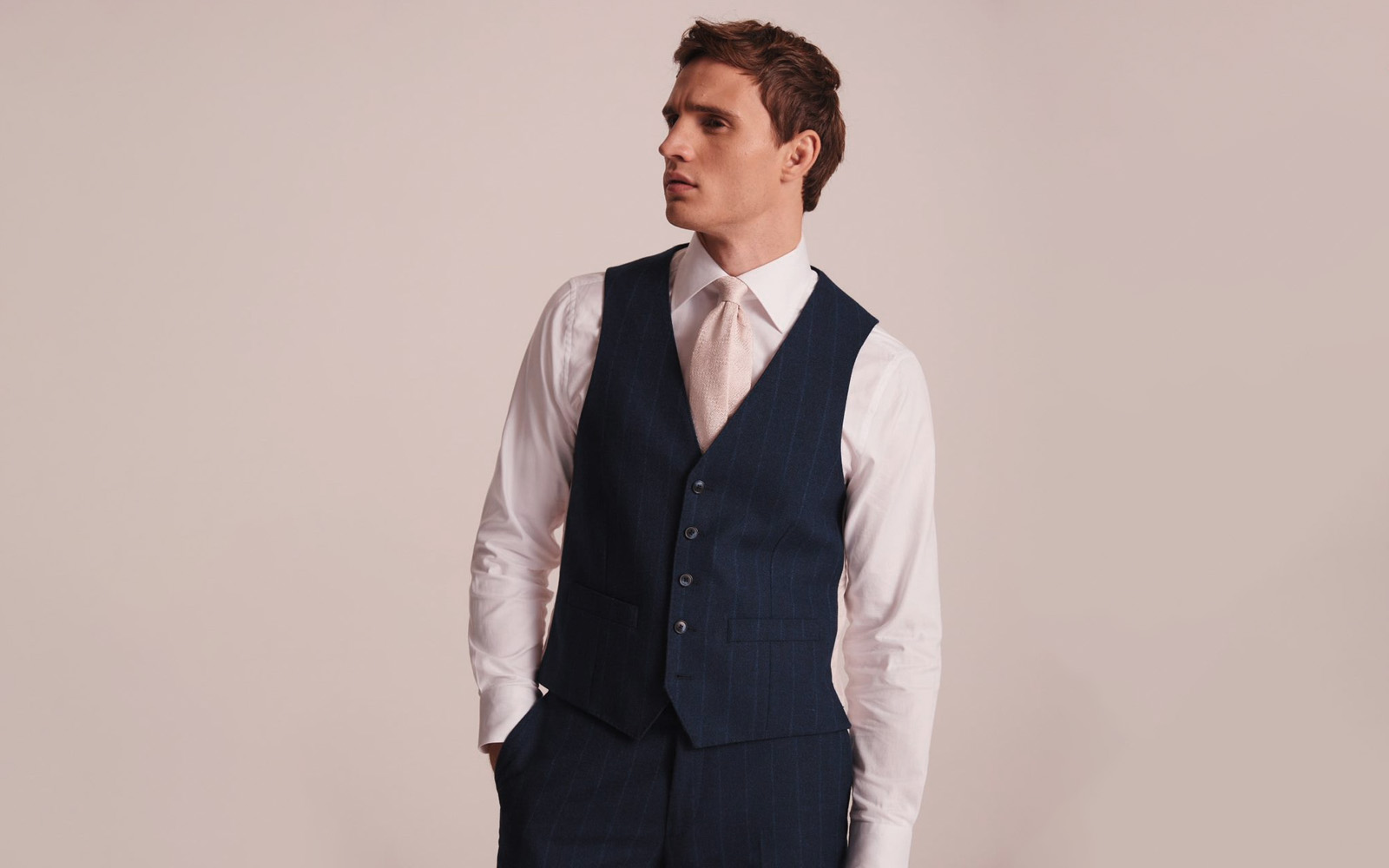 THERE'S MORE THAN ONE WAY TO WEAR A WAISTCOAT
• WORDS: A. FOZZARD
If there's one item that sets you apart as a man who dresses well, it's a waistcoat. Wear it right, and you'll look sharp for work, charming at weddings and comfortably smart at the weekend. More than just an accessory, waistcoats are designed to define your torso and create a smooth finish where your shirt meets your trousers. They're also more versatile than you might think and look at home as a part of many different outfits. Here's how to get maximum mileage out of your waistcoat.
WHAT IS A WAISTCOAT?
You probably already know exactly what a waistcoat is, but just in case you don't here's the lowdown. It's a sleeveless jacket-style top that's worn on the upper body, it usually buttons up at the front and sometimes has an adjustable strap at the back for the perfect fit. Think Gareth Southgate's famous World Cup waistcoat style, men's 3-piece suits and the stereotypical English country gent style.
Most people think of waistcoats for more formal events like parties, formal dinners, and work events. It lets you layer up, experiment with different fabrics and finishes and can help to pull together your formal attire. You can even make your waistcoat into a statement piece that boosts a simpler suit. Originally waistcoats were created as formal wear to be worn under a coat.
However, waistcoats aren't just for formal events, they're much more popular for daily wear than ever before. Wearing a more casual waistcoat for drinks, dates and dinner is a great way to hit the spot between dressed up and dressed down. Not sure about the weather? A waistcoat means you can layer up and still look stylish without too much effort, especially if you choose linen and wool blends or a cotton waistcoat.
HOW SHOULD A WAISTCOAT FIT?
First of all, as with all tailoring, getting the fit of your waistcoat right is essential to looking well-turned-out. It should sit close to your body but not feel restrictive so you can move without it gaping. The straps should fit flat on your shoulders without lifting up when you move your arms around. Follow these few rules, and you'll find one that suits your frame perfectly. Most waistcoats have a strap at the back that you can adjust to help it fit better, but avoid relying on this too much because you don't want the material to rumple.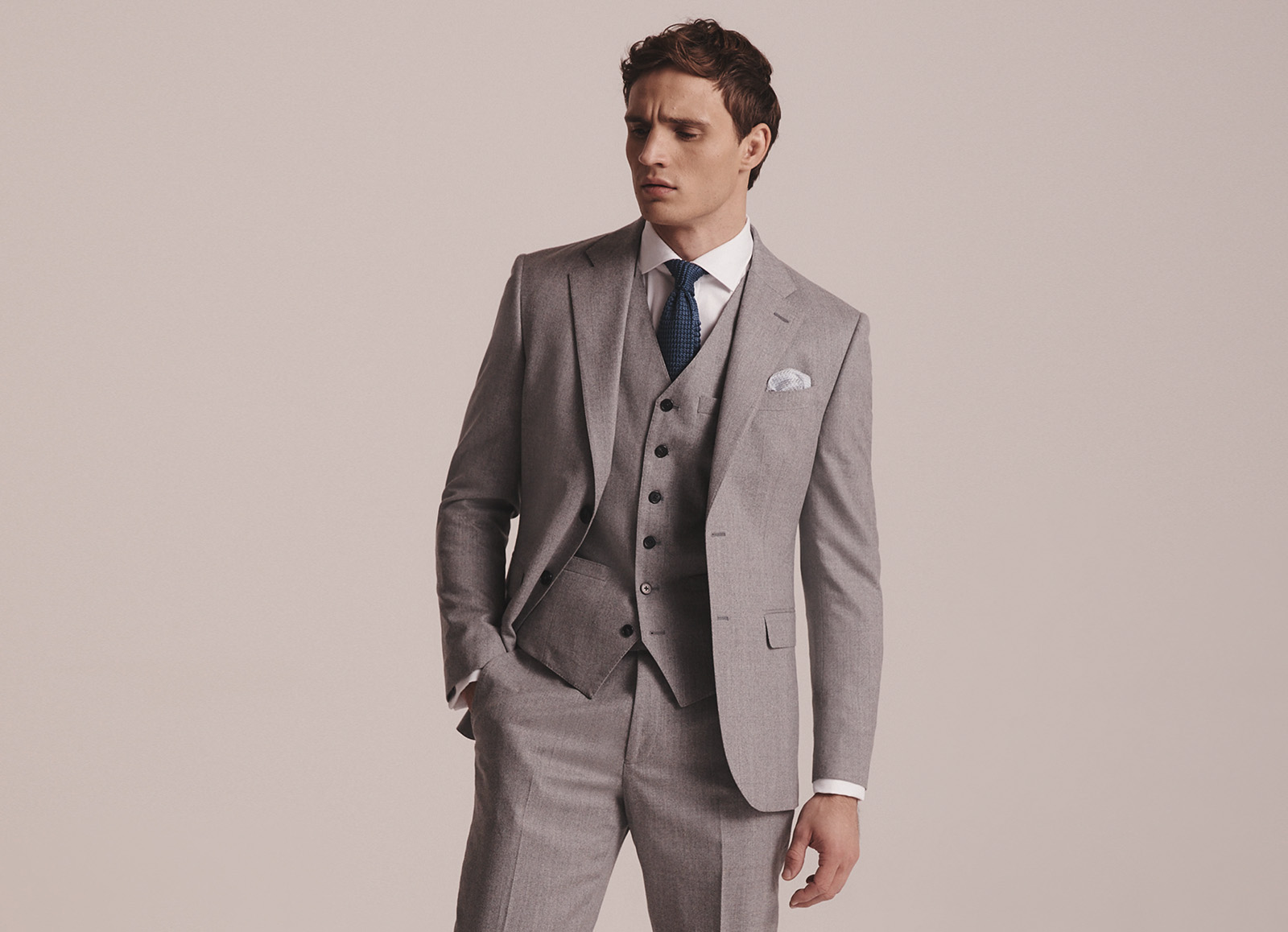 What types of waistcoats can you get?
Waistcoats don't just come in one style, you can get them in different fabrics, fits and shapes. So wherever you're headed, you'll find your match.
TWEED WAISTCOAT
A men's tweed waistcoat is the ultimate country gent style, but it doesn't have to be stuffy. It's exactly what it sounds like, a traditional-looking waistcoat made from tweed fabric like herringbone or Donegal tweed. You can either go all-in on tweed and match it to your suit for a retro look, or you can contrast your waistcoat with your suit for a more modern take on a classic style. The choice is completely up to you!
Try a lighter, modern tweed blend to lift your look so that it feels easier to wear whilst still looking at the part. It'll still be an extra layer for your outfit and one that can make a huge difference to a plainer suit style. Tweed is a great way to give a nod to heritage fabrics and styles but with a more up-to-date take on the look.
SINGLE-BREASTED WAISTCOAT
Like a single-breasted suit, a single-breasted waistcoat is a style of a waistcoat that comes with a single row of 6-7 buttons with a small overlap. It's easier to close than double-breasted styles and is usually seen as a more casual waistcoat style. This is the one to wear for more low-key events that don't have a formal dress code.
Style your single-breasted waistcoat with jeans, chinos, suit or relaxed trousers and a shirt in a contrasting (or matching) style for a contemporary layered look. Matching your waistcoat and suit is more formal and dressed up takes on the look, but wear whatever you feel comfortable in and whatever works for the occasion.
DOUBLE-BREASTED WAISTCOAT
A double-breasted waistcoat has two rows of buttons that line up on each side. They usually have 3 or 4 buttons in each row for a more formal, dressed-up style than single-breasted waistcoats. This is a more common style to match up with a suit, but that doesn't mean that you can't have a little fun with it or that you can't make it into a more casual waistcoat.
Wear your double-breasted waistcoat with a suit or shirt that contrasts to lift your formal style. If you want to dress it down with a more casual outfit, don't let the double-breasted style stop you – it can look just as good with jeans, chinos or a more casual style. Keep your waistcoat buttoned up to show off its style, shape and structure of it as you layer.
HORSESHOE WAISTCOAT
A horseshoe waistcoat is a waistcoat with a low-cut neckline design that was traditionally worn as an evening style with a dinner suit. The neckline was made in this low-cut style to show off the bib of a formal, traditional shirt. It's also known as a 'bow' or 'U-shape' waistcoat, but horseshoe is its more common name, and it comes in various fabrics and finishes.
This style of the waistcoat has become more popular in recent years and has moved away from being solely evening or formal wear. It means you can show off your shirt and tie and works well for a wedding style, especially for fashion-conscious, modern weddings. Make your tie into more of a feature with a tie bar or clip and a formal shirt.
OTHER TYPES OF WAISTCOATS
There are a few other styles of waistcoats that are variations on the main styles of waistcoats that are out there. A waistcoat with a lapel features a lapel at the neckline of the waistcoat. It can come in different lapel styles like notch, peak and shawl. Some waistcoats even feature a contrasting lapel made from a different material or colour for those who want a more adventurous style.
Another option is a cloth-backed waistcoat, which is a waistcoat that has the same material on the back of the waistcoat and the front. Traditionally, you wouldn't see the back of a waistcoat as it'd be covered with a suit which is why more formal styles have a back made from lining for a smoother fit under a suit.
How to style your waistcoat
Let's start out with some styling tips and move to some more in-depth ways to wear your waistcoat.
1. Waistcoats have a lining on the back that will be on full show when you take off the jacket.
Feel free to be bold with the colour and pattern, but make sure your shirt choice doesn't clash.
2. Always leave the bottom button undone. It's the done thing.
3. If you choose a skinny or slim fit, it will have slimmer shoulder straps that can create the illusion of bigger muscles – just a heads-up.
TAKE A TWO-PIECE TO A THREE-PIECE
Let's start with the classic matching option. It's the look to go for if you want to get ahead at work or have a dressed-up occasion like the races or a wedding. Select the waistcoat that's made for the suit, and you won't have to worry about whether or not it looks right.
Contrast your tie and shirt combination to bring your outfit to life and feel free to show a bit of personality with the pattern and colour in your accessories. Or, show your easy-going side by ditching the tie and going for an open neck, as long as it won't look out of place on the day.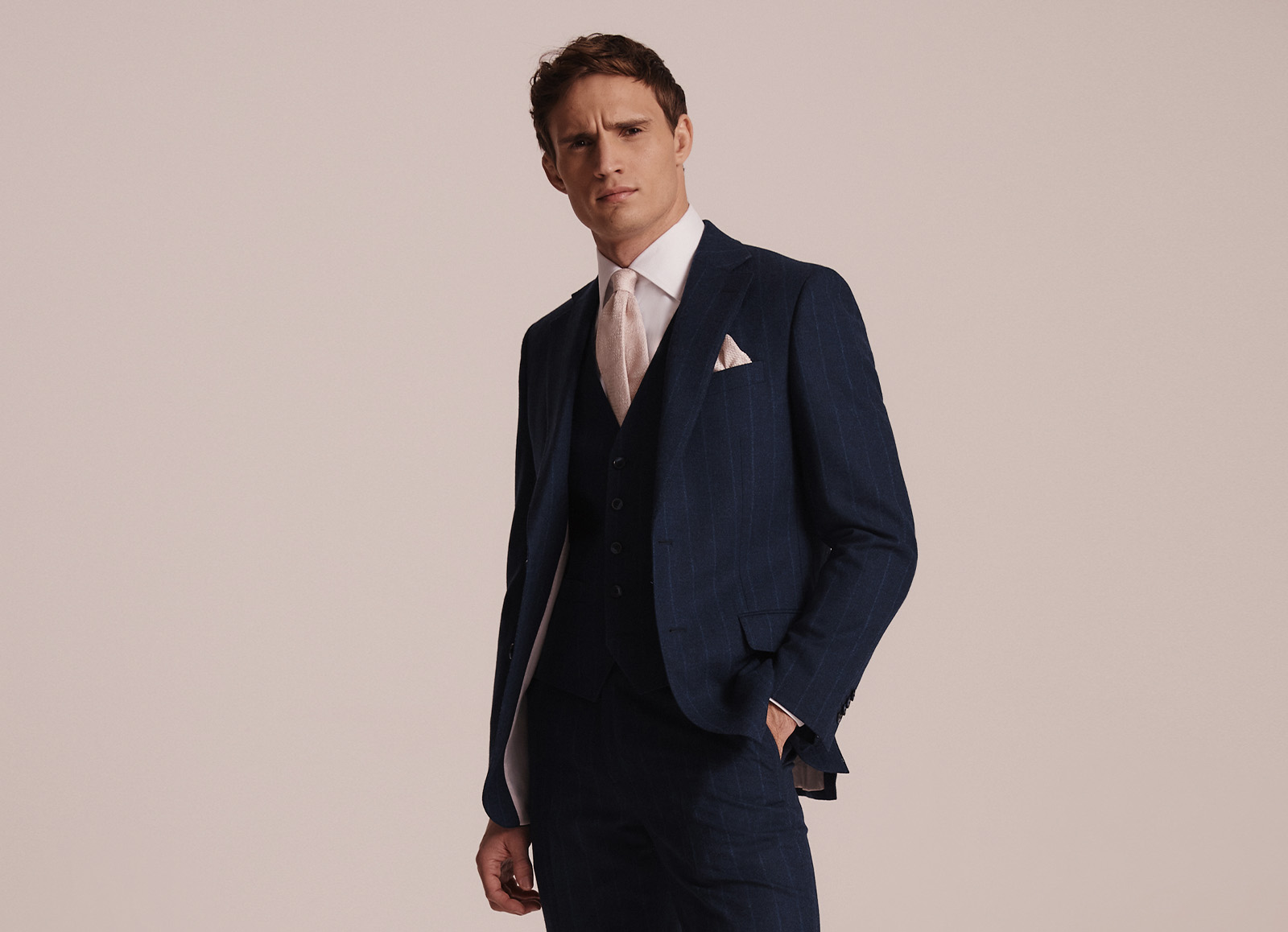 CONTRAST YOUR PATTERNS
Basically a three-piece with a bit more personality, this option combines contrasting patterns in your waistcoat and suit. Think a plain waistcoat under a checked suit, or a tweed waistcoat with a contrasting plain-weave suit.
It's a bit more adventurous, but you'll look smart and still stand out at meetings and upscale dos. Wear a contrasting colour in your tie to add to the layered effect, or keep it simple with a coordinating one.
RETHINK THE TWO-PIECE
Rather than going traditional and wearing a jacket-and-trouser two-piece, replace your jacket with a waistcoat to keep cool on warm days without losing any sense of style. Some waistcoats come with a pocket on the chest so you can add a square and dress it up if you want to.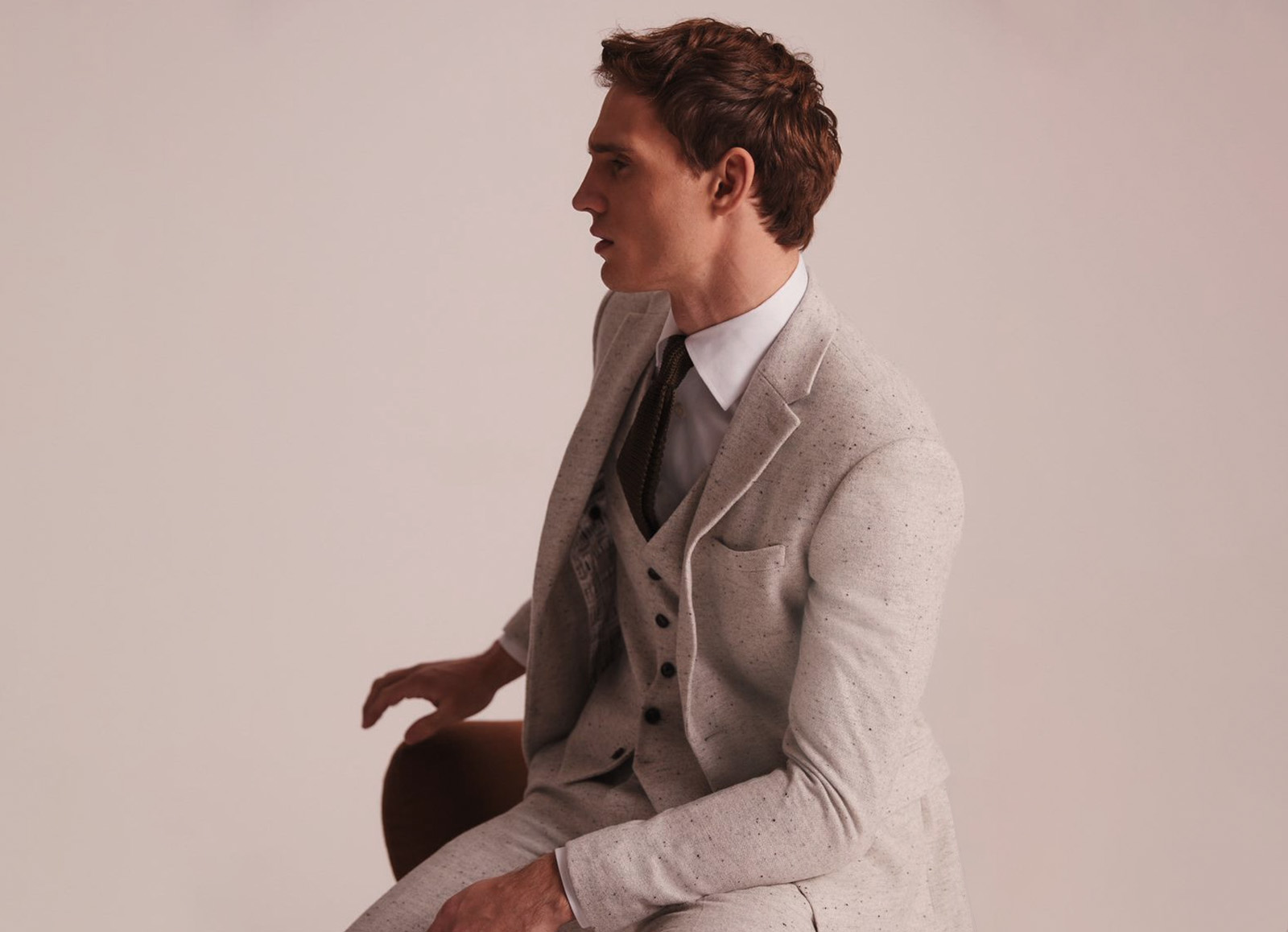 PARE IT BACK
Dressing a waistcoat down works well too, and will see you from brunch to the bar. Wear it over a casual shirt with a pair of jeans or chinos to polish up your weekend apparel. This look works best with a textured waistcoat, like herringbone or tweed.
Either wear your shirt open-necked or add a knitted tie to smarten up a bit. Just be sure to tuck your shirt into your jeans to keep your silhouette streamlined.
A FEW TIPS FOR WEARING YOUR WAISTCOAT
Some final thoughts:
Waistcoats have a lining on the back that will be on full show when you take off the jacket.
Feel free to be bold with the colour and pattern, but make sure your shirt choice doesn't clash.
Always leave the bottom button undone. It's the done thing.
If you choose a skinny or slim fit, it will have slimmer shoulder straps that can create the illusion of bigger muscles – just a heads-up.