The second anniversary gift is cotton, which represents the comfort and durability of a marriage. Home accessories like bedding and towels are good cotton gifts, but what's even better are cotton shirts or clothing. They're practical, versatile and come in every style, plus you can guarantee they'll be lovingly worn. You can even head out for an anniversary celebration wearing your new shirt.
3rd anniversary – leather
Leather gifts are traditional for the third anniversary, representing strength and durability. Leather gifts are one of the easiest to buy for every taste too, with leather belts, bags, shoes or something like a beautiful leather-bound journal all great options for an anniversary gift.
4th anniversary – fruit/flowers
The fourth anniversary gift is fruit or flowers, which represents the growth and blossoming of a relationship. The obvious gifts here are flowers, a plant or a fruit basket. You could always go for something flower or fruit-themed if your partner isn't into the above options. A floral pocket square, shirt or tie is still on-theme without being too outdoorsy.
5th anniversary – wood
The fifth anniversary gift is wood, which represents the strength and durability of a relationship. Some ideas for wood gifts include a personalised wooden cutting board, wooden jewellery or something for the home like furniture or a wooden photo frame.
10th anniversary – tin/aluminium
The tenth anniversary gift is tin or aluminium, which is meant to represent the flexibility and strength of a relationship. While tin isn't the most glamorous material, there are still some great gift ideas like a watch, jewellery, cufflinks or a personalised tin, plaque or hip flask.
15th anniversary – crystal
The fifteenth anniversary gift is crystal, which shows the clarity and transparency of a relationship of this length. Jewellery is the obvious choice here, but home accessories, cufflinks, keepsakes and photo frames are another way to add a little touch of sparkle into your anniversary.
20th anniversary – china
If you've made it to 20 years of marriage or you're celebrating with friends and family who have, congratulations! This is a huge milestone to celebrate, with the traditional anniversary gift of china symbolising the elegance and delicate nature of a relationship, even one that spans two decades. Dinnerware, tea sets and accessories are probably the main option for this one.
25th anniversary – silver
The twenty-fifth anniversary is a significant milestone, and the traditional gift is silver, representing the shine and endurance of a relationship. Silver jewellery, silverware or home accessories are great silver anniversary gifts, but why not go for something a little different with a silver tie clip, armbands and dress studs?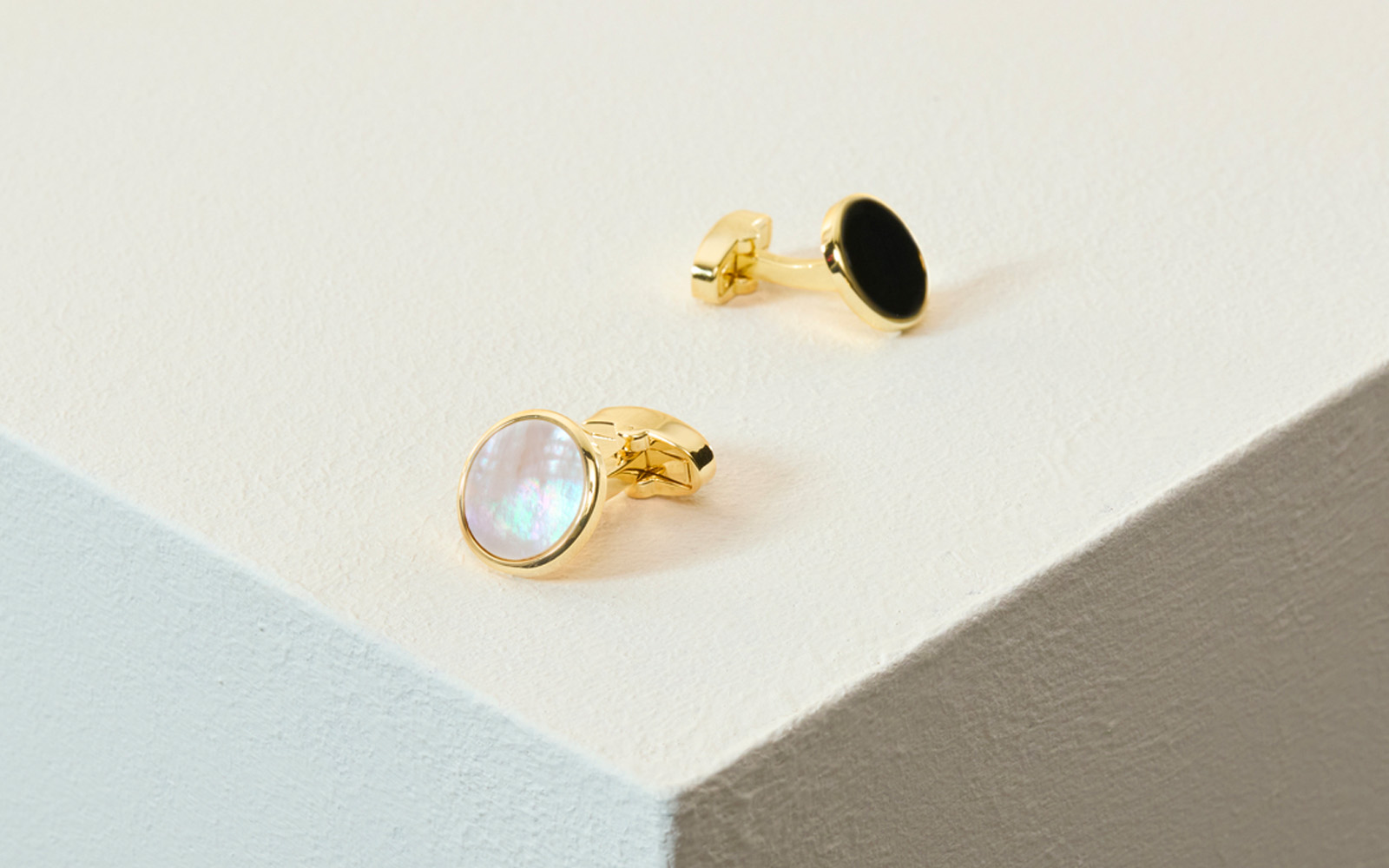 30th anniversary – pearl
The thirtieth anniversary gift is pearl, which represents the beauty and rarity of a relationship. Some ideas for pearl anniversary gifts include pearl jewellery or something pearl-related for the home. However, take it in a different direction and go for a pair of Mother of Pearl cufflinks for a classic style that celebrates this amazing event.
40th anniversary – ruby
The fortieth anniversary gift is ruby, which represents the passion and love in a relationship. The obvious gift here is a ruby encrusted watch or jewellery, but you can't go wrong with a ruby red tie and accessories either. Even going all out with a red shirt or suit can be an amazing way to celebrate. If you're thinking about going all out, why not try a red-themed party?
50th anniversary – gold
Getting to fifty years together is definitely something to celebrate! The fiftieth anniversary gift is gold, which represents the precious and rare nature of a relationship. Gold jewellery, a gold watch or gold accessories like dress studs and cufflinks are a great gift for a fiftieth wedding anniversary.
In conclusion, choosing the perfect anniversary gift can be challenging, but it is an essential way to celebrate the milestones of your relationship. By following the traditional or modern anniversary gift guidelines, you can create a thoughtful and meaningful gift that represents the longevity, commitment, and love you share with your partner.
Whatever special event you're celebrating this year, do it in style with some occasion wear.