You've found the perfect wedding suit that fits great, looks great and you feel great in. You've got your accessories sorted, from your tie down to your socks. But, now it's time to find the perfect pair of shoes to go with your big-day outfit. If you're not sure where to start, keep reading for a helpful overview of wedding shoe styles, what suits they'll pair best with, and how they'll fit in with the rest of your wedding day plans.
First up, comfort is key. You're going to be on your feet all day, taking photos, greeting people and dancing, so you'll want to make sure you're not dying to kick them off come the wedding breakfast. A big part of that is breaking your shoes in, but you'll also want to make sure the fit is right, they're not too narrow or wide, and they have a decent grip.
The second most important thing is that you'll wear them again. Getting a really fun colour or adventurous shoe might seem like a fun idea, but you'll feel like you made a better investment if you choose something that not only works with your wedding suit, but several other outfits you already have in your wardrobe.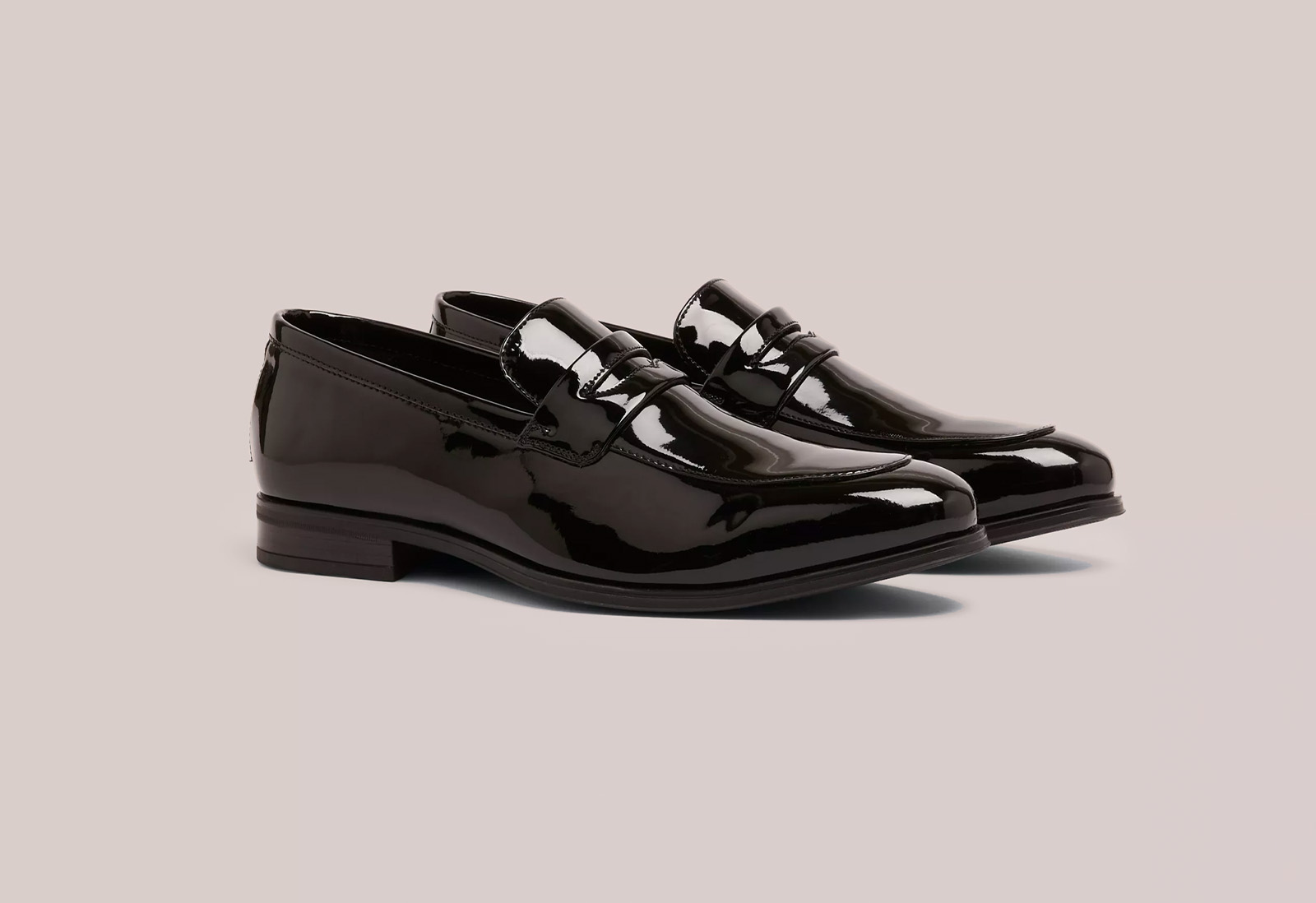 Patent leather loafers
If your wedding is black tie, this is the shoe for you. Patent leather is a must when it comes to dresswear, and the loafer trend from last year isn't going anywhere for 2023. Even if you're not wearing a tuxedo, these would look great with just about any black or dark-coloured suit. Just think carefully about wearing them with a lighter suit as they might become the focal point if you don't have any other black or dark-coloured accessories.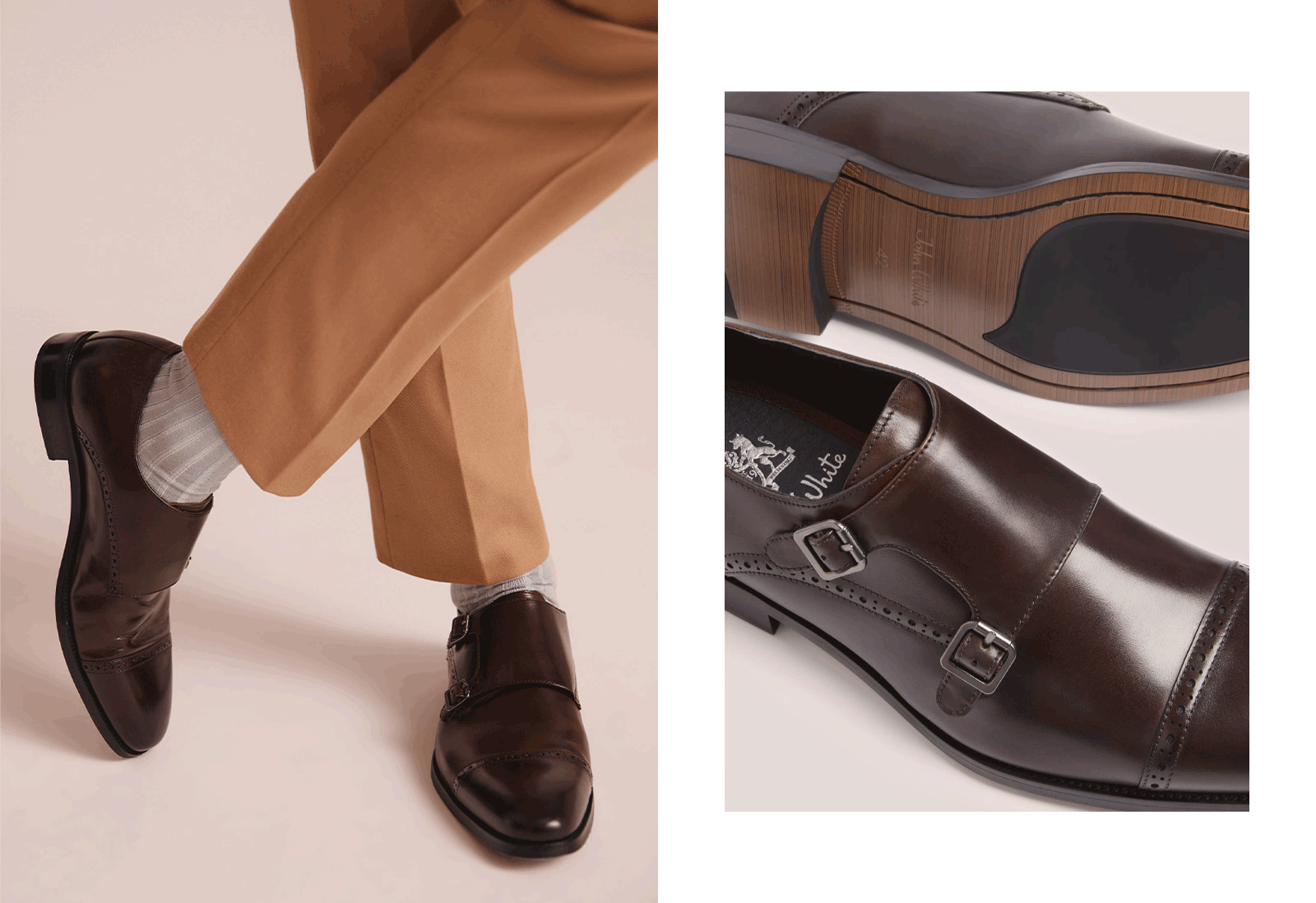 Double monk-strap shoes
Monk-strap shoes, which take their name from their similarity to the kinds of shoes 15th century monks wore, are a great choice. Unlike a typical brogue or Oxford shoe, you get a more sleek look, and a bit of extra visual interest thanks to the buckles. These double-monk straps, with two buckles instead of just one, are ideal for light coloured and lightweight suits, which makes them perfect for a destination or high-summer wedding.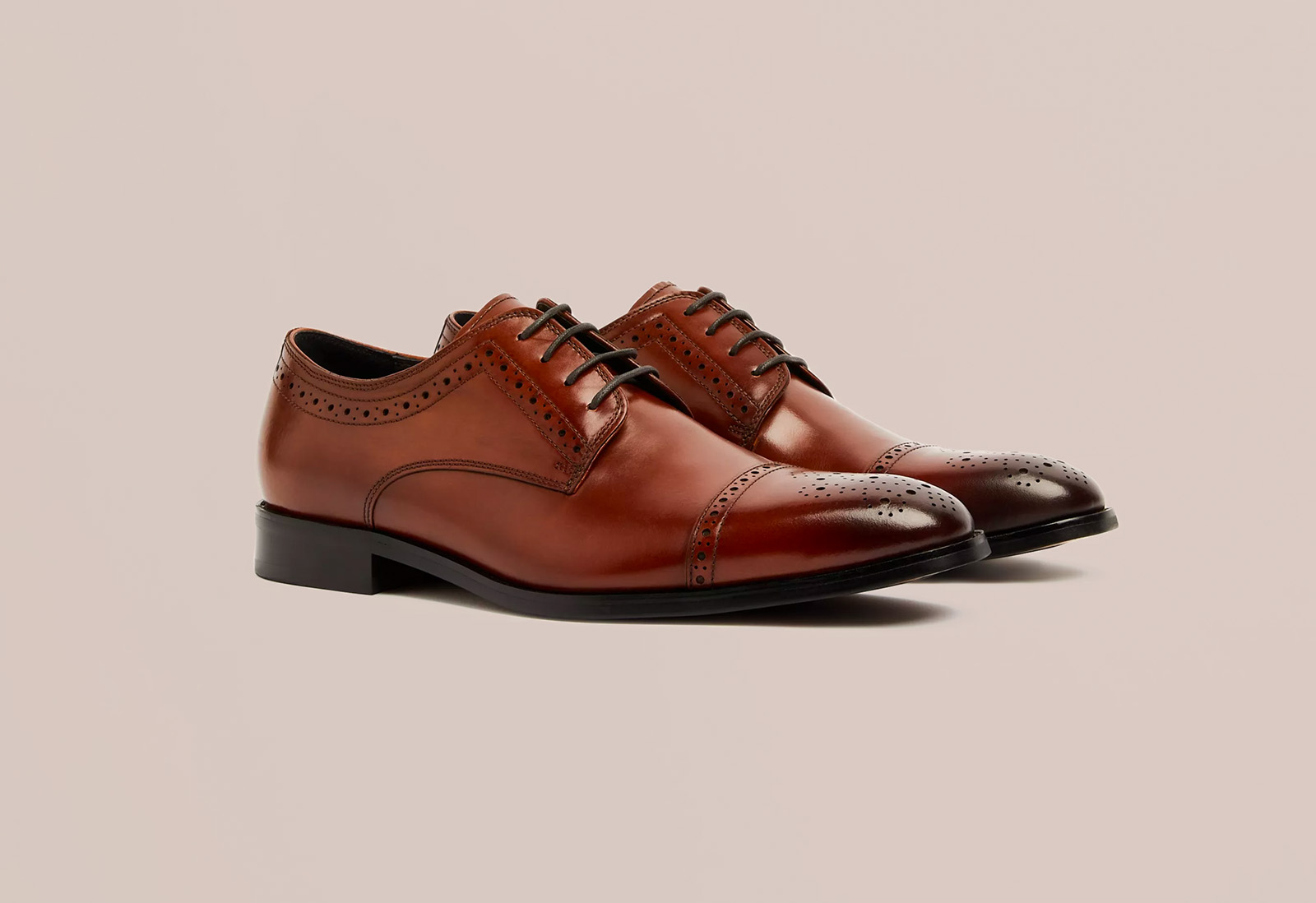 Classic brogue shoes
If you're going for a classic groom look with a three-piece suit, tie and pocket square, a classic brogue shoe will finish that off nicely. The beauty of this slightly more pared-back version of an Oxford is its wearability. It'll work just as well in a smart-casual setting as it will in a more formal one. Its reddish brown shade means it'll go with just about anything in your wardrobe, too.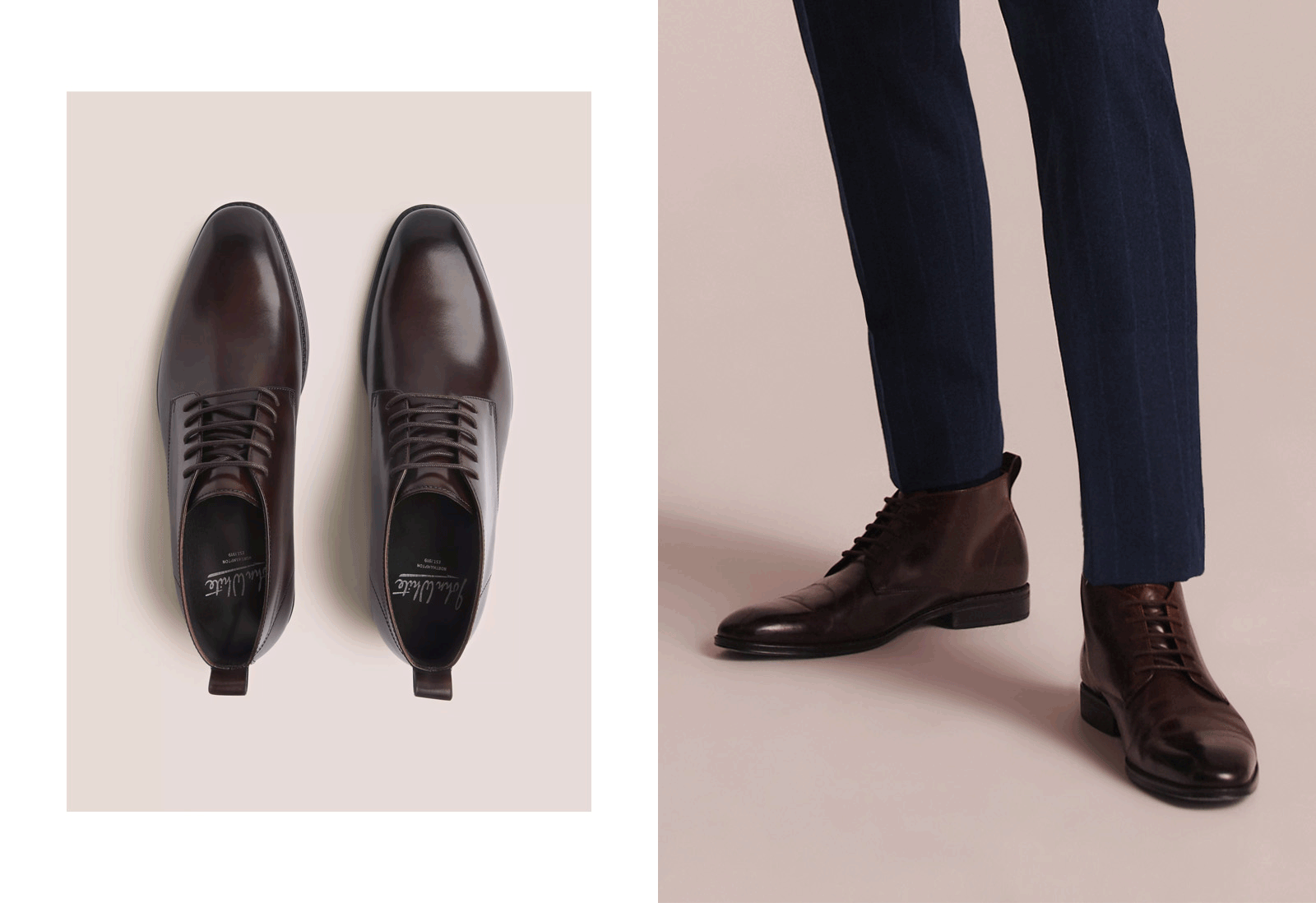 Unexpected leather boots
Leather boots might seem like an unusual choice, but hear us out. If your wedding's in early spring, or it's at a countryside estate, you'll be glad you went with something a bit more robust. Boots also lend a more vintage feel to a suit if that fits in with the overall feeling of your day. Just be sure to choose a pair with a lighter tread and without too much detail so they don't overwhelm your look.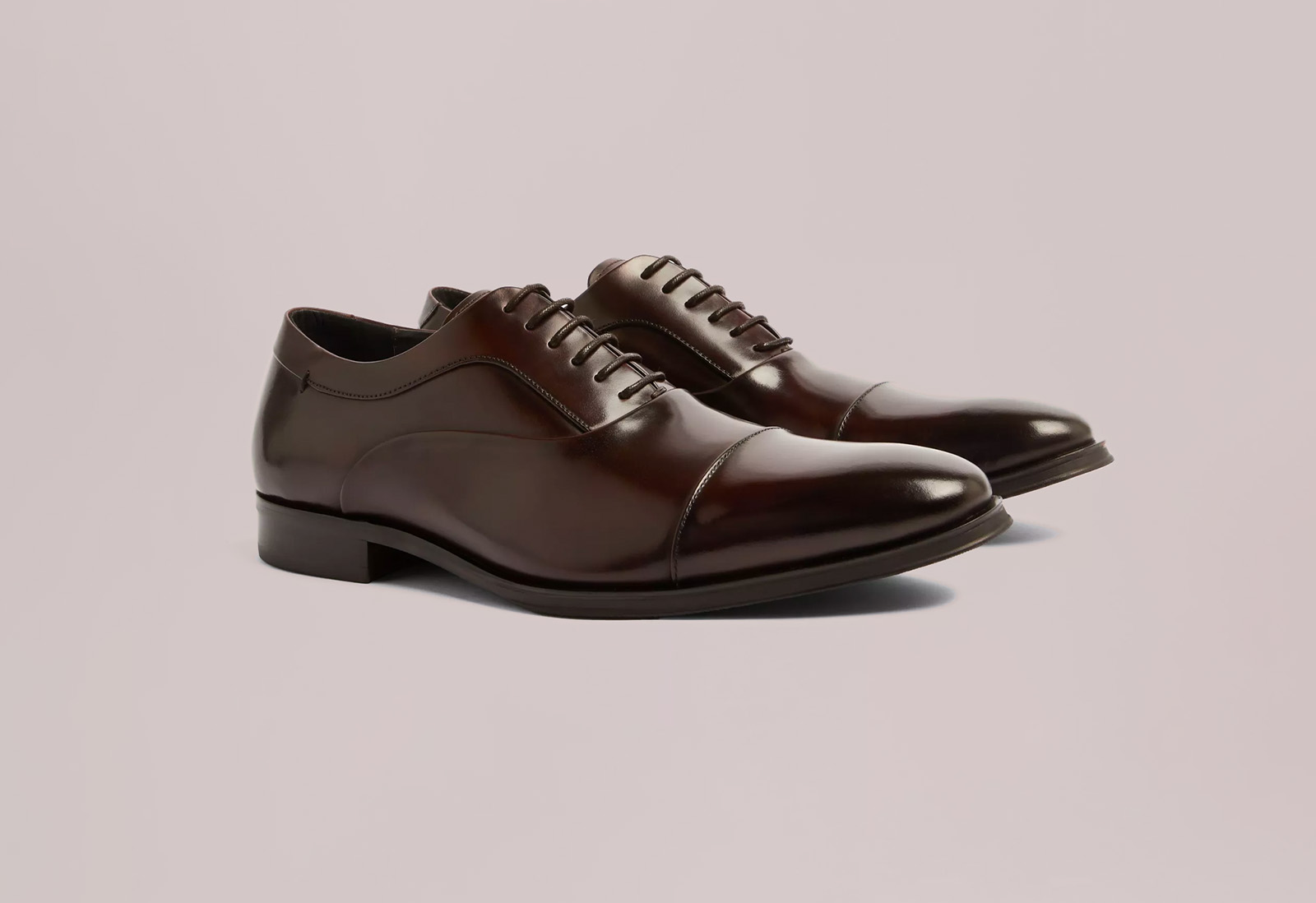 Pared-back Oxford shoes
Looking for a shoe that's subtle and super wearable? You just found it in this refined Oxford shoe. If you're wearing lots of bright colours or a patterned suit and you want to let it do the talking, a sleek, simple shoe like this one will achieve that. And, if you want to go for the tonal look and pair these shoes with several other shades of brown, we also support that.
No matter what shoes you choose, make sure they fit well, suit your style, and you love wearing them. Most of all, make sure you wear them a few times around the house with the socks you're planning to wear on the day.