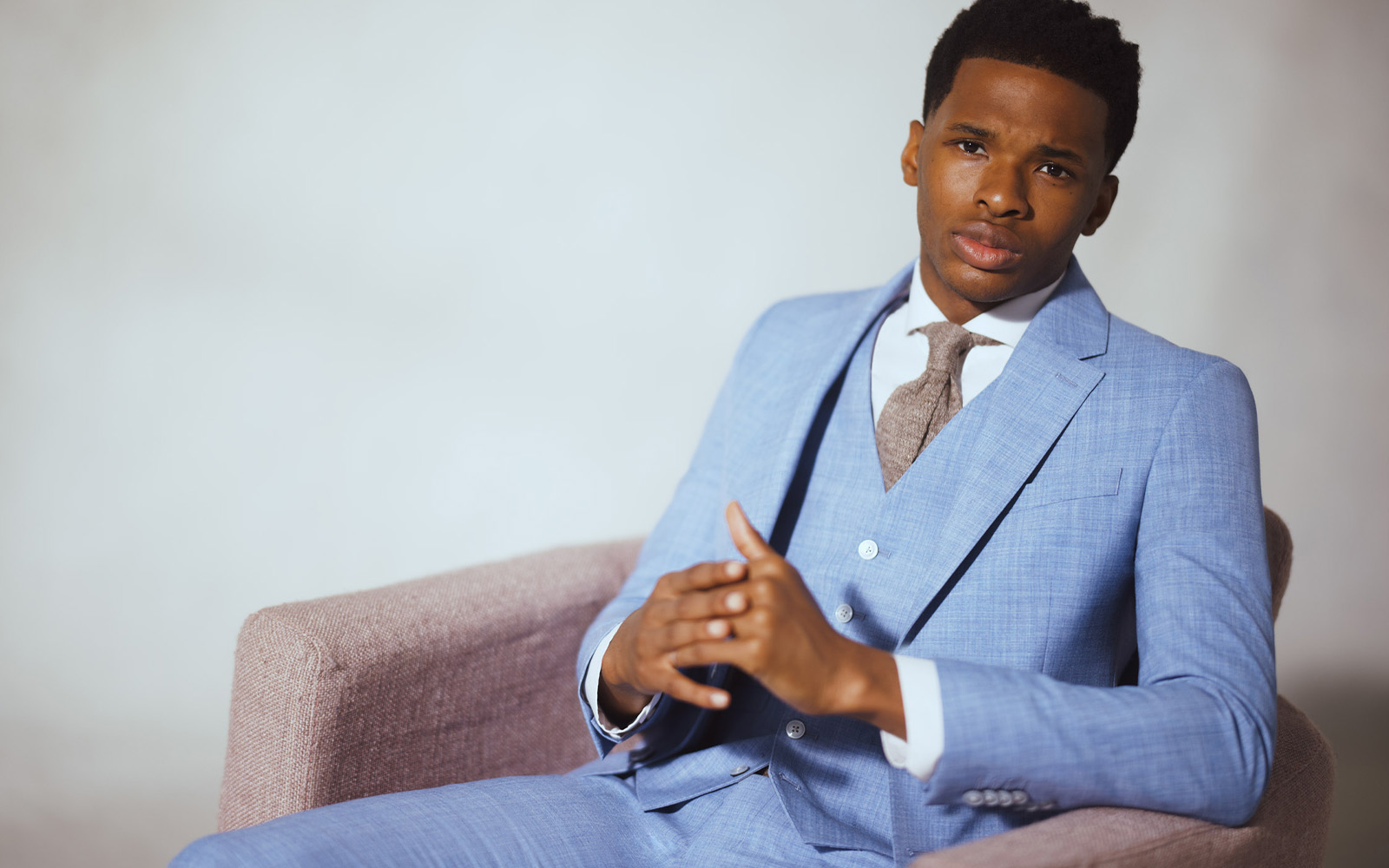 MOSS' PROM GUIDE
From choosing your prom outfit to making an entrance, here's how to make prom a night to remember. We're going to help you prep for your prom like a pro and impress your friends when you hit the red carpet. Learn how to pick out the right prom suit for men in the perfect cut and how to ace your shoes and accessories; our men's prom outfits guide is a one-stop-shop to looking sharp from head to toe.
And because it's not all about your threads, we've included hair styling tips to polish your appearance and prom car ideas so you arrive in style. We even share how to stage the perfect 'promposal' (and what to do if it all goes pear-shaped).
CONTENTS
PROM SUIT, TUX OR BLAZER?
Unless your prom has a strict dress code, you should be able to choose between a suit, a tuxedo or a blazer and trousers. Here's what you should be looking at: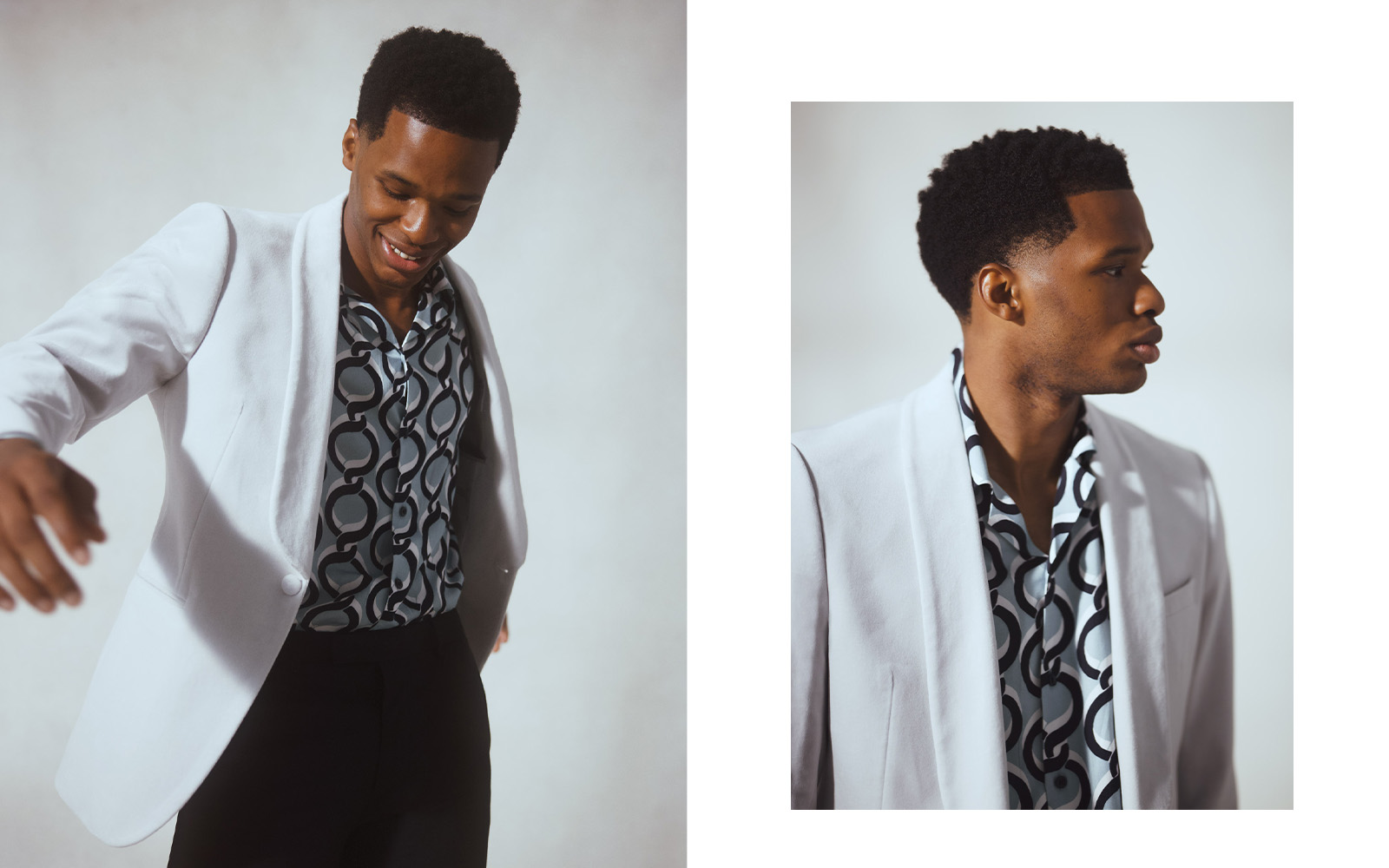 PROM SUITS
A prom suit is ideal if you want a smart and modern look on the big night. Choose either a 2- or 3-piece suit (a waistcoat being the third piece), and what colour and cut you want: either skinny, slim or tailored. You can go for colour, texture or even a classic black prom suit, depending on your taste.
This slim fit navy black check suit by Moss will help you stand out from everyone else; it has a fresh appeal with its subtle pattern and close-fitting design. A pocket square adds a great finishing touch – perhaps in the same colour as your date's outfit?
And when prom is nothing but a great memory, this suit can be dusted down and worn again for a big interview or your next special occasion.
TUXEDO
Defined by sleek satin lapels, a wing-collar shirt and bow tie, the tuxedo – as seen above – channels old-school style. Like a suit, tailored, slim and skinny fit variations of the tux mean that men of all sizes and tastes can pull it off, while a pair of black patent shoes, silver cufflinks and a smart dress watch often get paired with this to complete the polished look.
The Moss slim fit black tuxedo would look great at prom. Its sharp cut creates a modern, streamlined silhouette, while the satin lapel adds vintage-style charm.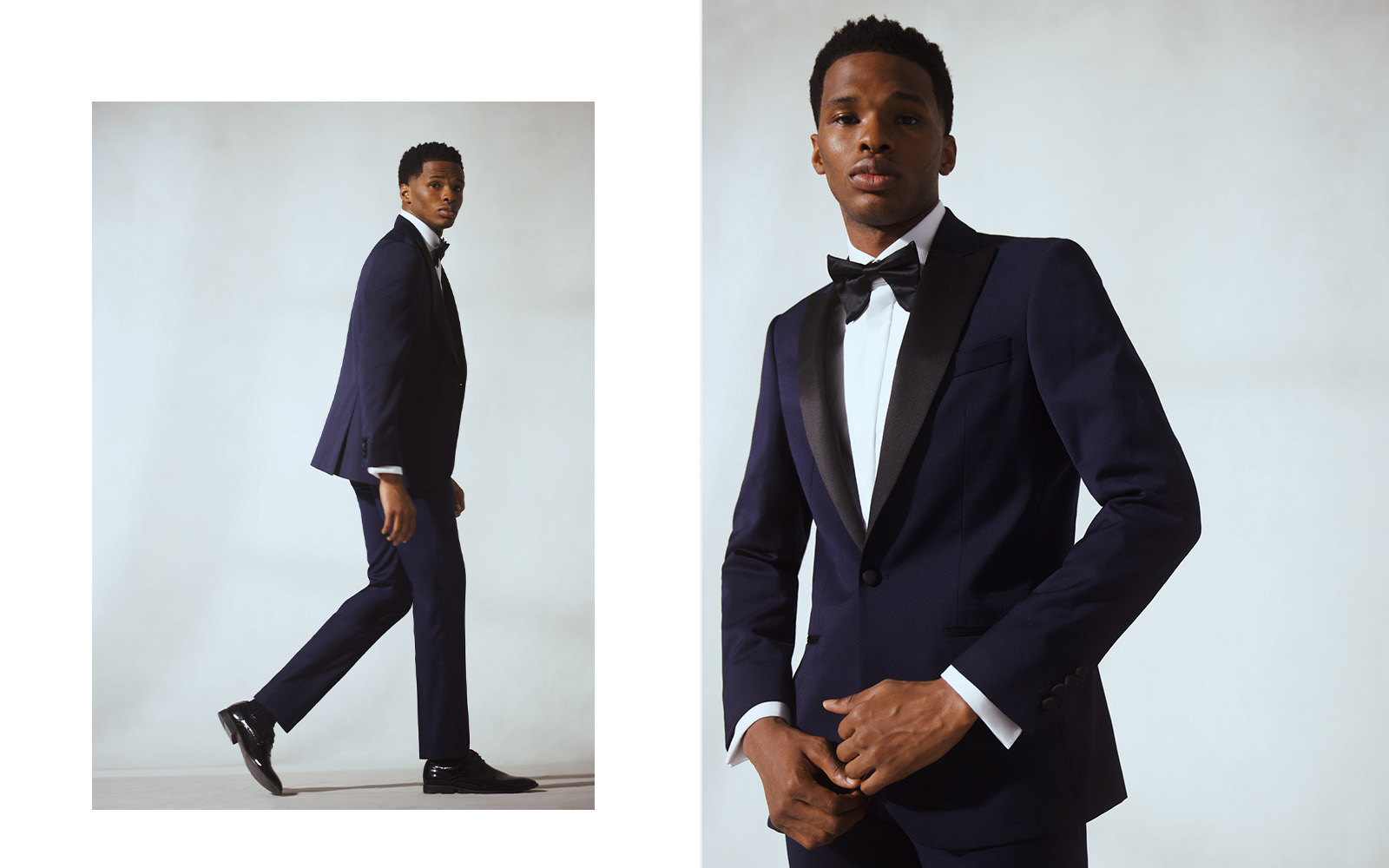 BLAZER
The blazer (basically a suit-style jacket) can instantly transform a shirt and smart jeans combo into a prom outfit. Typically available in a bolder range of colours than a standard suit jacket, they also tend to be cut more casually.
For example, you could pair this taupe shawl lapel jacket with a crisp white shirt, colourful bow tie and sharp black jeans. This way you're keeping to the dress code but putting your own spin on it.
—
SLIM OR TAILORED PROM SUITS FOR MEN?
For a suit to look good and feel comfortable, you have to match it to your body type. So, which would you fit best: slim or tailored?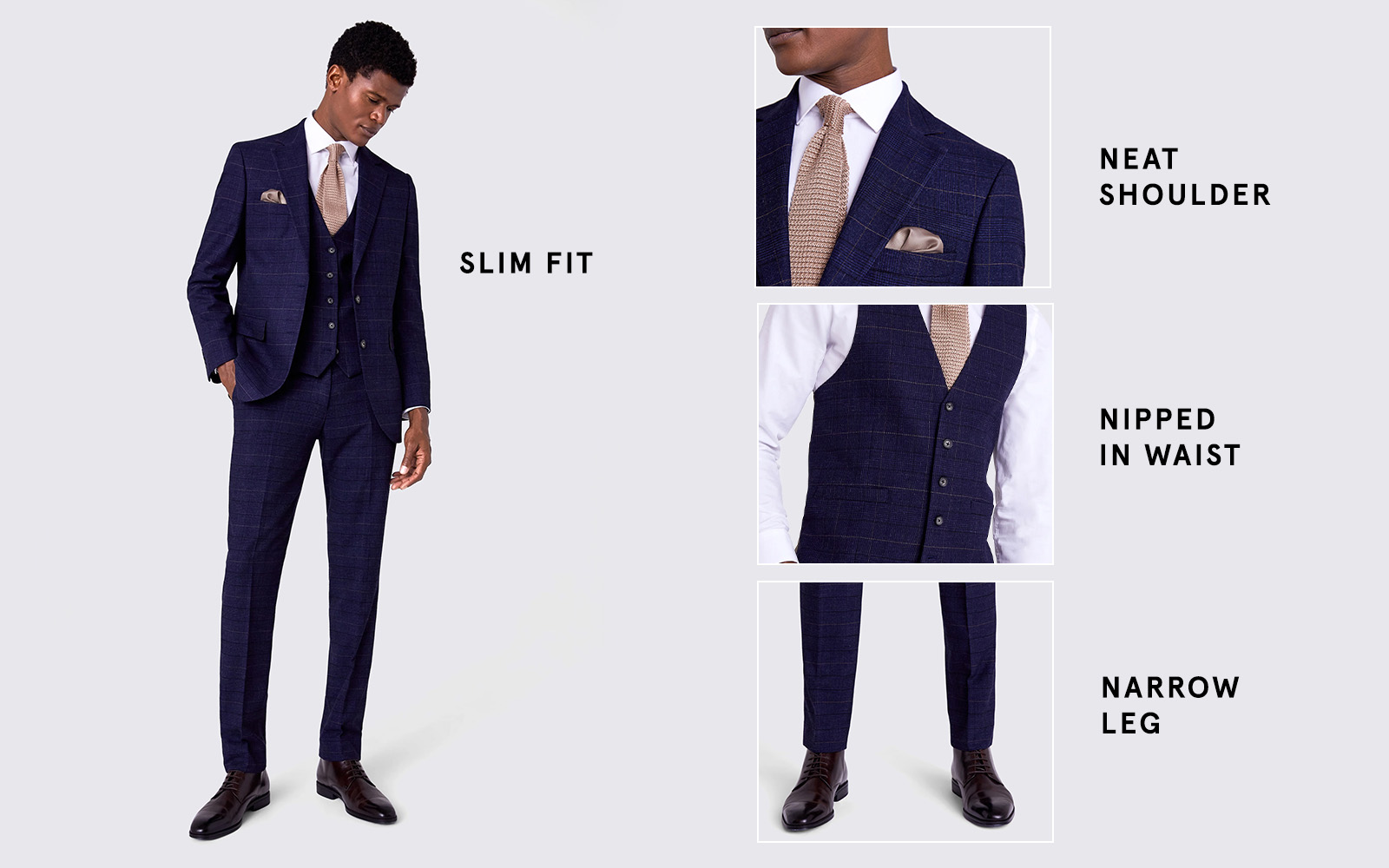 SLIM FIT
Defined by a tailored, narrow fit around the shoulder, chest, waist and sleeve, the slim fit look is finished off with tapered trouser legs to create a sharp, modern silhouette. It's a look that works well for men with a slight, slim or medium build.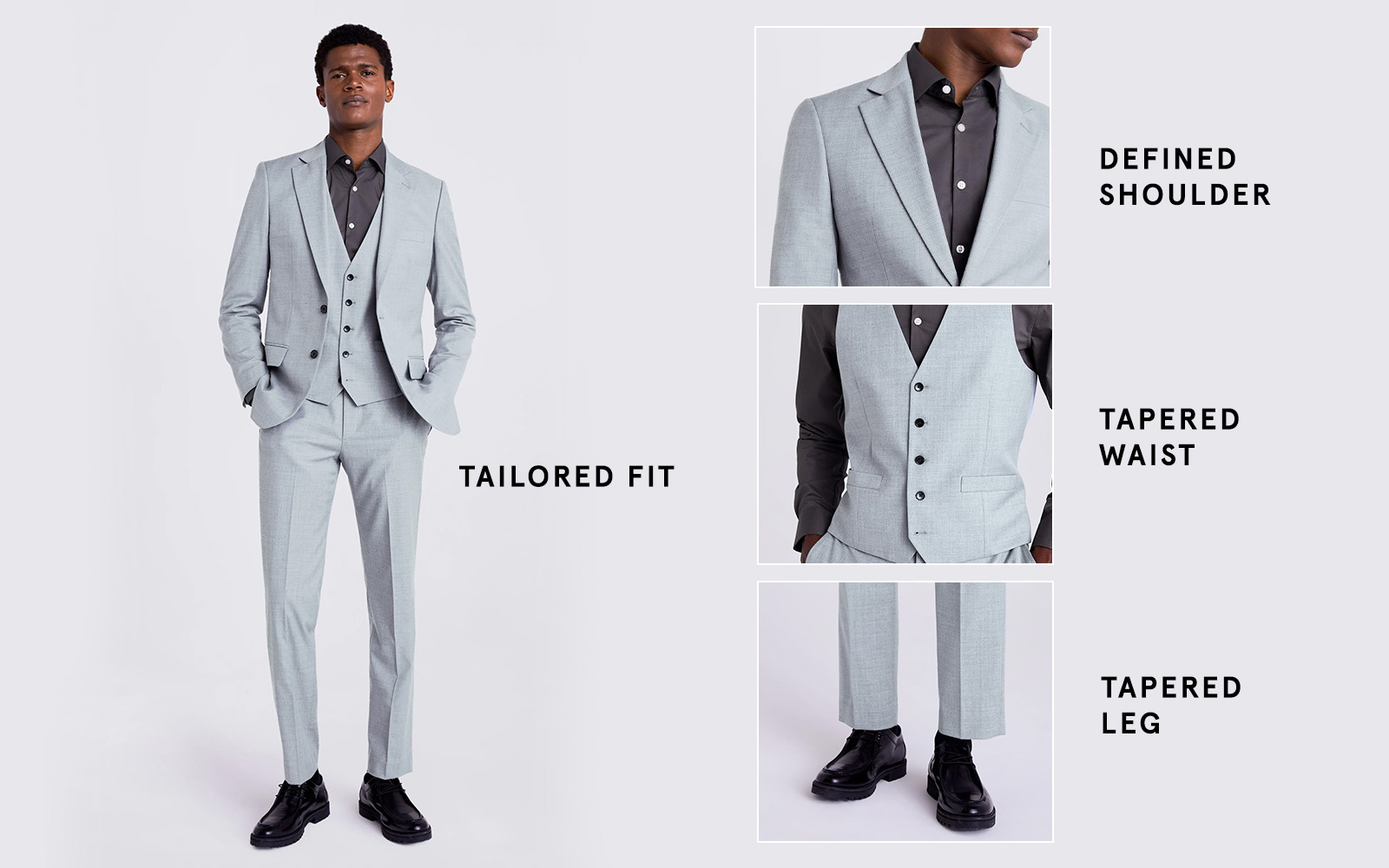 TAILORED FIT
The tailored fit is a great way to accentuate your frame, while still leaving room to breathe. Defined by a jacket that's tapered at the waist and has classic lapels, the trousers are tapered for a polished look. Ideal for guys with a slim, regular or large build, it's a style that has wide appeal.
If you're still not quite sure about your size and ideal cut, why not try our Custom Made service? Not only can you select your fit, colour and lining, but you can also have your owne the suit truly unique. personalised message embroidered on the inside to mak
Just drop in to see us and one of our suit experts will get you measured and have you fixed up and looking razor-sharp.
—
SHOULD I GO FOR A TWO-PIECE OR THREE-PIECE SUIT?
Both two- or three-piece suits give you a distinct look. Here's our take on each to help you choose.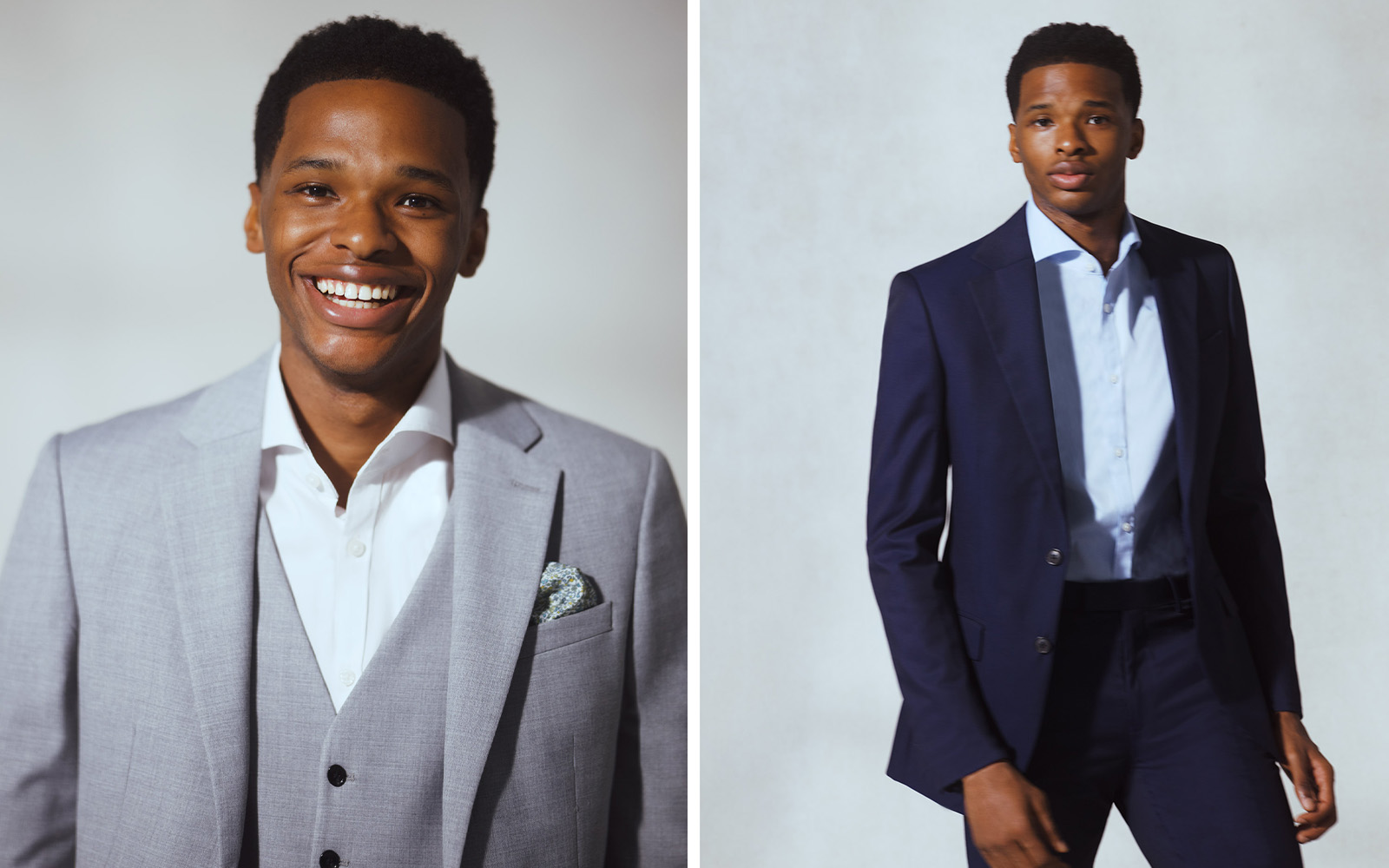 THREE IS THE MAGIC NUMBER?
A three-piece suit is just like a normal two-piece but has a waistcoat. More formal than a two-piece but less so than a dinner suit, it takes a classic, refined look to the next level.
If you're looking to channel a touch of old-school charm, or want to echo UFC lightweight champion Conor McGregor who's known for his three-piece repertoire, perhaps three is the magic number.
DOUBLE TROUBLE
Alternatively, the freedom of a two-piece suit may be more your thing. By ditching the waistcoat it's easier to go loud with coloured or patterned shirts and ties.
If you're looking for some inspiration, guys like footballing icon David Beckham and actor Michael Fassbender always pull off two-pieces like pros.
—
WHAT COLOUR PROM SUIT SHOULD I CHOOSE?
BLUE, BLACK, GREY….OR SOMETHING UNIQUE?
Do you go for classic black, blue or grey, or switch things up with a daring colour scheme? Let's explore your options.
BACK TO BLACK
Class and sophistication; that's what you get with a black prom suit. Whether you opt for the timeless black tuxedo a-la Bond or a tailored fit three-piece, it's a sure-fire winner in the style stakes and can blend perfectly into any prom.
FADE TO GREY
Grey suits can be a suave choice for prom when carefully accessorised. Transform the look of a smart three-piece grey suit with a shot of colour on your shirt, tie or pocket square. Or take a page out of the blazer playbook and go bold with a grey check jacket paired with some navy chinos for a casual finish.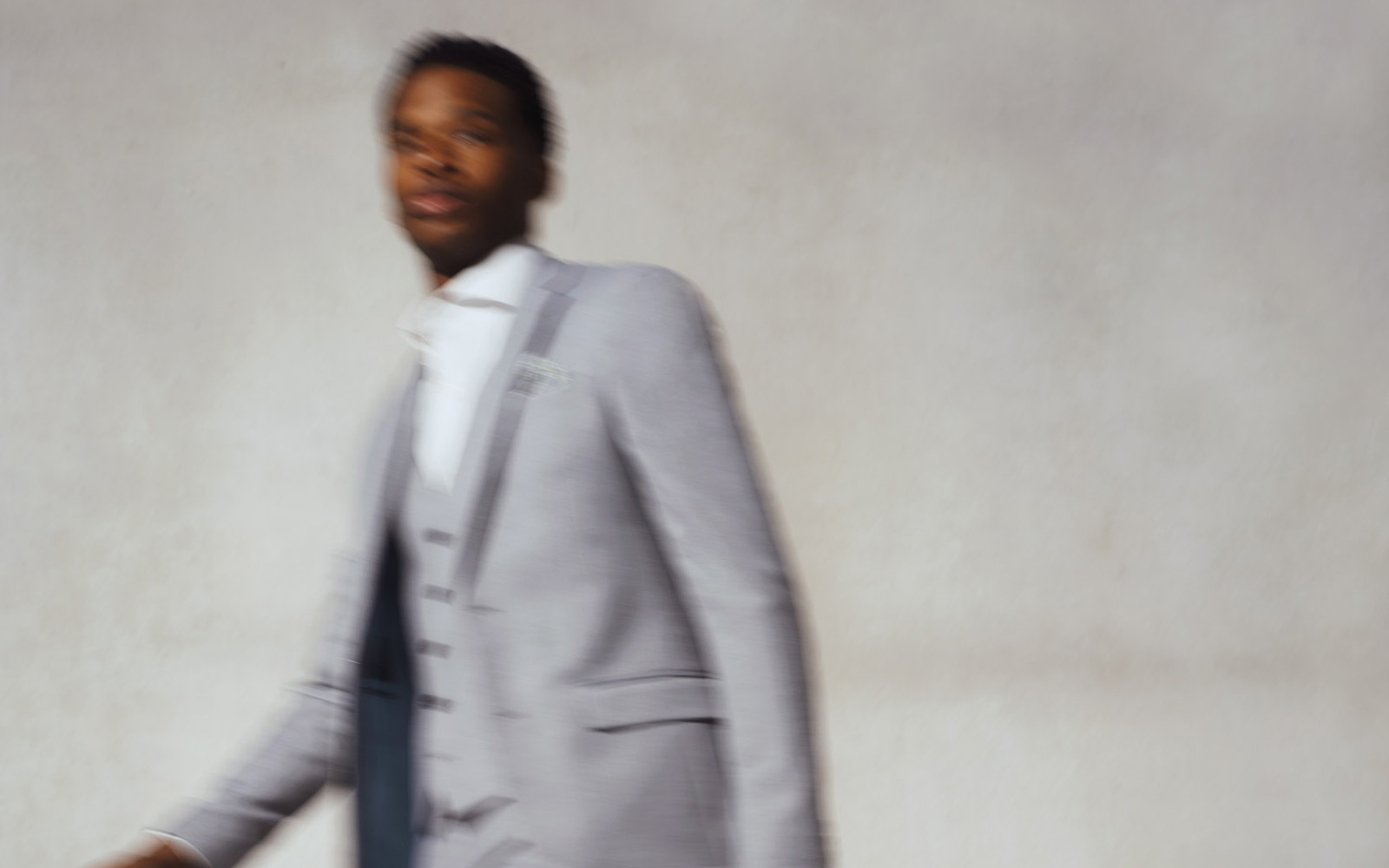 INTO THE BLUE
A blue blazer or dinner jacket gives your prom outfit a sense of classic style. This slim fit navy dress suit from our Moss collection combines classic style with a sharp cut. It's a look that says you mean business.
THE BRAVE AND THE BOLD
You'll be the talk of prom if you opt for a bold, untraditional colour for your suit, as shown below. Tie your outfit together with a tie and or pocket square that complement the suit's colouring or, if you decide you want to make an entrance, dial it up with a bright printed shirt.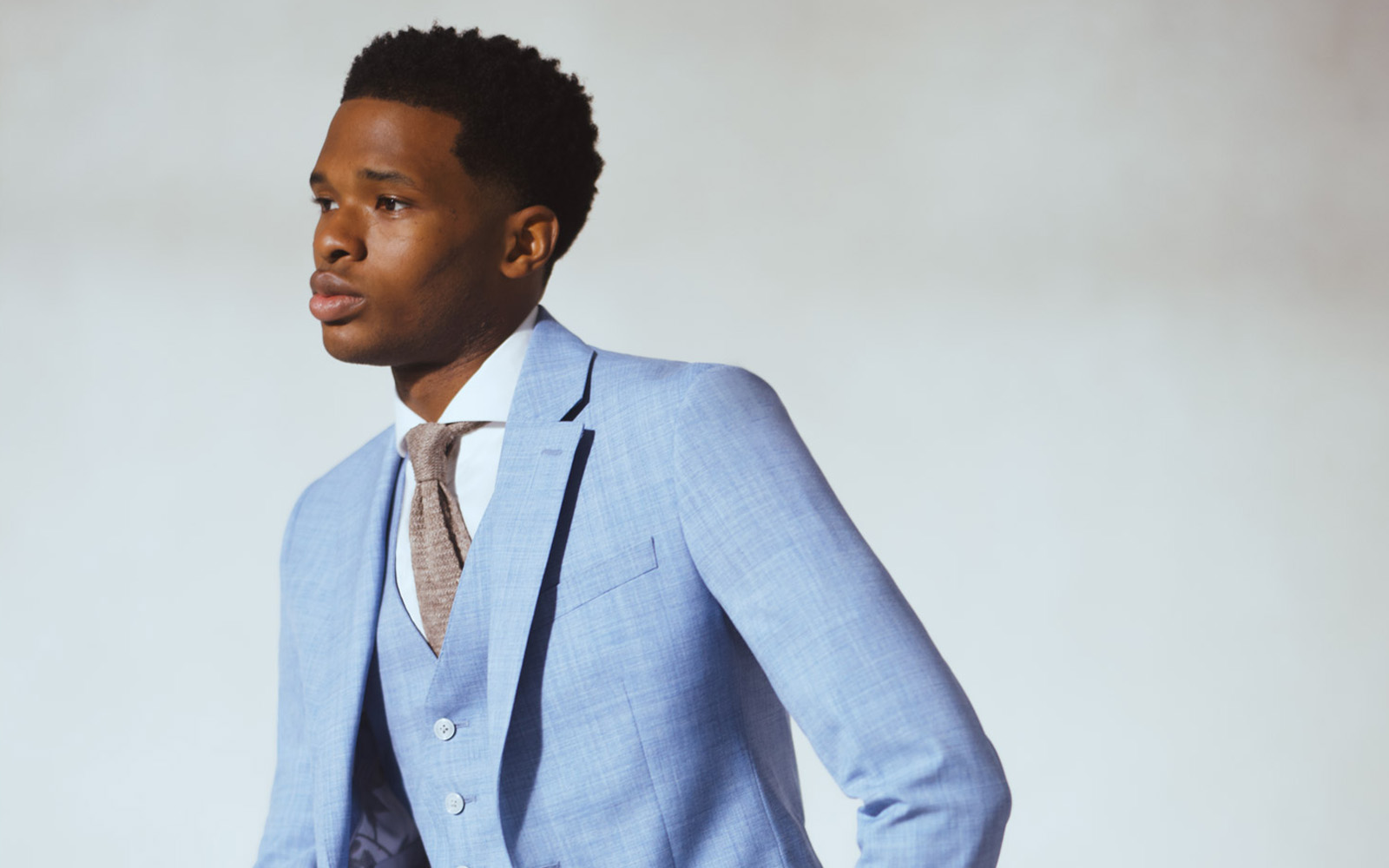 Colour doesn't always have to be loud. This beautifully tailored aqua tweed suit from Moss has bags of vintage charm, thanks to its unconventional shade and classic fabric – a perfect blend of traditional and modern.
—
FORMAL OR CASUAL?
CHOOSE THE RIGHT SHIRT FOR PROM
As part of your prom gear, you need a shirt. Match the fit to your suit: skinny, slim or tailored. And you have to get the style right.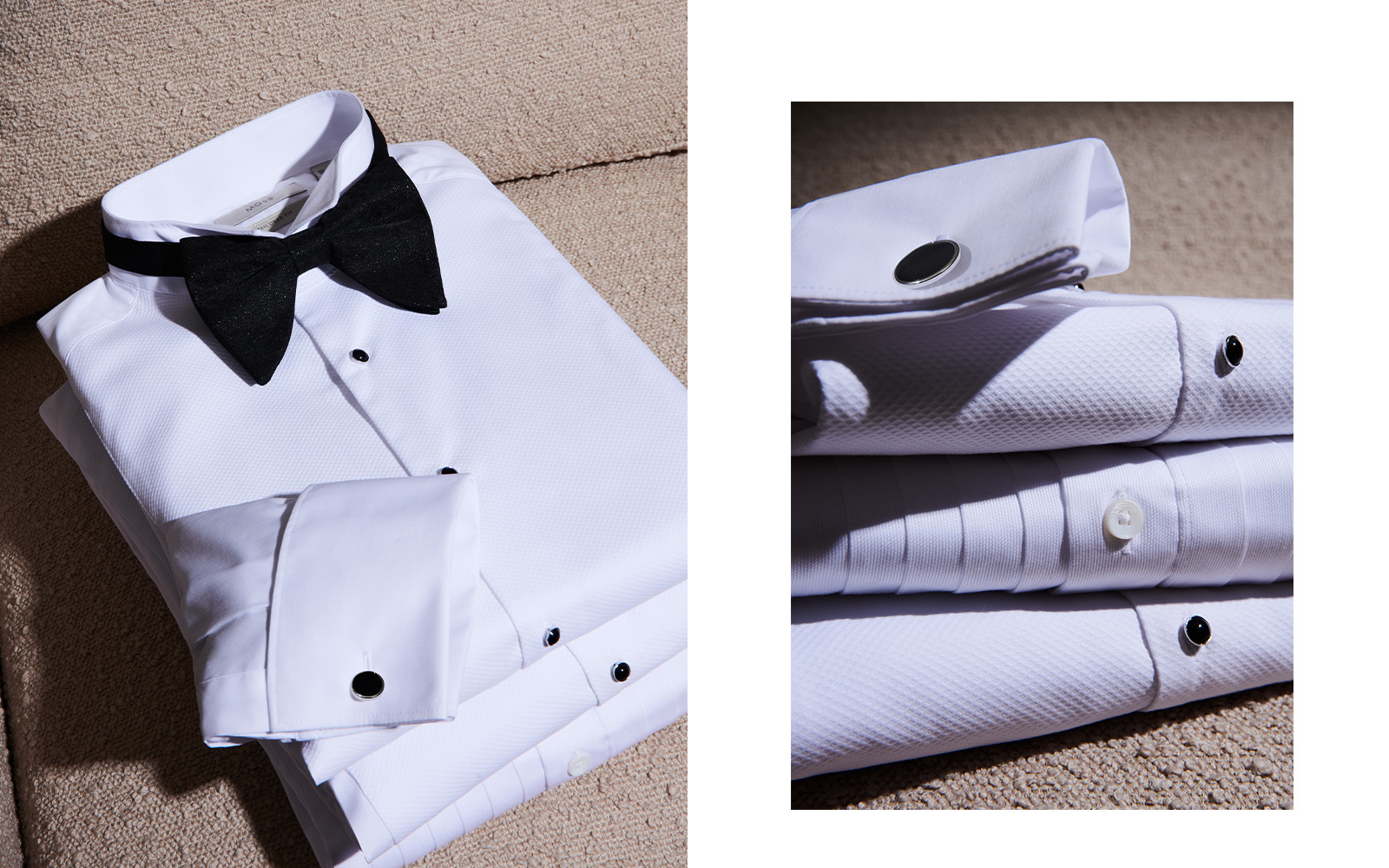 FORMAL SHIRT
A formal shirt is a safe bet. Just like your normal shirt, but smarter; it'll look great paired with your prom suit or blazer. A smooth white shirt in finest cotton and a sharp fit will add a refined edge to your look.
Or why not give your plain suit or blazer a burst of bold with a patterned formal shirt? With its delicate floral pattern, this shirt is a great balance between formal and casual and features a cutaway collar and single cuffs to let the pattern do the talking.
CASUAL SHIRT
After something more causal? This linen shirt will look awesome with a smart suit jacket or blazer. Keep things on the smart side by buttoning it right to the top.
Crisp white is always a good option for prom. Smart double cuffs always give a semi-formal vibe, while an extra slim fit is perfect to keep your look streamlined when paired with a standout suit or jacket.
—
HOW TO ACCESSORISE A PROM OUTFIT (MEN'S GUIDE)
You're probably going to want a tie or bow tie, but you can also accessorise your prom suit with things like a pocket square or cufflinks.
TIES AND BOW TIES
A tux needs a bow tie. For colour, you can't go wrong with classic black. This pre-tied version is easily slipped on and off. Not feeling black? Get a pop of colour with this bold blush bow tie instead.
For two- and three-piece prom suits, pick out a regular tie in a colour that complements your suit or date's outfit. This sage floral tie made with Liberty fabric from Moss has a light, summery feel to it. Keep it in place with this slick tie bar.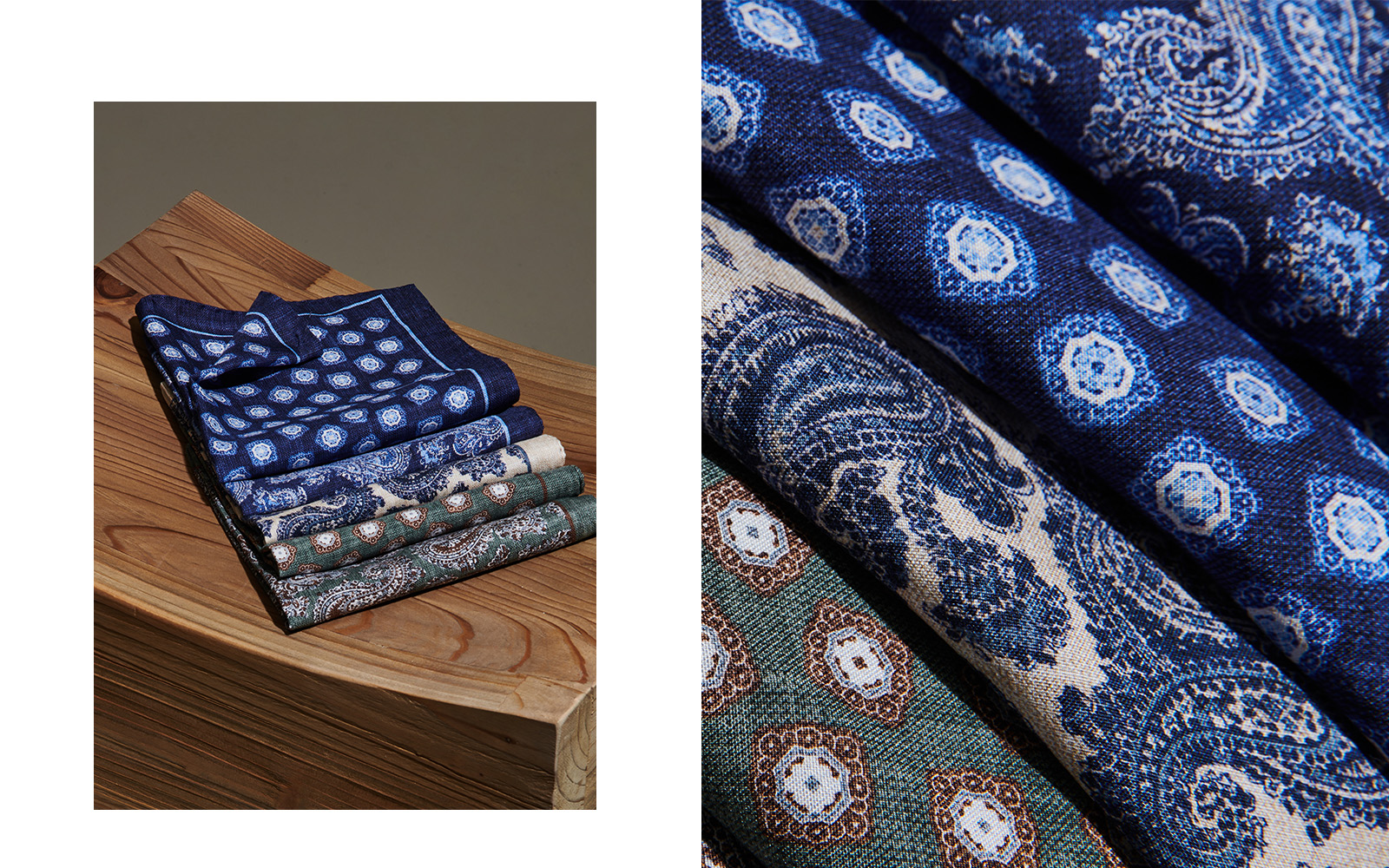 CUFFLINKS
Provided you haven't gone mad with colours or patterns in your outfit, cufflinks are a prom essential if you really want to make the effort. Some silver mother of pearl cufflinks add a bit of designer flair to your outfit.
POCKET SQUARES
Putting a brightly patterned pocket square in the chest pocket of your jacket can give your outfit a boost. Whether you go red, white or blue, or say it with a bold print, it's a simple but effective upgrade.
SOCKS
Don't undo all your hard work by flashing a tatty pair of socks when you stride into prom. A pair of bold socks make a great contrast to your suit. Pick a colour that matches your tie and pocket square to give your ensemble balance.
BELTS
A worn-out belt is really going to show you up. You'll probably want to match your shoe colour, which might mean a stylish black or brown leather belt will do the trick.
BRACES
Not essential, but worn with a tux or retro-ish suit, braces are a great detail that show you've made a real effort – something your date will appreciate.
—
HOW TO CHOOSE THE
PERFECT PAIR OF PROM SHOES
Prom shoes say a lot about a man, so pick a pair that makes the right statement. If you've decided on a tux or a dress suit, you should probably go with a shiny pair of black patent dress shoes.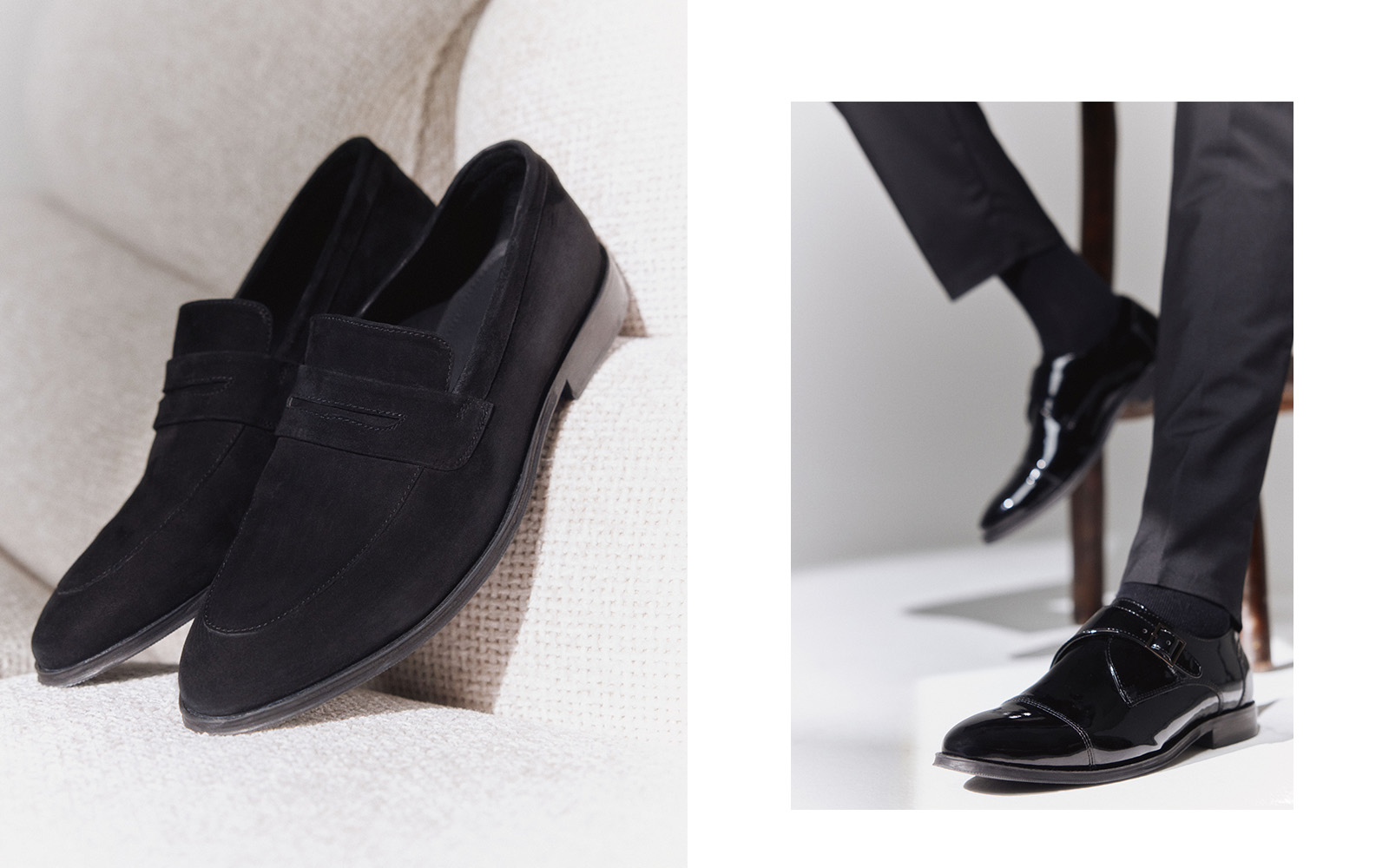 If you're going less formal, then you have a ton of colour and style options. These leather loafers are stylish and distinctive, and they'll pair up well with darker coloured suits. Choose the brown option if you're going for something lighter.
Only if they go with your look can you get away with
trainers
. Perfect for a suit without the tie, or even to dress down a full tuxedo, they'll add a bit of comfort to your outfit.
—
SHOULD I BUY OR RENT A SUIT?
It's up to you, and you can do either at Moss. If you visit us in-store to look for your perfect three-piece suit or stylish prom suit, our guys will give you impeccable service either way. To make up your mind:
BUYING YOUR PROM SUIT
Buying a prom suit may not be as expensive as you think. Not only will you have something in your wardrobe sorted for your next event or big interview, but you can get more mileage out of it by wearing it other ways too – like with a T-shirt and trainers, or just the trousers with a sweatshirt or knit. You've also got the option to have it tailored for a custom fit at an additional cost.
HIRING A PROM SUIT
Hiring a quality prom suit from Moss can set you back between £40 to £142, so you'll it could work out cheaper than buying. It also gives you the chance to road test a new look with no commitment, or to wear an outfit you wouldn't necessarily invest in.
—
WINDSOR KNOT OR BOW TIE?
MASTER THE ART OF TYING A TIE
On the night, you're going to have to do your tie or bow tie. The first one, you might have had some practice from school. The second one? We show you how:
HOW TO TIE A BOW TIE
The key to mastering the bow tie is to not get it too tight so that it stays perfectly put and doesn't bunch your collar up. Of course, you could opt for a pre-tied version if you want to save on hassle.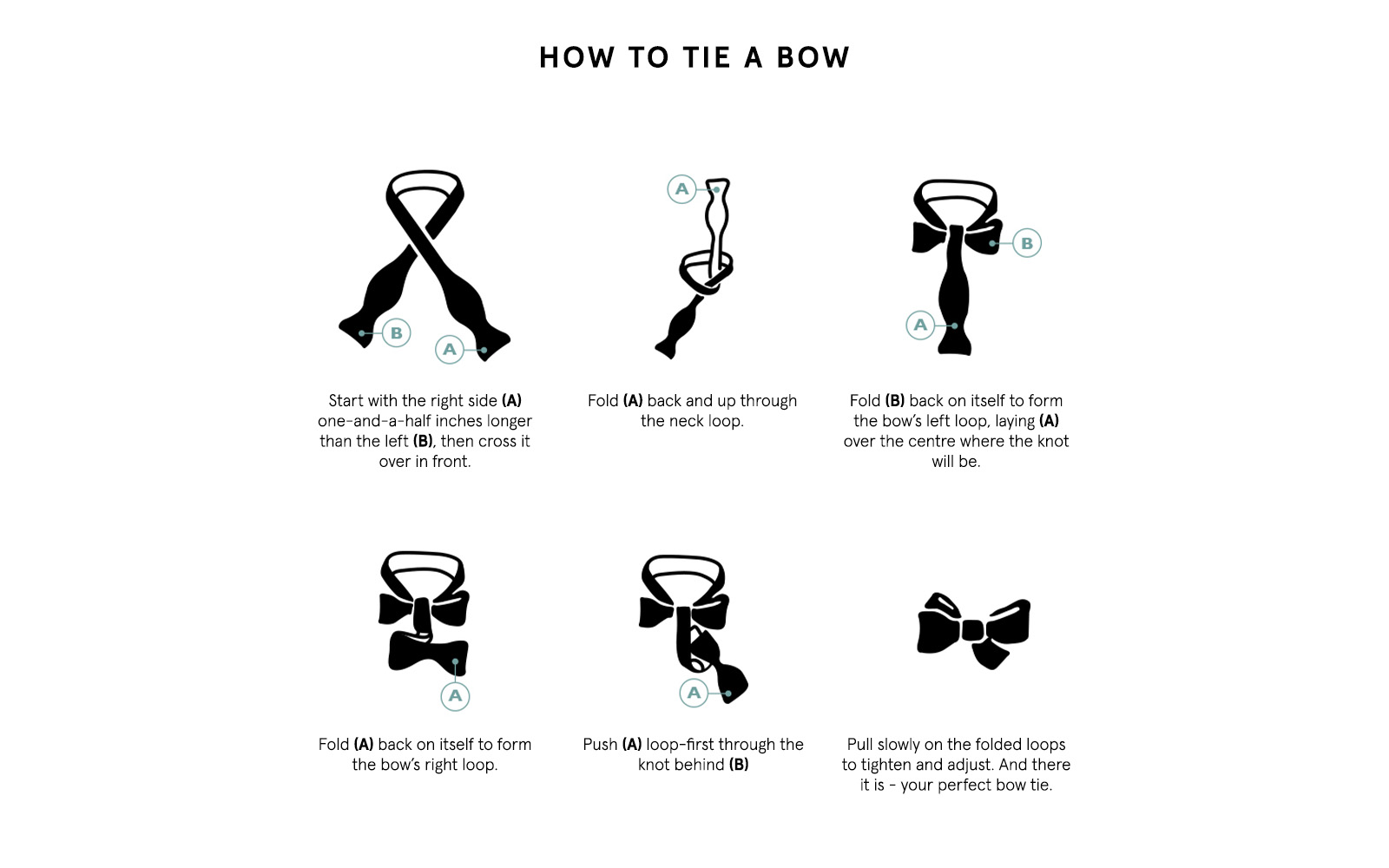 HOW TO TIE A WINDSOR KNOT
Suitable for regular to skinny ties, tying a Windsor knot (the most common tie knot) is a skill you can pull out of the bag for an interview or a business meeting as well as your prom. So it's worth knowing how to do it yourself.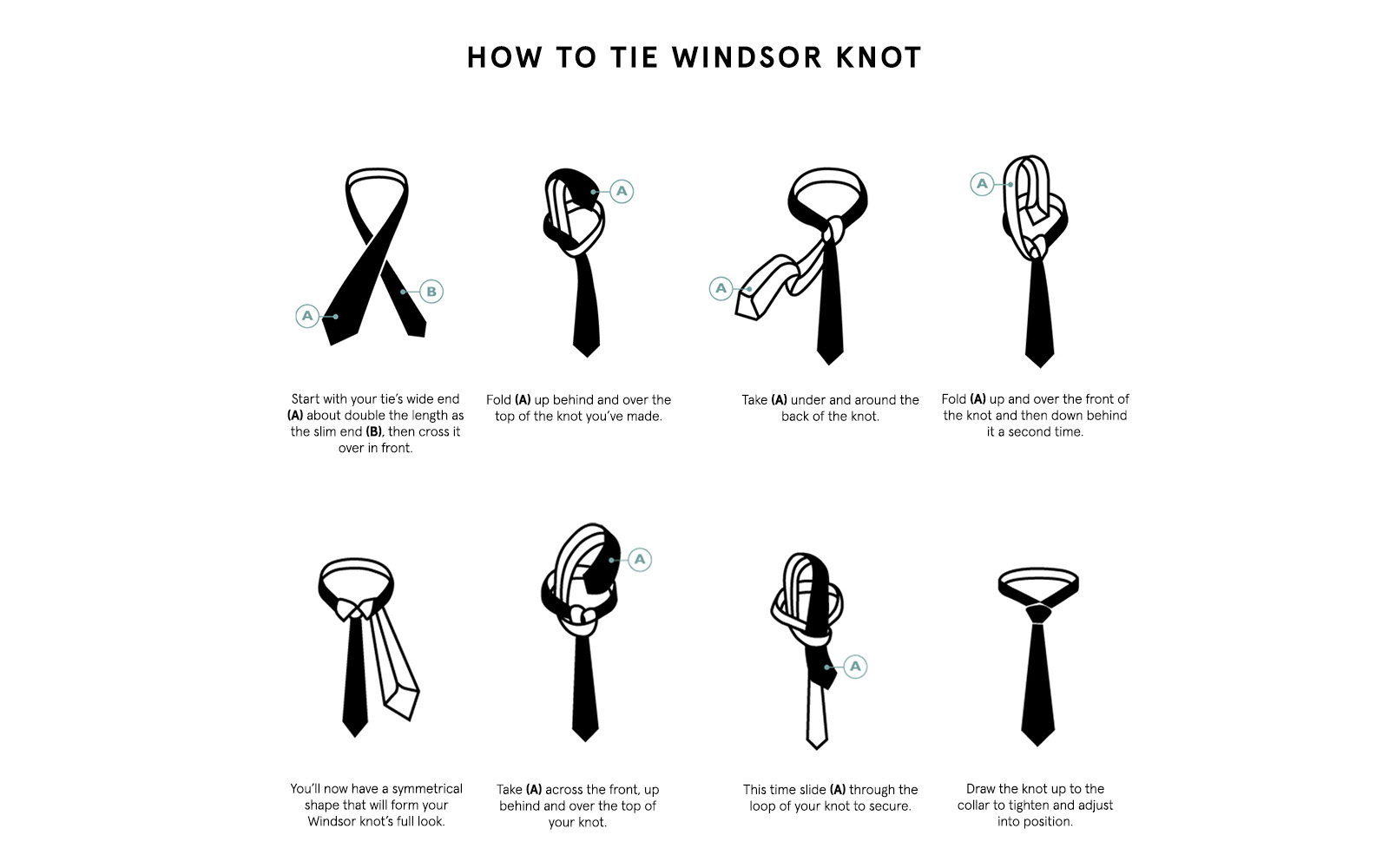 —
PROM HAIR IDEAS FOR MEN
Turn some attention to your locks. You could just go with your regular style, but there's no better time to upgrade to a slick new look that's befitting of your new threads.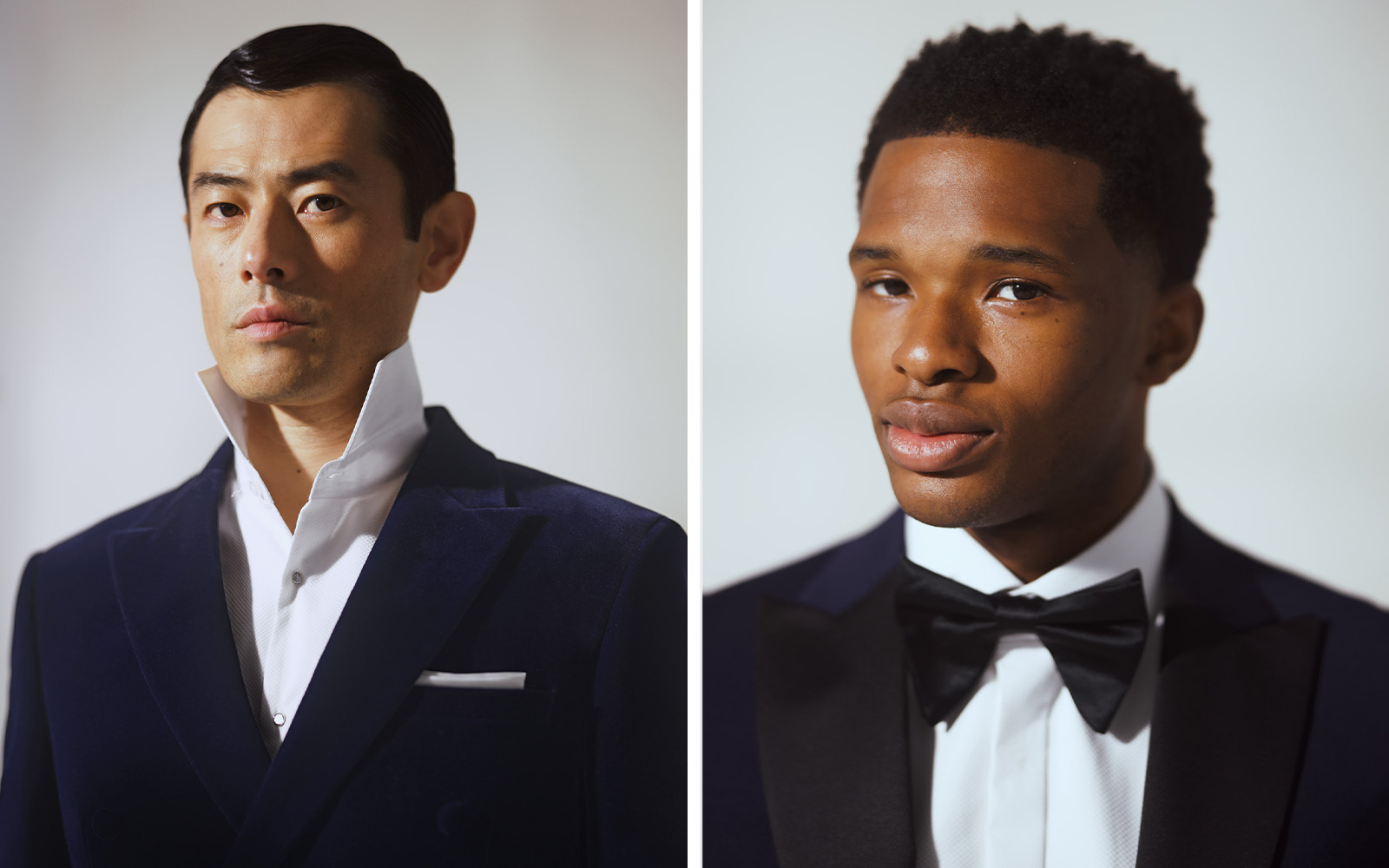 SHORT FADE
Keep it short and sweet with a contemporary fade, like the model above left.
SIDE PARTED
Above right, a deep side part looks polished and held in place with pomade or some gel.
NATURAL SWEEP
Above left, this low-key take on the side parting is easy enough to get right.
TEXTURED CROP
Go rough and rugged with this textured take on the usual barber's short-back-and-sides, shown above right.
—
HOW TO PROM-POSE IN STYLE
Time to get a date. If you're already going out with someone, you're sorted. But, if you're single and have had your eye on a special someone, then pop the question. Here are a few ideas:
SAY IT WITH FOOD
Take your date-to-be to their favourite restaurant and get the waiter to slip your note onto the table with the food. Or, order takeaway pizza and have them write your message on the inside of the box.
MIX IT UP
If you're brave enough, wow your potential date with your musical prowess, and put together a playlist of their favourite tunes called 'Will you go to the prom with me?'.
SET THE STAGE
Get your favourite local band or DJ to do a shout-out at a gig. It might involve a bit of planning and begging, but then everyone loves a risk-taker.
And, if your proposal goes pear-shaped and you're given the cold shoulder, fear not. Be gracious, take it like a man and go to the prom with your mates. You'll still have a great time and you never know who else will catch your eye.
—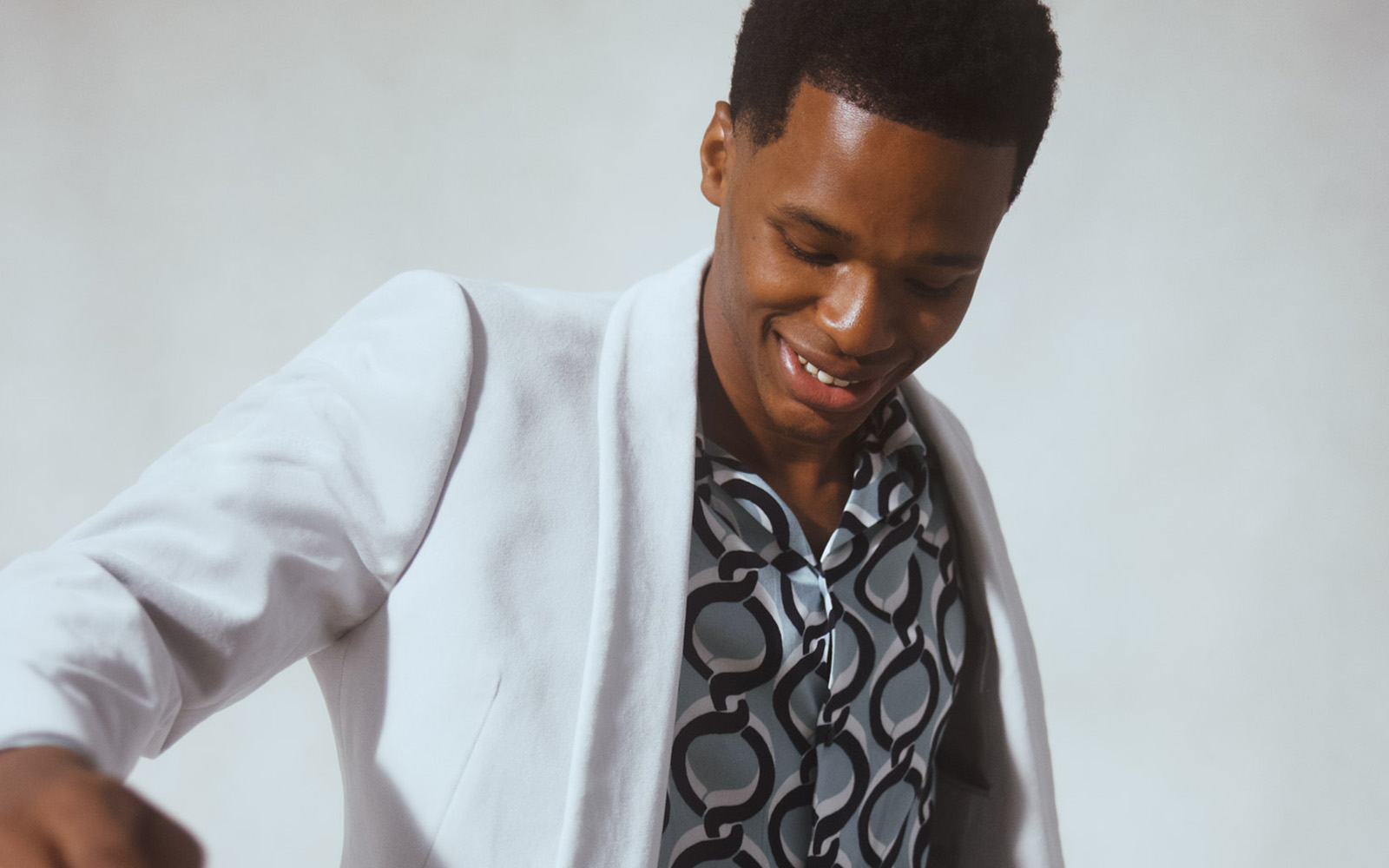 HOW TO TRAVEL TO AND FROM PROM IN STYLE
If there's a night you don't need to get a lift from your parents, it's prom night. Whether you're with your mates or a hot date, you need to arrive in style.
JUMP ON THE PARTY BUS
Travelling in a large group? A decked-out 'party bus' or limo could be the answer. Enjoy music, laughs and some great pics to post as you head out to prom.
VINTAGE COOL
Impress your date by shunning the clichéd limousine and hire a horse and carriage. Some might say you're a little old-fashioned, others will think you're just a modern romantic.
A SLICE OF AMERICANA
Make like a movie star and go for a massive Hummer. Everyone will notice when you arrive, and they'll probably be taking so many shots of your ride it'll feel like the red-carpet treatment.
—
HOW TO ORGANISE A PROM AFTER-PARTY
The best parties are often the after-parties, so why not organise your own? While party planning isn't easy, the end results can be worth it if you get it right. Here are a few tips to kick you off:
Organise your party with a group so the tasks are shared out – one team, one dream.
Have a brainstorm and pick a good theme, whether it's casino or 90s rave.
Set your budget and put the feelers out for numbers.
Get DJs, sort the venue and book door staff if you think you might need them.
Send out your invites and sort tickets if you don't want a load of gate crashers.
Buy food and drink.
Party the night away!
The morning after, enjoy a well-earned break with a lazy pizza and movie day.
Got some ideas now? Take a look through our huge collection of prom suits for men to get your outfit sorted, or browse more of The Inside Pocket for more style tips.