A poplin shirt is one of the most common shirt styles, but people aren't generally familiar with the name. It's also the original formal shirt fabric, so if you've ever dressed up for an occasion then it's likely that you've worn a poplin shirt with your suit. Keep reading to find out more about this much-worn – but often unknown – shirt style.
What is a poplin shirt?
You won't be surprised to learn that a poplin shirt is a shirt that's made from cotton poplin fabric, sometimes with a blend of other fabrics for added benefits. It's a smooth, crisp and tightly woven fabric that uses fine yarns and a simple weave. The end result has a lustrous surface with very fine horizontal ribs.
Poplin is commonly used in men's shirts and, because it has a smooth finish, it's particularly popular when it comes to formal wear. FYI, poplin is also sometimes known as tabbinet, but you won't usually see a shirt labelled as a 'tabbinet' shirt.
Where to wear a poplin shirt?
The great news is that a poplin shirt is pretty low maintenance. It doesn't usually need to be dry cleaned, doesn't stain easily and is naturally wrinkle-resistant. Because it's usually made with a high cotton content, odours usually wash out of it too. It's also more breathable and feels a little softer than a twill shirt, so if you've tried twill before and want a change then you might prefer poplin.
Although poplin is regularly worn with formal suits, black-tie outfits and other types of formal wear, it's completely versatile. A clean, crisp poplin shirt can easily be paired with jeans and a jacket for an understated look that still looks put-together.
Getting the right fit
To make sure you get the right size and that your outfit is just as crisp as your poplin shirt, it's best to measure yourself properly. A shirt that fits well makes a huge difference to an outfit, and you'd be amazed at just how much it can elevate your whole look.
Start by carefully measuring your collar size, sleeve length, sleeve length, shoulder width and the waist size to make sure you get a shirt that fits. Enlist the help of an extra pair of hands if you're finding some parts of the job a little fiddly. If you have a shirt that fits you perfectly, sometimes you can get away with just measuring your existing shirt. But remember there are sometimes slight differences in sizing between brands.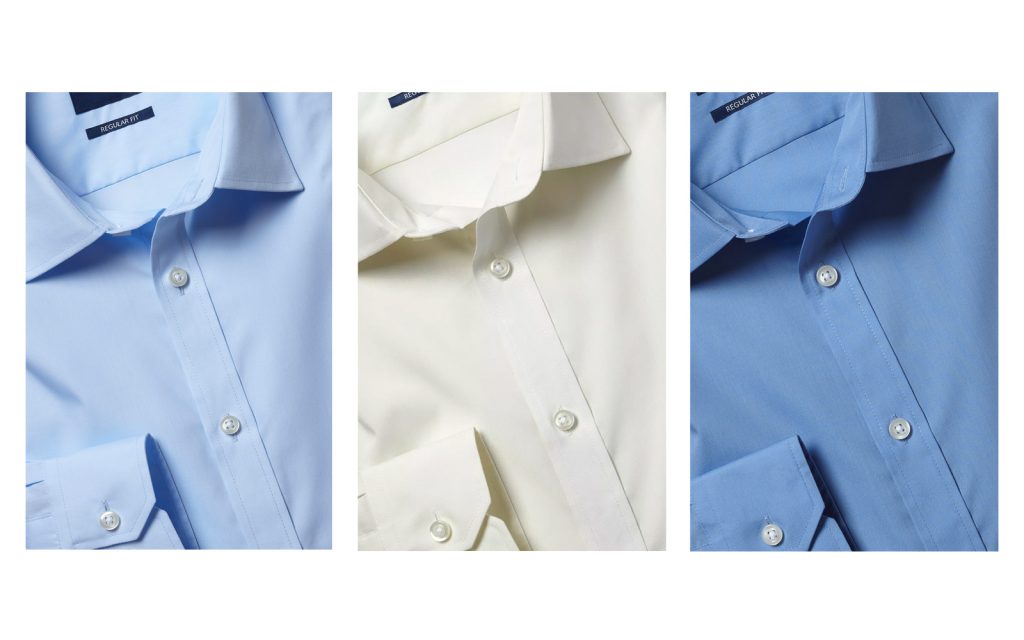 Next, check out how your measurements fit with our size guide. Remember to take measurements with your body in a natural position and without holding your breath as you might end up with the wrong size otherwise.  If you're between sizes, you can always order both sizes and see which you feel the most comfortable in. It's not a great feeling to be in a shirt that's too tight, or to see that your shirt has changed the way you wanted your outfit to look, and not for the better.
How to style your poplin shirt
Although poplin has a reputation for formal wear, that's not all it's good for. As it's so easy to dress up or down with some simple additions, a poplin shirt's a real wardrobe must-have. Here's how you can wear one, wherever you're headed.
Formal and semi formal events
Hello black-tie events! As we mentioned earlier, poplin shirts have a smooth, crisp and slightly silky (but never shiny) surface that works particularly well with formal wear. It gives a clean, groomed look to your suit – you can't really go wrong with a crisp white poplin shirt paired with a formal suit for weddings, balls or formal dinners.
For semi-formal events, you can easily scale it back alongside your poplin shirt. Dial down on formal accessories and loosen it all up for a more relaxed look that'll still sit right in a semi-formal setting. Jackets, shoes, cufflinks, ties and a pocket square can all make a huge difference to how formal an outfit looks or feels.
Business casual and smart casual
It's easy to dress down a poplin shirt while keeping it smart or business casual, especially when you still want to look polished. Pair with a jacket (or don't), take off the tie and even skip the suit in favour of a nice pair of trousers and more casual shoes like suede monk shoes or a streamlined pair of trainers.
When it comes to this style of dressing, it's more about modern shapes and fabric choices. You might look at suits in shades that move away from standard black and navy, like trending neutrals or a bright block colour. Or you could look at tweed suits, linen suits or a standout check fabric to pair with your poplin shirt. Add a jacket to make it more formal or lose your tie if you're going from day to night or to something after work.
Casual
A white poplin shirt, or another neutral colour you like, can be a great basic to build the rest of a semi-casual outfit around. It's also that bit sharper – great for if you want to lift what you wear working from home from what you'd wear around the house on your days off.
You can easily layer your outfit with a hoodie, jumper, sweater vest or jacket along with jeans, trousers or chinos. Don't overthink it, pair your poplin with trainers and denim for a laid-back look. You can experiment more with colour, texture and style combinations way more than in a formal situation.
Upping the style stakes with a poplin shirt
A poplin shirt is a great piece for the wardrobe that you can easily dress up or down, depending on where you're going. Poplin strikes a great balance between formal and casual that makes it really versatile. Check out all our shirts for men and find your best match this season, and all year round.