THIS IS HOW YOU BRING THE PARTY
It's that time again: party season is here. And with it, the best excuse you'll have all year to dress up. Don't wait until the formal ball invitation arrives though – get in the festive spirit and make any time party time.
Pre-Christmas catch-up with friends? Add velvet! The in-laws' annual festive gathering? Go bold! The much-anticipated office party? You get the idea.
Whatever you've got planned this going-out season, use our handy scale to make sure you always bring the party.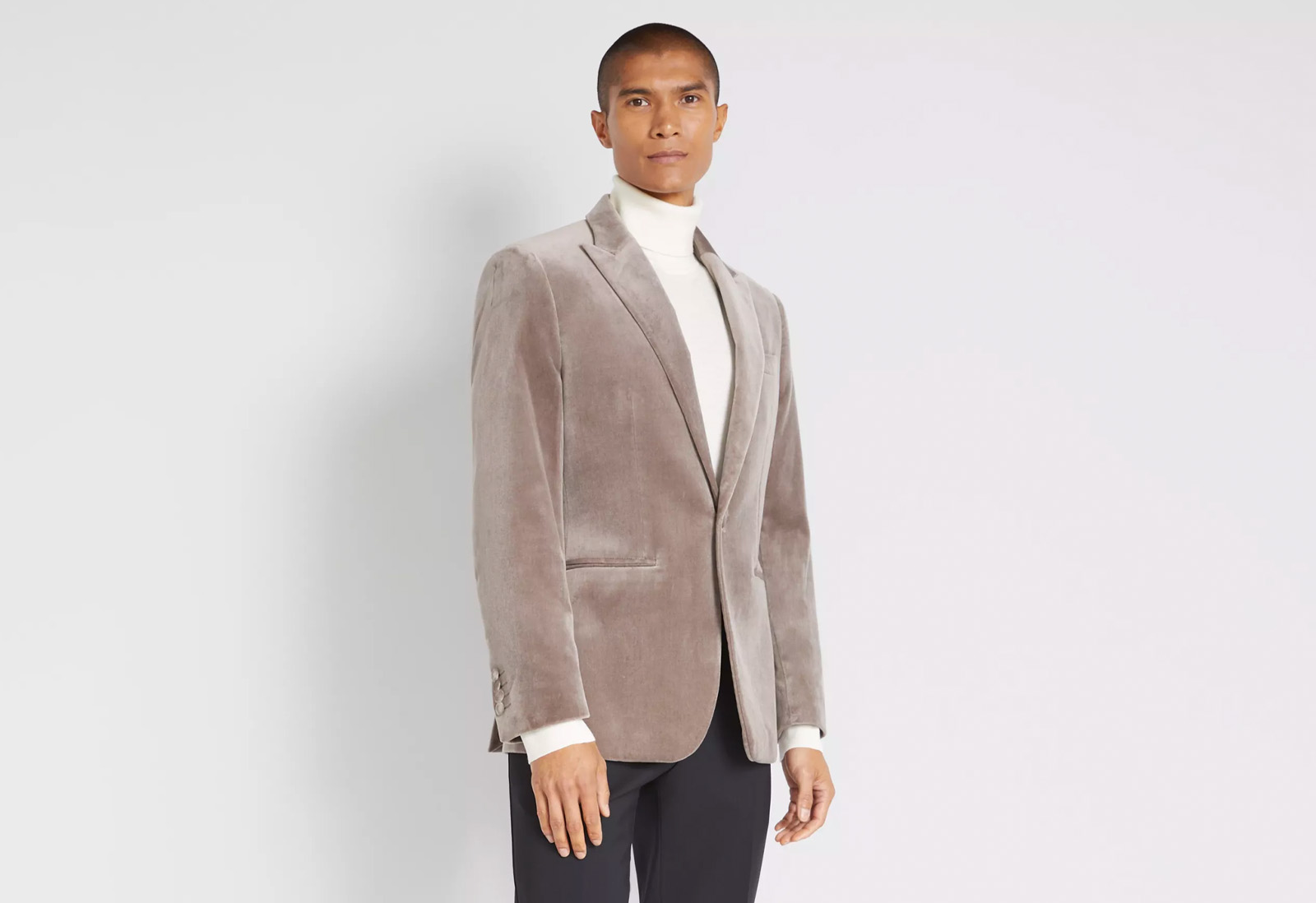 A FESTIVE ROUND WITH FRIENDS

Picture this: you're heading to the pub to meet your friends after work. So far, so normal. But it's party season, so why not dress like it? Even if you're just going to your local, it takes very little effort to top corduroy trousers and a cable knit jumper with a velvet jacket. And make it one in a festive colour – not just because you can but because you should. Add a casually ruffled pocket square in a contrast colour and you've successfully made a few friendly pints feel like the party it should be at this time of year.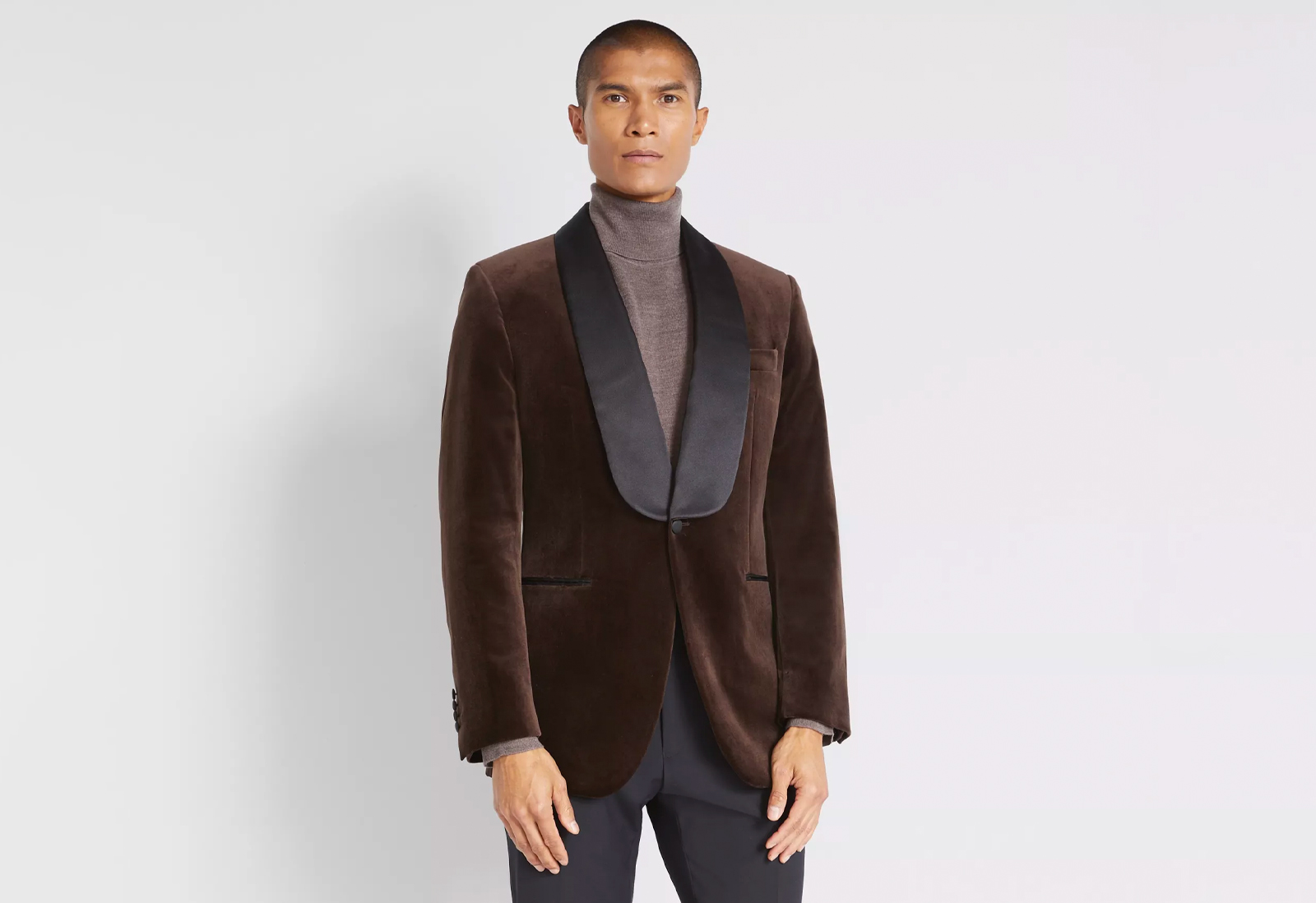 AFTER-WORK DRINKS

Your party piece this going-out season? A really good party jacket that'll take your look from the day job to a night out with impressive ease. This one's combination of luxe velvet and a neutral hue means it does a great job of dressing up semi-casual kit – like this white rollneck and side-stripe trousers that you could easily wear to work. Come 6 p.m., throw on the jacket, pull out the coordinating pocket square lining and you've effortlessly transitioned into party mode. Now that's a good trick to have up your sleeve.
THE OFFICE CHRISTMAS PARTY OUTFIT

When the office Christmas party comes around, it's time to take it up a notch. Depending on where you work, you'll have varying degrees of dress code to work to. If the dress code is more relaxed, don't take that as a reason to make less effort – if anything, this is your opportunity to go bold! If you can't wear a velvet jacket with satin lapels at Christmas, then when can you? A suit this bold does all the talking for you (metaphorically, we mean – you'll still have to practise your small talk), so keep everything else pared-back with a white t-shirt and suede trainers.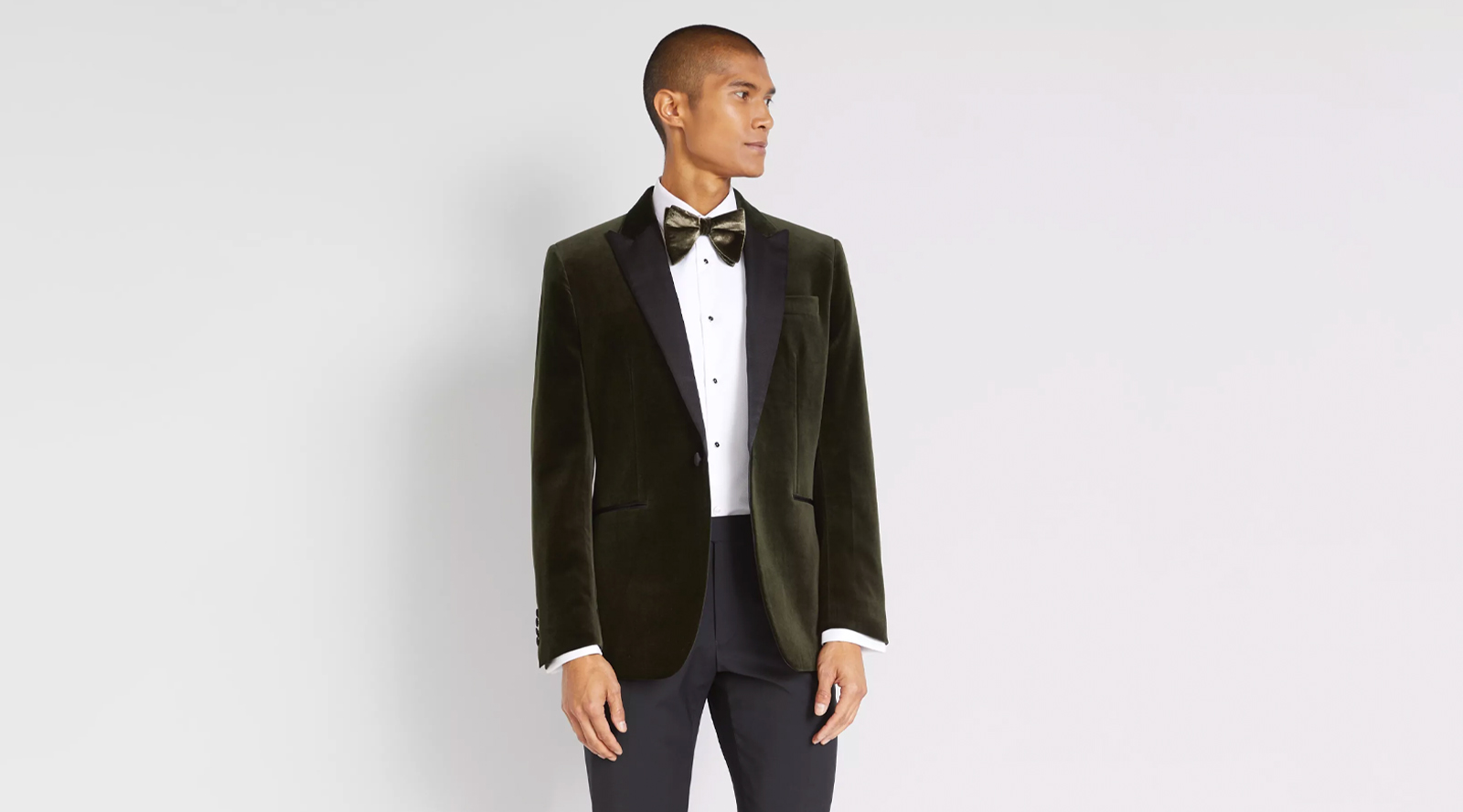 THE IMPRESS-YOUR-BOSS PARTY

Office do likely to be a more restrained affair? You can still bring the party without shocking senior leadership with your blatant disregard for the dress code. A festive green jacket adds touchable texture (lucky you) and will show up beautifully under soft lighting. Style it with head-to-toe black so the look's refined rather than flashy. Skip the tie and instead keep a couple of your collar buttons undone – this is the one time of year you've got your boss's permission to literally loosen your collar, so use it.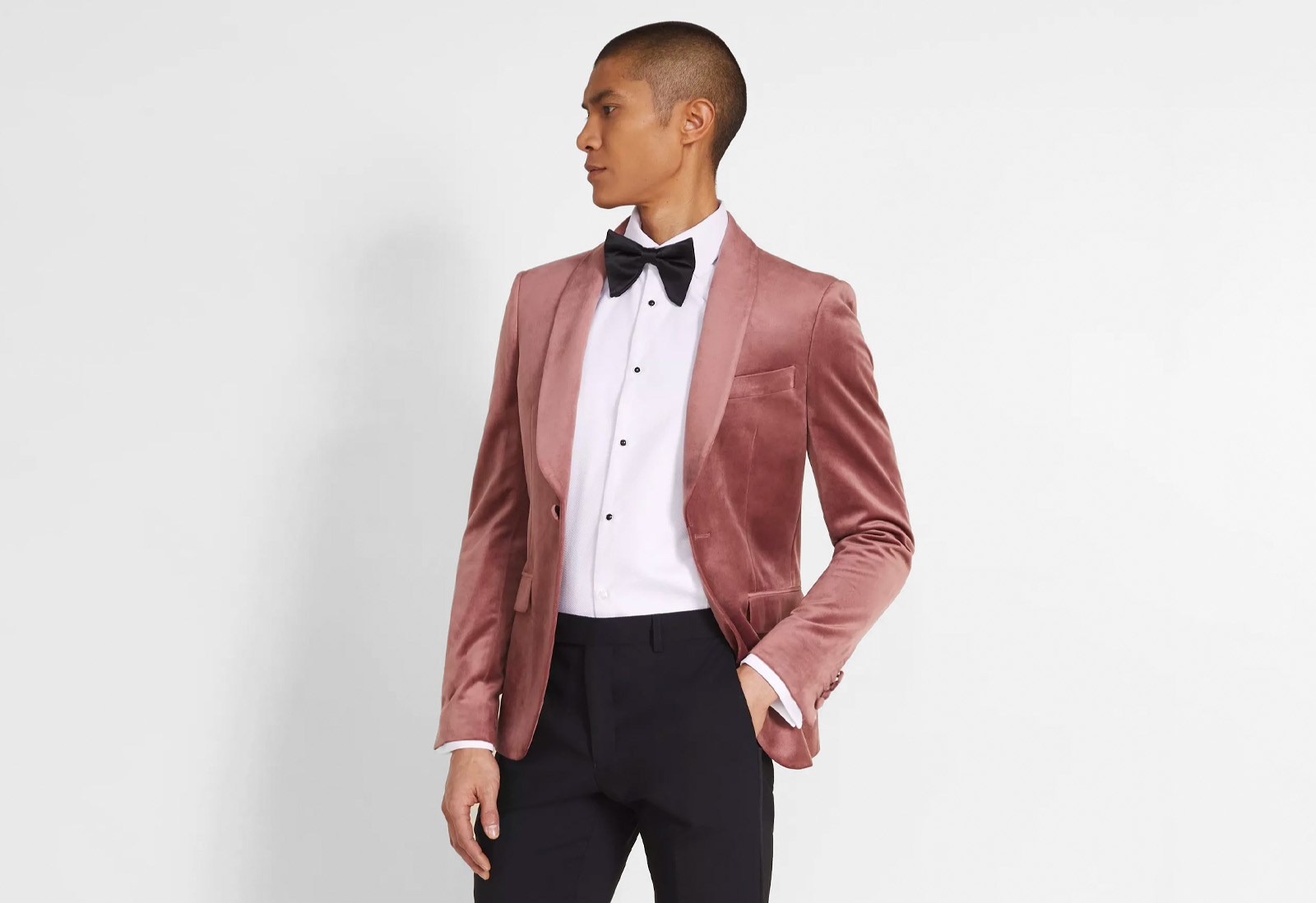 THE BLACK TIE INVITATION

The invitation says 'black tie' so you need to step it up. A tuxedo is non-negotiable. But nobody said it had to be black. Navy is actually the tradition (it came about when electric lights went mainstream, looking better as it does under artificial light) but you'll still stand out in a crowd of more common penguin suits. A brighter hue, like the dusty pink above, is party-ready (like you), so all you need is a crisp white shirt, black satin bow tie and patent dress shoes.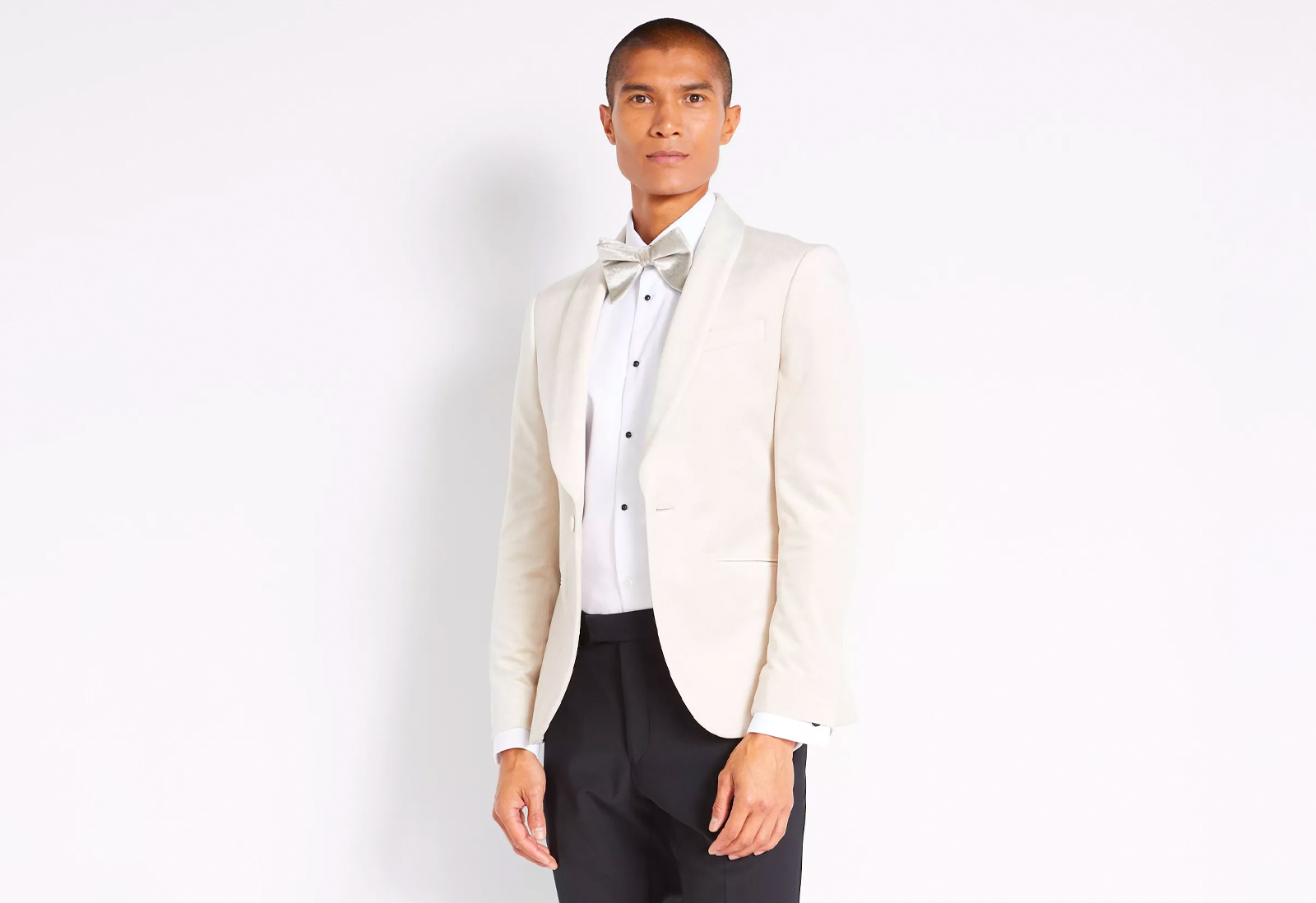 THE FULL WORKS

And finally, we reach all-out black tie. This is off-the-scale dressing up. If you've got this invitation – the Elton-John's-Christmas-party-level invitation – you need the full works. It's rare as men we get the chance to go for glamour, but that's what you're aiming for here. Start with a pin-sharp tuxedo, a formal shirt and smart shoes, like patent Oxfords. Then dial up the drama. An oversized floppy bow tie feels straight out of golden-age Hollywood, while a double-breasted overcoat with peak lapels is unapologetically high-impact.