OUTDOOR WEDDING IDEAS FOR EVERY SEASON
How to enjoy an outdoor ceremony all year long by Coco Wedding Venues
Following two years of restrictions, postponements and altered wedding plans it's fair to say 2022 is shaping up to be a bumper year for weddings. We're expecting to see the highest number of couples tying the knot since 1984, of which many will be embracing the great outdoors. From open-sided marquees to magical woodland ceremonies and al fresco dancefloors, these open-air options are fast becoming the go-to for modern couples across the UK.
It's fair to say that normal service hasn't resumed quite yet – while we are still seeing a rise in popularity for smaller, more intimate wedding options, search requests for outdoor venues and ceremonies are still high on the planning agenda.
2022 will likely see more outdoor and summer weddings than ever, with couples feeling more comfortable knowing that in the unlikely event we find ourselves under more restrictions again next year there will be fewer obstacles. We also can't ignore how valuable our time outdoors has been in the last couple of years so we're seeing brides and grooms wanting to fully embrace this and get creative with the space available to them.
As well as the practical reasons it's easy to see the attraction of an outdoor wedding. We've seen laidback outdoor lounge areas grow in popularity, as well as mobile bars and food trucks, heavenly beach blessings and cool rooftop receptions adorned with twinkling lights and candles. But one of the best things to come out of 2021 has to be the rise of the outdoor dancefloor! In a courtyard, under a canopy or barefoot on a lawn; couples have been embracing their outdoor options, choosing to have their first dance in the glow of golden hour.
So, when is best for your outdoor wedding and what are your seasonal suit options?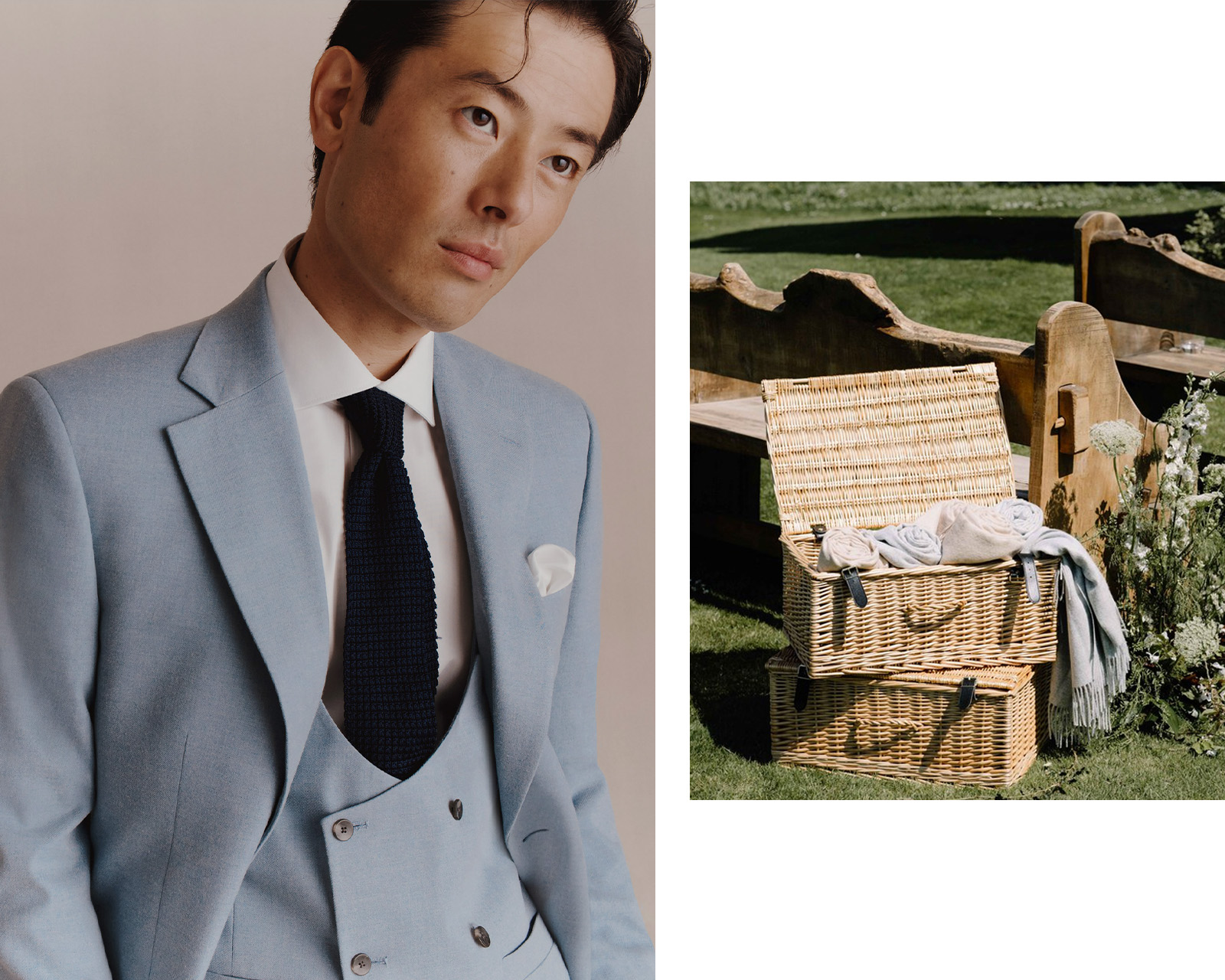 SPRING
With the arrival of British Summer Time comes lighter evenings, beautiful seasonal flowers (hello Peony season!) and a bumper time for bank holidays. Spring feels fresh and full of promise, and it's also not as wet as you have been led to believe – it's honestly a wonderful time of year for an outdoor wedding ceremony. A light blue suit would look amazing against a backdrop of fresh flowers and lush foliage. Pair this with a white shirt and colour-pop tie and you'll fit right in to the optimistic spring mood.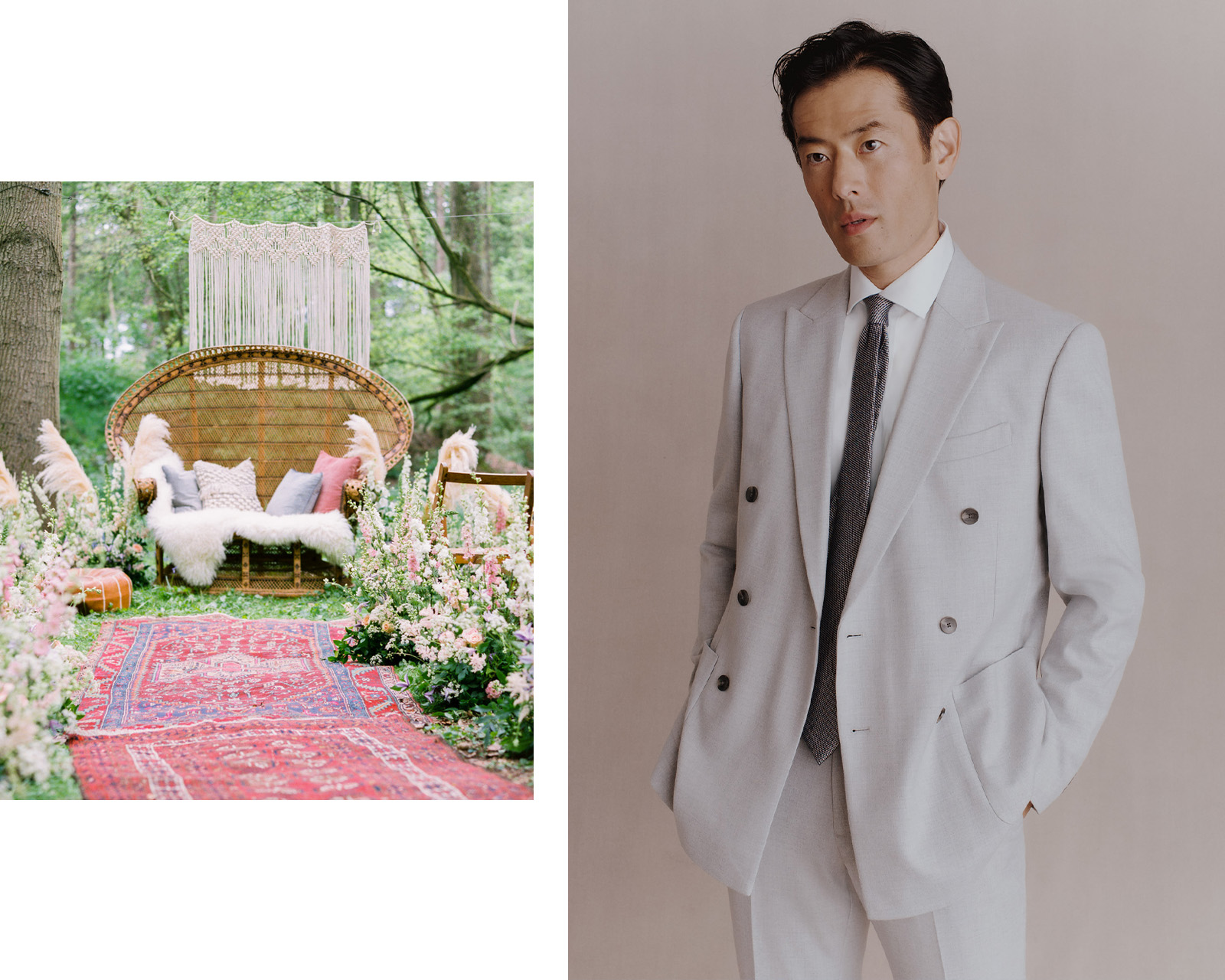 SUMMER
If you're dreaming of an outdoor wedding blessed with balmy weather, then summer is the best time to do it! A huge number of weddings take place across August and September, so get planning early to secure your favourite dates, venue and suppliers. If you're having a classic British garden wedding complete with lawn games and refreshing cocktails, a stylish light-coloured suit like this neutral one would be the perfect option. It's lightweight and adaptable, with a tailored fit and minimal lining leaving you feeling well-dressed, cool and comfortable.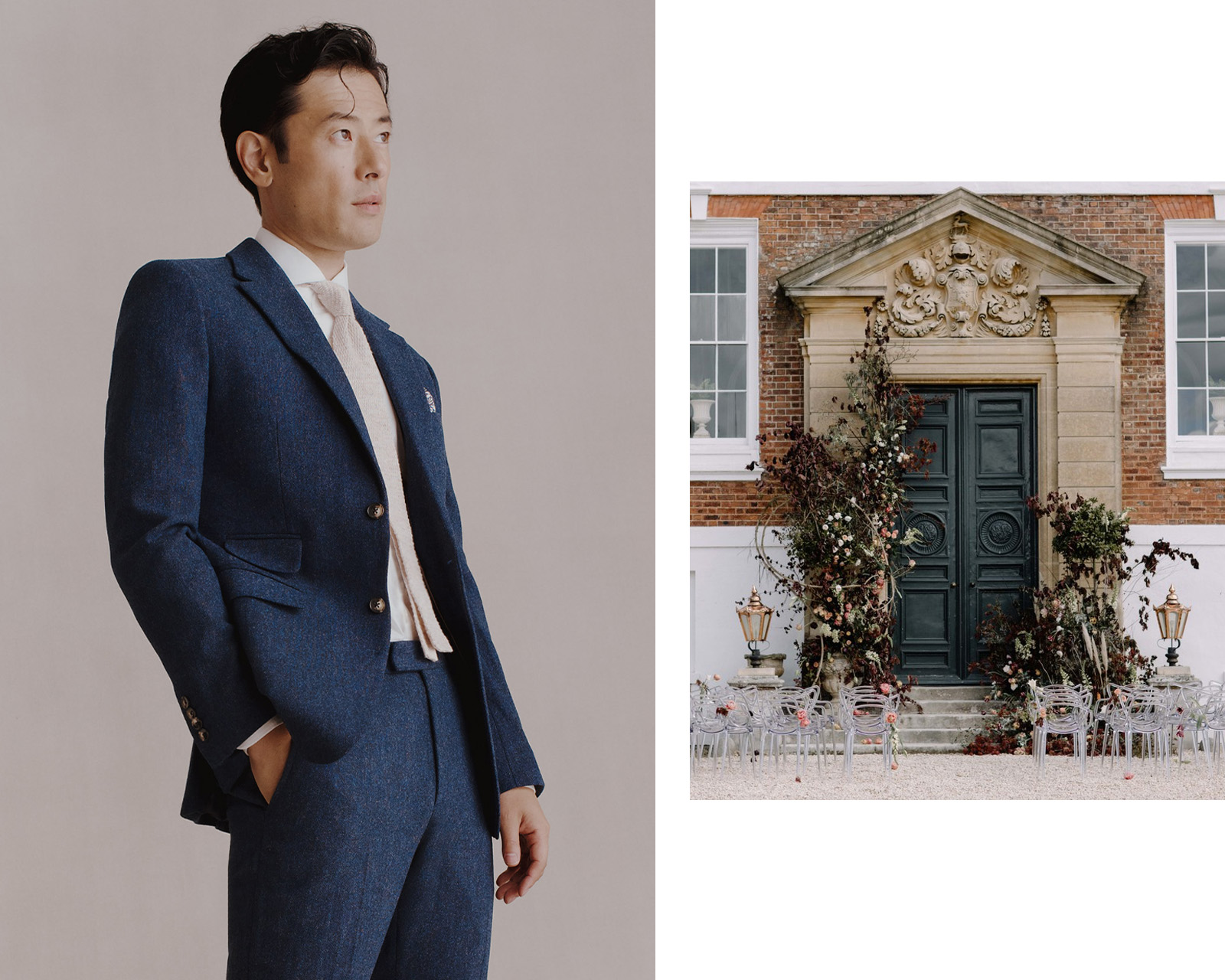 AUTUMN
With temperatures gradually decreasing, autumn is a wonderful time of year to embrace the great outdoors – think soft, warm light and a rich colour palette. The popularity of tweed for groomswear is a trend that grows year on year, and we can understand why. It's stylish, versatile and will keep you warm on those cooler days. Team the Moss blue Donegal tweed suit with a crisp white shirt, dusky pink tie, and taupe loafers for a lighter take on this seasonal classic.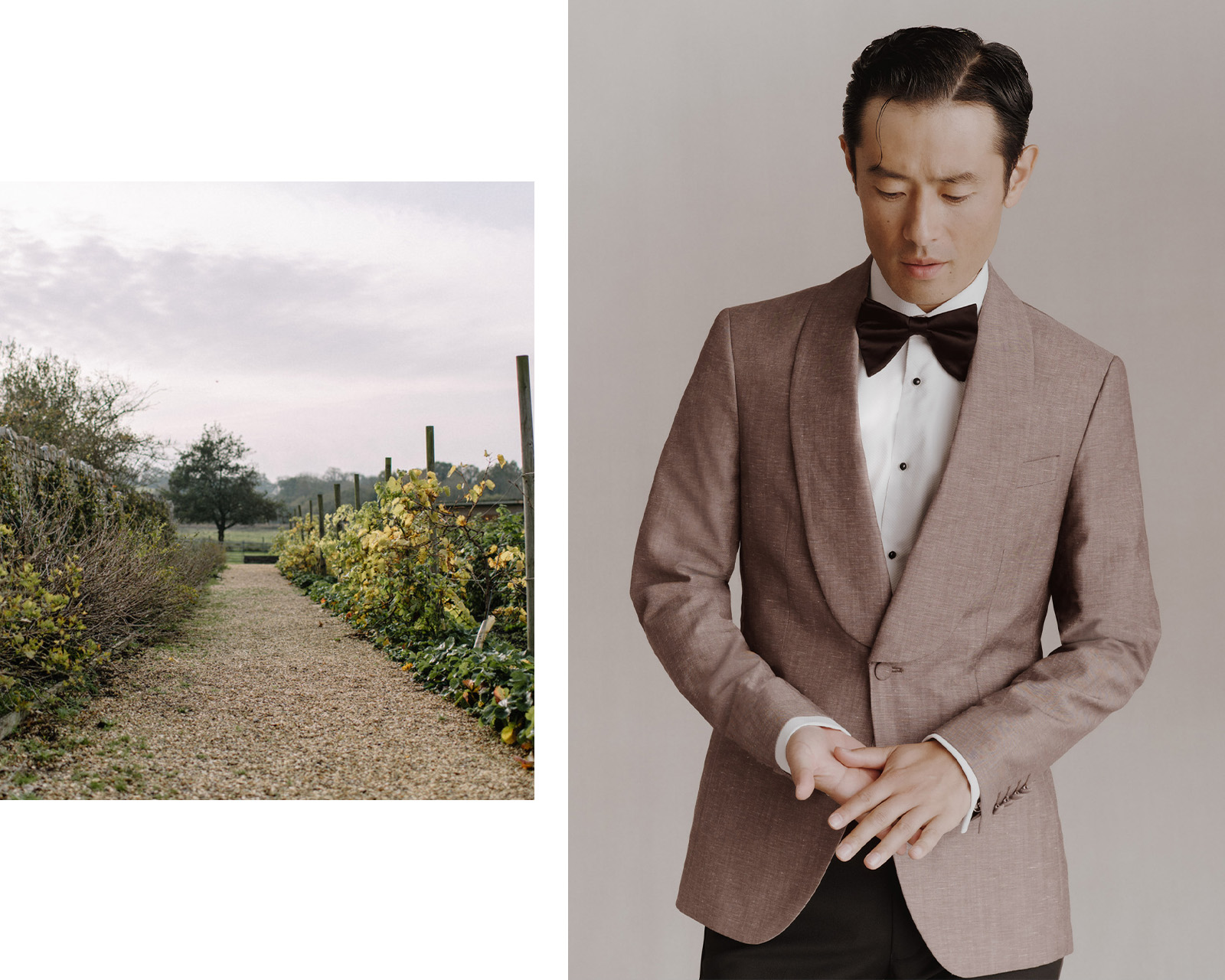 WINTER
Outdoor ceremonies in winter? They're absolutely do-able, and actually quite magical. Just don't forget the candles, blankets and a fire pit or two! If you're planning on spending a good part of your winter wedding outdoors, then you're going to need your outfit to work hard for you. We love a tuxedo-inspired jacket with high wool composition and a sharp outline. Ever considered swapping your white shirt for a stylish merino rollneck? Now's the time to do it!
Coco Wedding Venues is the first place to kickstart your wedding planning.
They are the UK's original style-focused wedding venue directory, showcasing a carefully curated selection of the very best wedding venues in the UK and beyond.