Make a good suit a great one.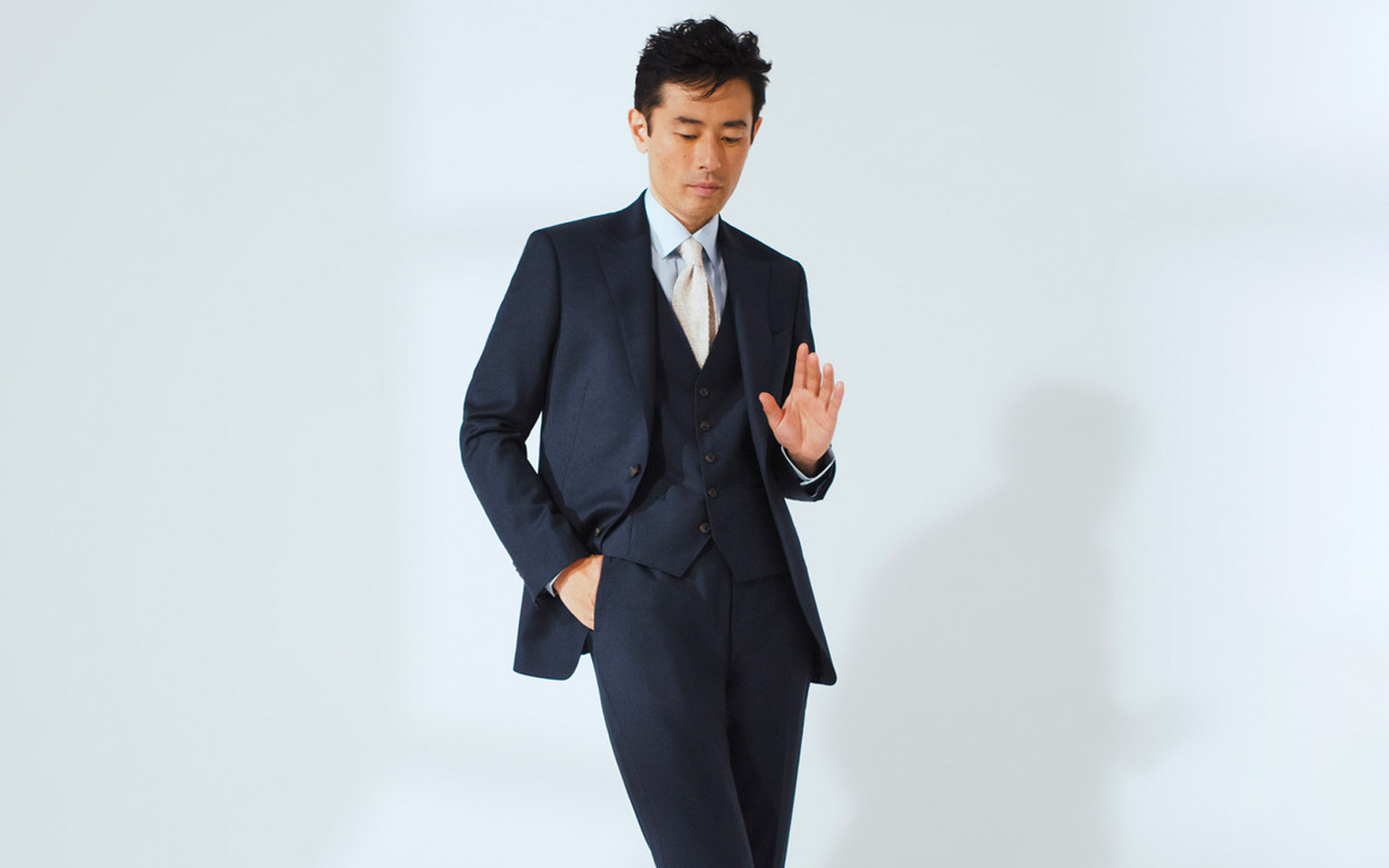 HOW TO GET THE RIGHT MEN'S SUIT FIT
What makes a good men's suit a great one? The right fit.
Slim, tailored and regular-fit men's suits all have different defining features. Knowing which fit is best for you is the easiest way to look and feel your best in your suit. So, here is your need-to-know on our fits.
Why get the right fit?
Getting the right fit for a men's suit can make all the difference – you'll be amazed at just how good a suit fits just right looks on your body, especially if you've previously worn suits that aren't quite the right size or fit for you.
Not sure how to measure for a men's suit or how a men's suit should fit? Our suit size guide might help you out if you already know your measurements. If you don't know where to start, or you don't feel confident about getting the right fit, getting measured for your men's suit is the step you should do straight away. We can help you with this at any of our Moss stores – you can find your nearest one with our store locator.
If you can't get into a store to get measured, then you need to grab a tape measure and make sure you get an accurate idea of your measurements.
How to measure for a men's suit
If you're going to measure yourself at home, then the first thing you'll need is a tape measure. Remember not to hold it too tightly or too loosely when you measure as this could affect the sizing you ended up with.
Here are some pointers on how to measure for a men's suit:
Measure around the base of your neck where a shirt collar will sit. Take the measurement with your index finger underneath the tape – you should be able to fit it between your neck and your collar for a snug but still-breathable fit.
Measure around the broadest part of your chest, making sure that the tape is just below the armpit and above your shoulder blades. Keep the tape flat against your body and parallel to the ground.
For jackets and blazers, measure around your natural waistline (the narrowest part of your waist). For trousers, measure from the widest part of your waist, roughly 6cm below your natural waistline.
Relax your arms down by your side. Measure from the tip of your shoulder and down your arm to where you want your cuff to sit. Your jacket sleeve should sit pretty much bang on your wrist bone, while your shirt cuff should be 1-2cm longer.
Measure from the inside leg at the crotch to where you want your trouser hem to sit on your shoe. For a tailored look, your trousers should sit on top of your shoe, with no crease or one crease maximum at the hem. For a modern, cropped look, aim for just above your ankle bone.
Don't be afraid to order the same suit style in different sizes if you need to, either. Sometimes a slight size change or a second opinion can make all the difference, plus sometimes it just depends on the style of suit that you're into.
If you're still unsure about your size and ideal fit, why not try our Custom Made service? From fit to fabric to the colour of the stitching and lining, you can have your suit made exactly how you want it. You can even have your own personalised message embroidered on the inside to make your suit a true original.
Men's suit styles
Speaking of suit styles, here's a quick run-through of the different suit cuts that you can try and how you should fit them.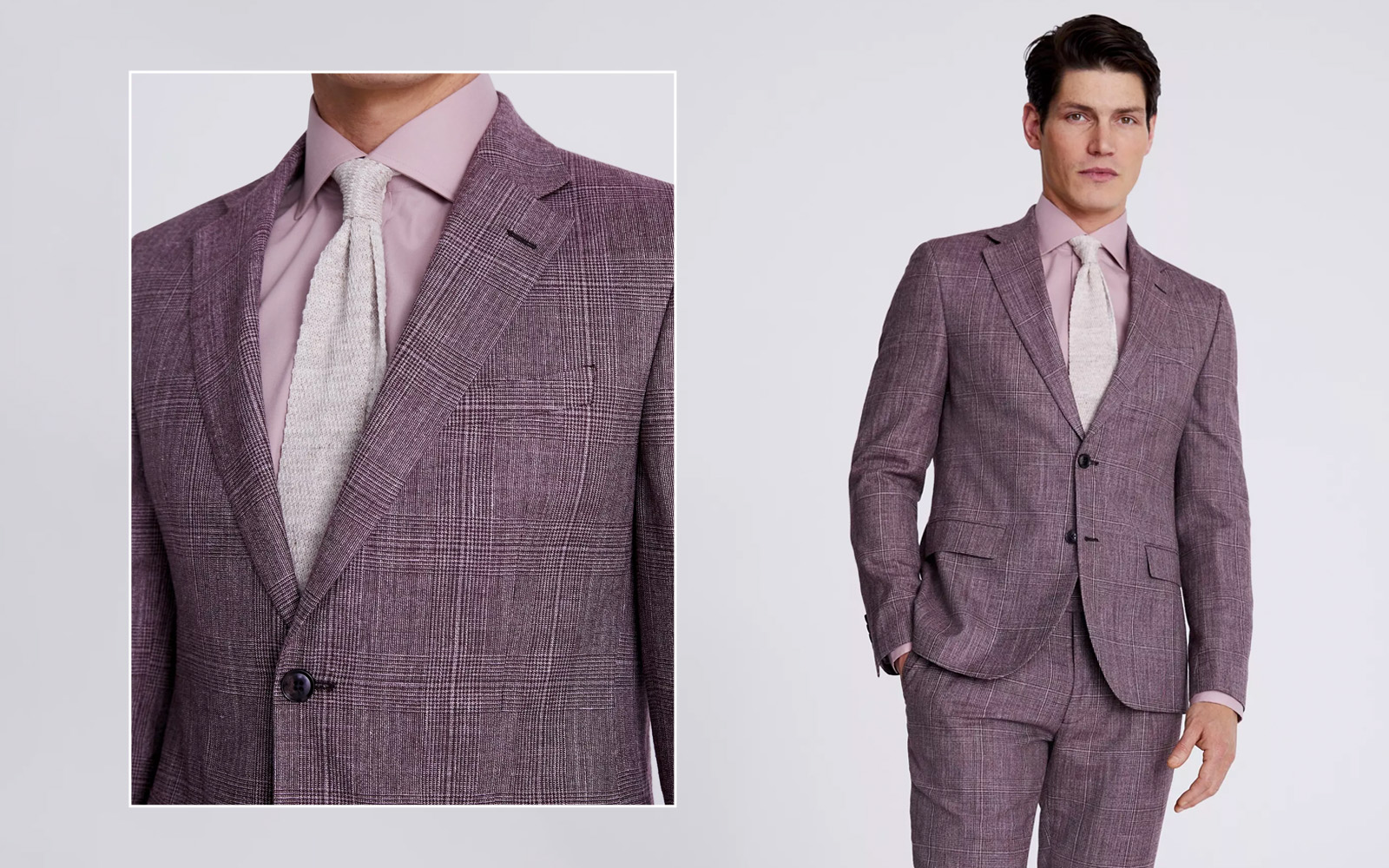 SLIM FIT SUITS
Slim is our narrowest fit, precisely cut for a pin-sharp silhouette. It's snug through the shoulders, chest, arms and thighs. The jacket and waistcoat are fitted through the waist while trousers are neat through the seat and taper towards the ankle to skim the top of your shoe.
Slim fit brands include Moss, DKNY and French Connection. If you're buying a slim-fit suit or jacket for the first time, you might find going up a size more comfortable.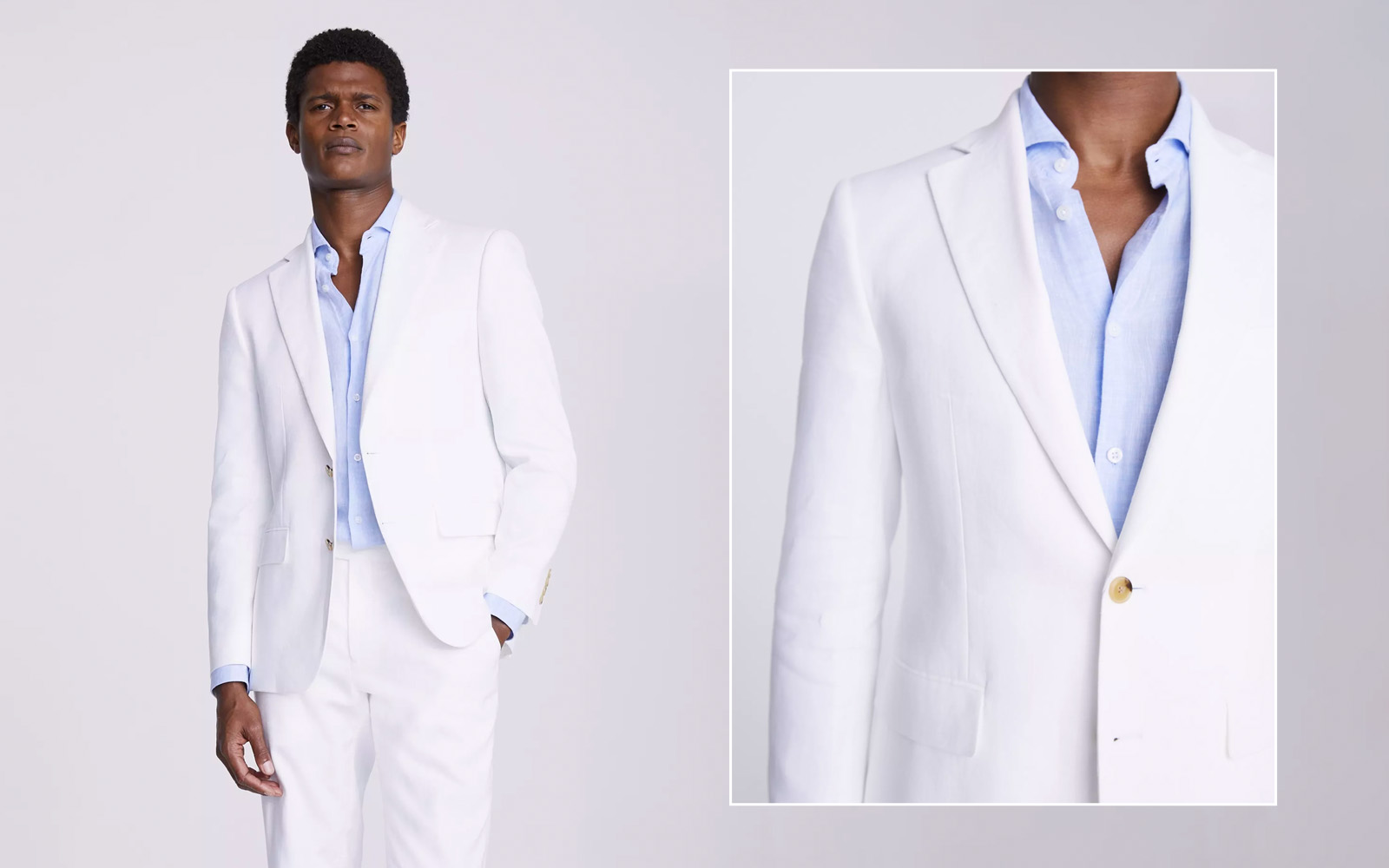 TAILORED FIT SUITS
Our tailored fit offers a well-balanced fit that sticks to the core rules of tailoring. It's cut to define your shoulders, chest, arms and thighs but leave enough room to move with ease. The jacket and waistcoat are tapered through the waist while the trousers are defined through the seat with a tapered leg that sits on top of your shoe.
Moss, Ted Baker, Reda, Barberis, HUGO by Hugo Boss, Lanificio F.Lli Cerruti Dal 1881 and selected Ermenegildo Zegna Cloth and Savoy Taylors Guild all come in a tailored fit.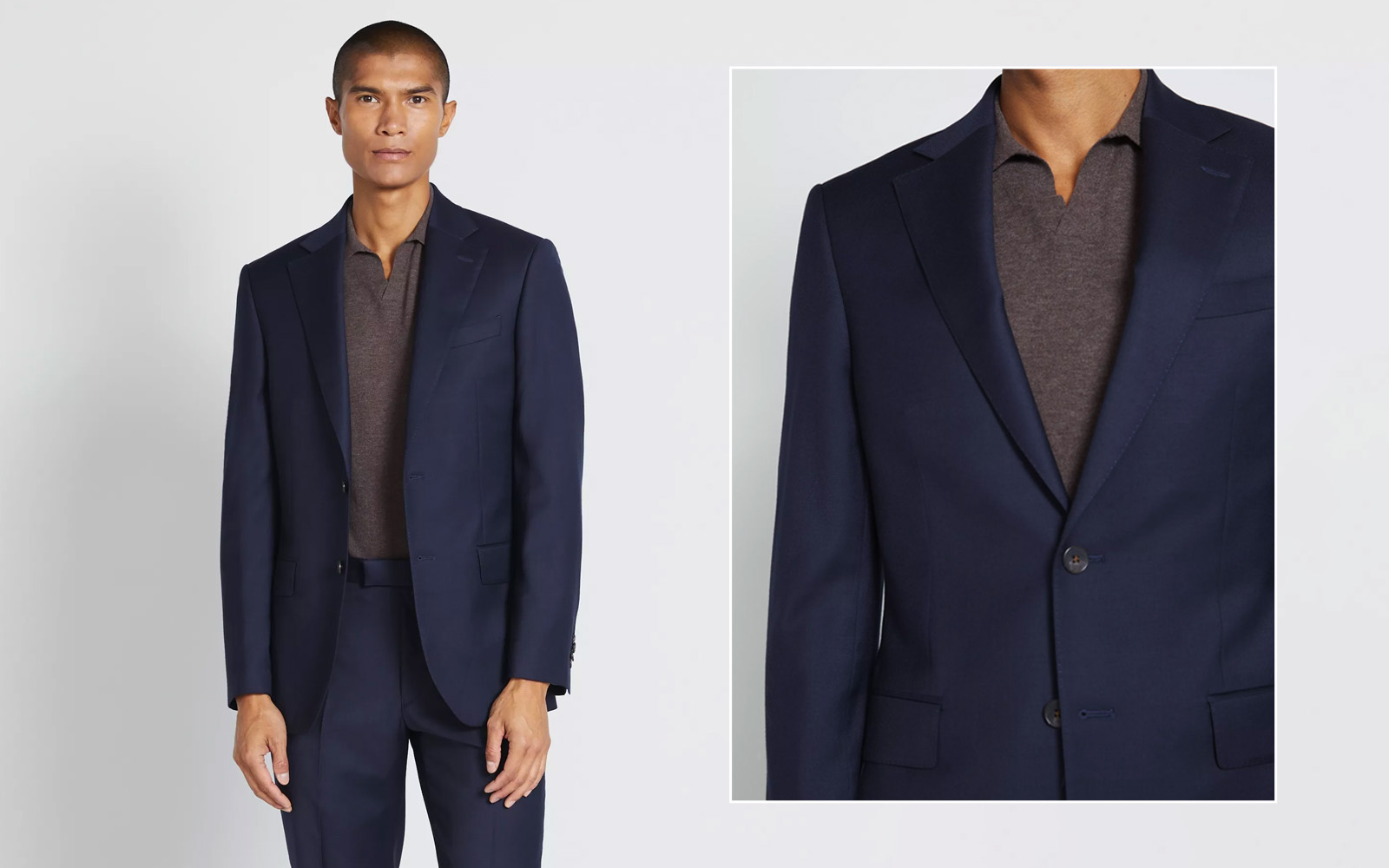 REGULAR FIT SUITS
Looking for more room and an easy fit? Our regular fit suits are cut in line with traditional British tailoring with a broader fit through the shoulders and straight arms and legs. The jacket and waistcoat are lightly shaped through the waist while trousers are fuller through the seat and thigh and hang smoothly to break on your shoe.
Choose Moss, Savoy Taylors Guild and some Ermenegildo Zegna Cloth suits for a regular fit.