Words: N. Dickson and L. Thorpe
Engaged? Congrats! Now it's time for the planning to begin. Whether you have months (or years) to plan your wedding or you're pulling it together in a month, there's one essential that'll help you get through this stage: the wedding planning checklist.
There can be lots of moving parts to keep track of during the wedding planning process, like people, deposits and dates. However long you've got to plan your wedding, here's our wedding planning checklist with everything you'll need to do in the order you'll need to do it.
How you plan your wedding and what you decide to include is completely up to you but there are some things that need to be in place before you organise the rest of the day. It can feel overwhelming, but we promise that once you get some of the big things crossed off the list then the other things will start to fall into place.

HAVE A BUDGET IN MIND
It might feel like the least romantic part of wedding planning, but it's important as it'll determine the rest of the planning process. You need to work out how much you want to spend, what's a priority to you both and what you're happy to allocate less budget to.
Make sure your budget is manageable and realistic (do some research on venues and suppliers in your area if you need some ideas) and try to stick to it. There will probably be some adjustments as you go but try to avoid a big overspend as it can feel stressful.
THINK ABOUT YOUR GUEST LIST
Before you start to think about venues, think about how many guests you'll be inviting (to both the day and evening parts of the wedding). Consider the size of your family and social circle, how close you are to your work colleagues, your budget and the type of place you want to get married in. The guest list goes a long way to determining the type of venue you're looking at, especially when you take your budget into account.
This is also a good time to start thinking about your wedding party and to ask them to be a part of your big day. You can involve them in your wedding planning and get their advice along the way.
CHOOSE A VENUE
Next, it's time to start looking at venues – once you've got yours booked, everything else can follow. This is where an idea of your guest numbers, budget and the type of wedding you want will all come into it. Think about the location and places to stay nearby if you have guests who will be travelling to your wedding. Check out the wedding packages and facilities too. Are you going to have more than one venue? How will guests get between the two?
Many wedding venues get booked up well in advance, and most (if not all) will need a deposit to secure your booking. This is where it also helps to have some dates, or at least some times of year in mind. Don't feel like you need to make a decision then and there at the venue. If you need some time to think, or want to compare it with another location then don't feel pressured to sign up straight away – especially if you have some flexibility in dates.
If your wedding venue offers catering, great. If not, that's another task to add to your wedding planning checklist. The same goes for wedding décor and things like hiring a dance floor or chairs if you need to. Make sure you're clear on this so nothing gets missed.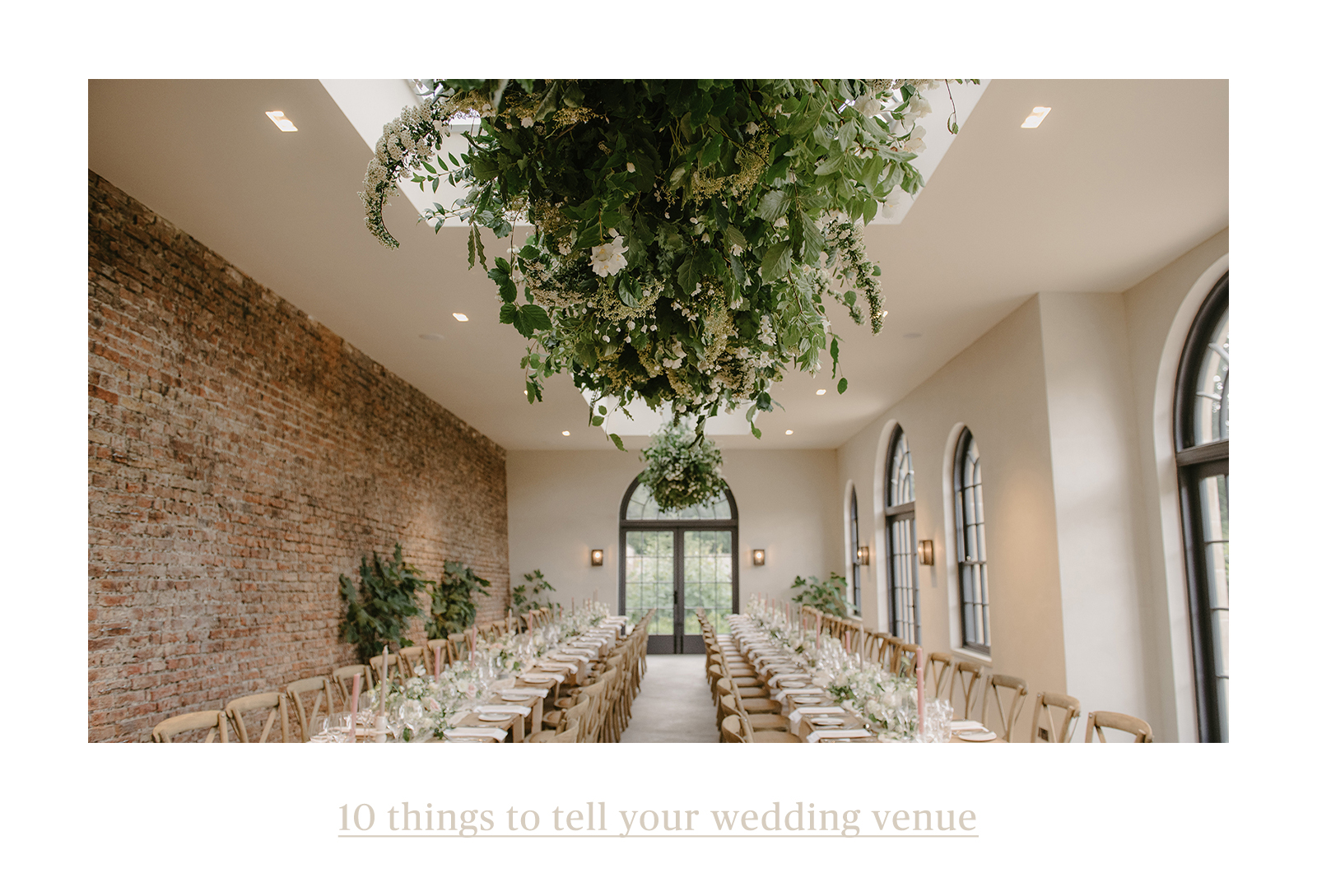 DECIDE ON YOUR WEDDING THEME OR STYLE
Your personal style, venue and budget all play a part when you're deciding on a theme, wedding colour or style. It's important to speak to your partner about this and decide together, so that you're both happy with the theme of the day. Some themes might look out of place in certain venues, so take that into account too. This is the time to start looking at Pinterest and wedding websites (if you haven't already done so) to get some inspiration and share ideas.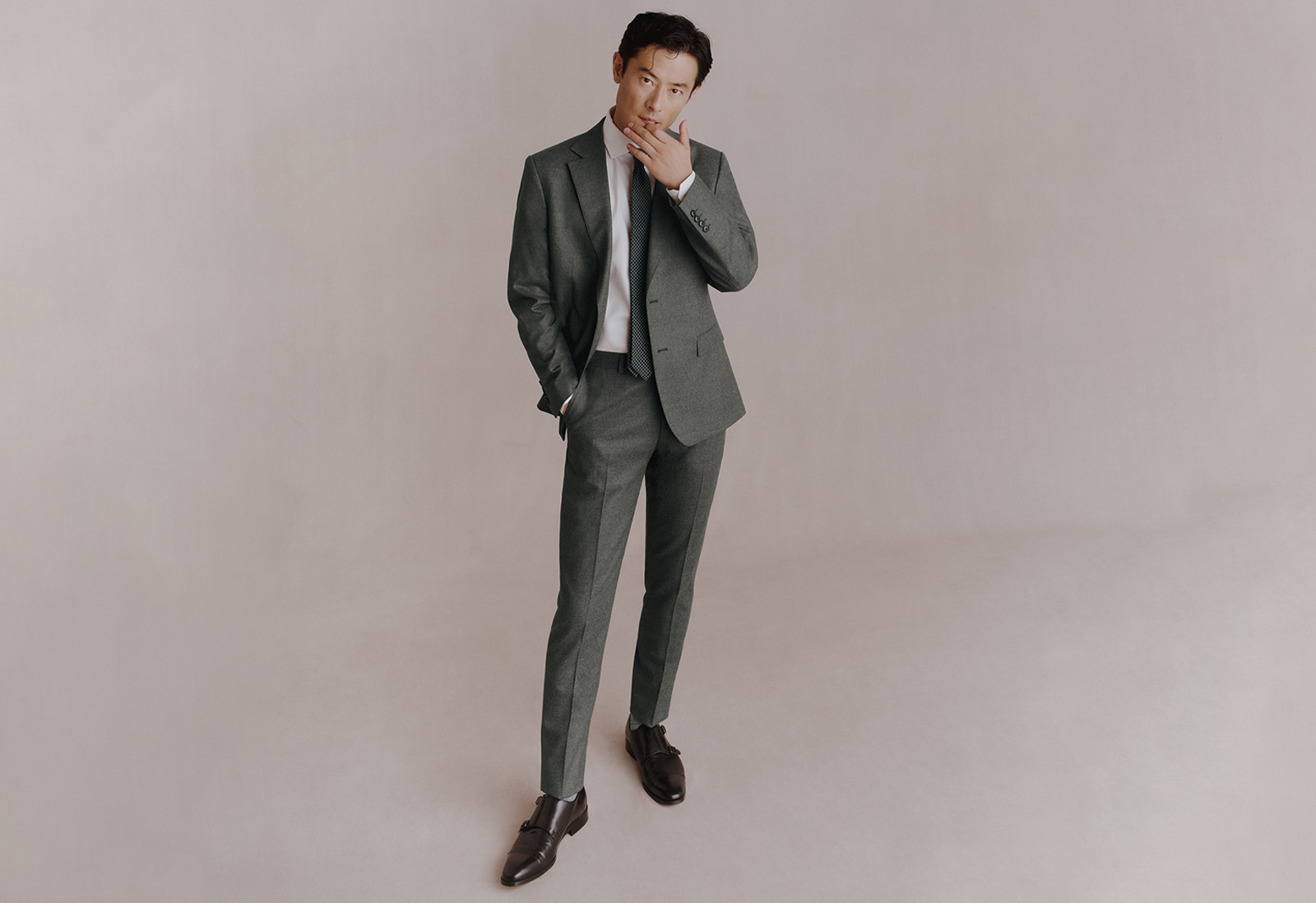 MAKE THE BIGGEST BOOKINGS
You need to get on making your big-ticket bookings as these tend to get snapped up well in advance. One big thing to remember if you're not getting married in church is to ensure that a registrar is available on your chosen date, especially at busy times of years or areas where there's likely to be a lot of weddings happening.
Think about the people, services and essentials that get booked up in advance like florists, photographers, DJs and caterers. It can be really competitive. All of them will need deposits to secure the date (so this step can usually only happen once you've got your venue and date sorted) so be prepared to shell out on those bookings. Make sure you ask the right questions of your suppliers and do your research ahead of time – your suppliers will have a huge impact on the running of your day. Set reminders in your phone of when payments are due, especially when they're so far in advance.
SEND YOUR SAVE THE DATES
Most people send out their save the dates once they book their venue so people know when the big day's happening and can confirm that they're free. If you're planning on sending printed invitations later, you could start thinking about what you want them to look like and how you're going to create them now, in case you need to give a supplier a decent lead-time to do them for you.
ORGANISE YOUR HONEYMOON
If you're planning on going on honeymoon after you're married, then it's best to plan this alongside the wedding. There are no rules that say you have to go straight after you get married so if you want to give it some time then that's completely up to you. You might find it more fun to plan it after the whirlwind of wedding planning is over.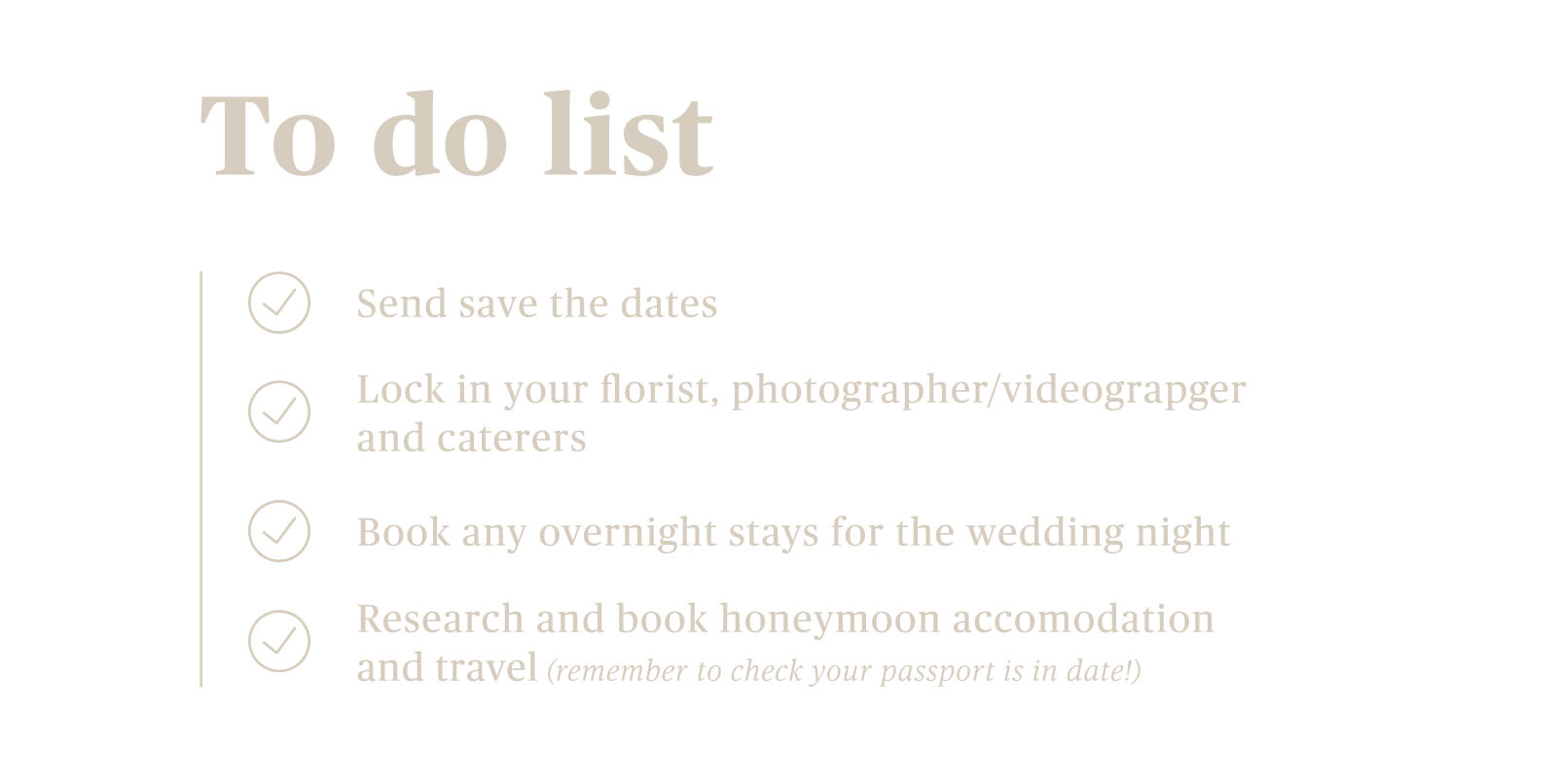 PLAN YOUR WEDDING OUTFITS EARLY
This might sound like it's way in advance but take the time to plan and co-ordinate your wedding suit, wedding dress or whatever wedding outfit you plan to wear. You'll want this to fit your personal style, taste and venue so give yourself plenty of time. Don't be afraid to try on different styles and types of outfits too.
And don't forget to think about the wider wedding party either. Your bridal party and groomsmen will need outfits to wear too. It's also fun to start thinking about your wedding rings – you definitely don't want to turn up without one on the day!
THINK ABOUT INVITATIONS
If you're sending out formal wedding invitations, here's when you do it. More people are choosing to do this with digital wedding websites or online invitations – especially as the pandemic has sometimes meant changing plans at short notice.
This is also a good time to start looking at if (and how) you're going to give guests some options for wedding gifts. A wedding website is a great way to communicate ceremony and venue details as well as a link to your gift registry. And now's the time to do it so it's ready for your guests when their invites arrive.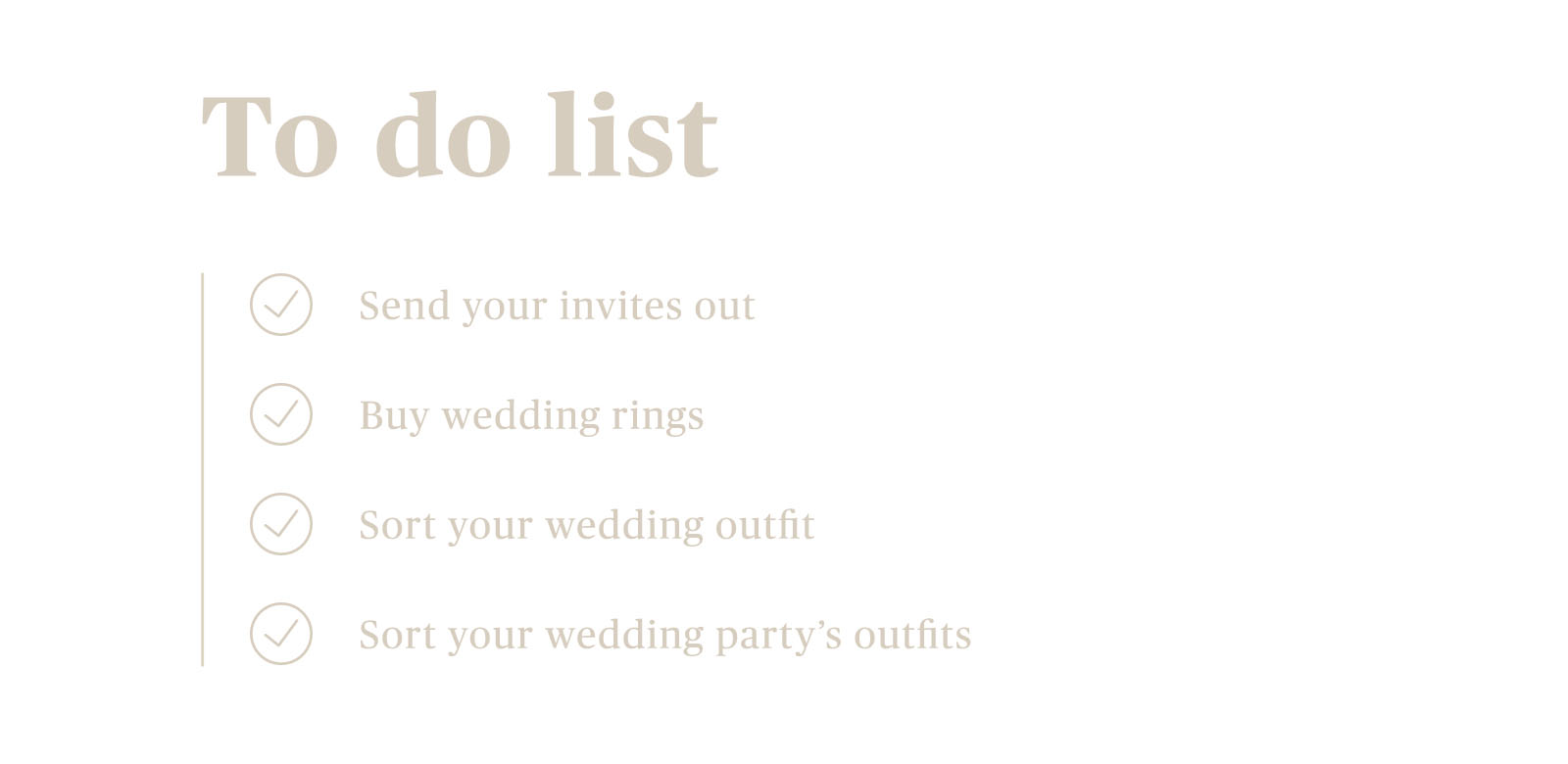 WHO SHOULD PLAN THE STAG PARTY?
Your stag party, hen party or however else you're celebrating your upcoming wedding can usually be left with the trusted members of the wedding party, so as long as you let them know your availability you should be good to go.

DON'T LEAVE YOUR GROOM'S SPEECH TO THE LAST MINUTE
Give yourself enough time to write your wedding speech – we've got some tips on writing a speech fit for a modern groom below. And if you're thinking of creating your own vows, then this is a good time to do it too.
SORT OUT THE DETAILS
As your wedding day gets closer, there are more tasks to tick off your wedding checklist like paying your suppliers, creating a seating plan and picking up wedding décor. You'll also want to start planning when you're going to pick up your wedding outfits. There will be some last-minute bits and pieces that come up, but don't stress out – delegate to your wedding party if you need help.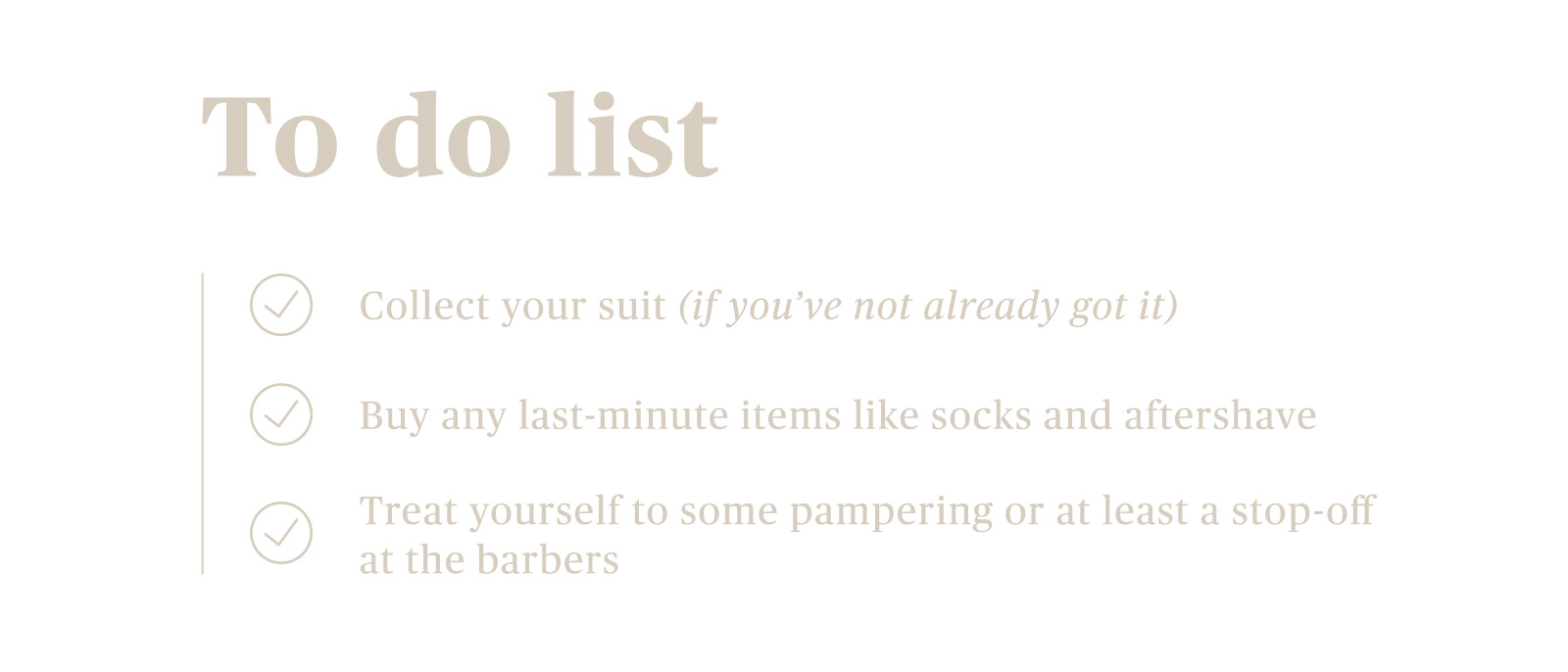 It's here – the night before your big day. Enjoy a celebratory drink with your wedding party but make sure you get some rest so you're on form to enjoy your wedding day!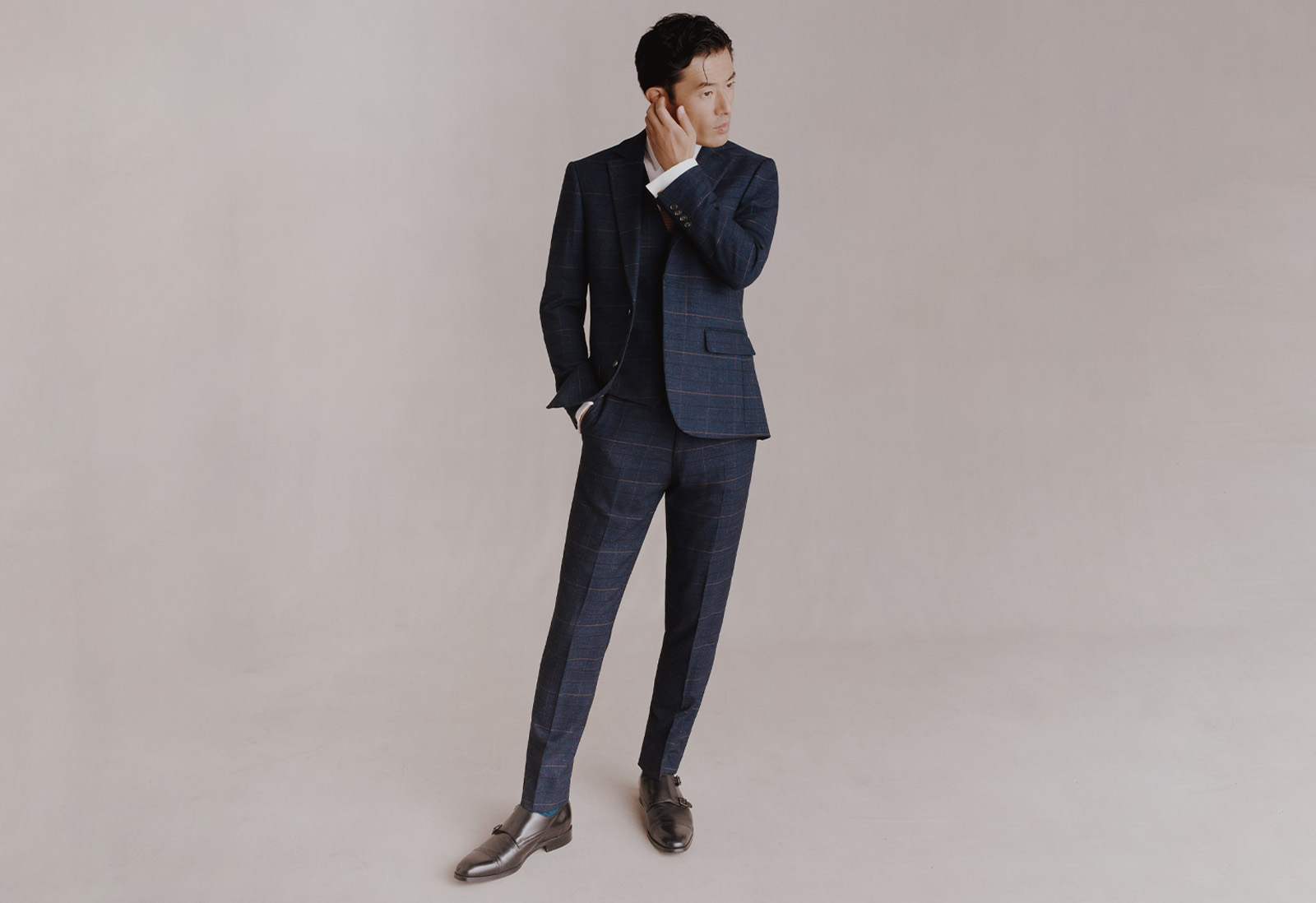 You did it – you married your best person! You've got a few last bits and pieces to sort out, but we suggest getting your wedding party to take care of the more practical ones, like returning your suits or clearing out the venue, so you can get on with enjoying the morning-after glow (or possible hangover).