WHAT SHIRT GOES WITH WHICH TIE?
So you've found the perfect suit for the wedding, the office or the big interview. Good job, that's the hard bit. No comes the fun bit – accessorising that suit. Whether you're after a classic white shirt, or you want something more playful, there's a tie for that. But, not all shirt-tie combos are created equal.
Here, we break down what ties go best with which shirts. As always, don't be afraid to experiment. If you think something works and you love it, go for it. This is your opportunity to inject more of your personality into your outfit, so keep reading for all the inspiration you need.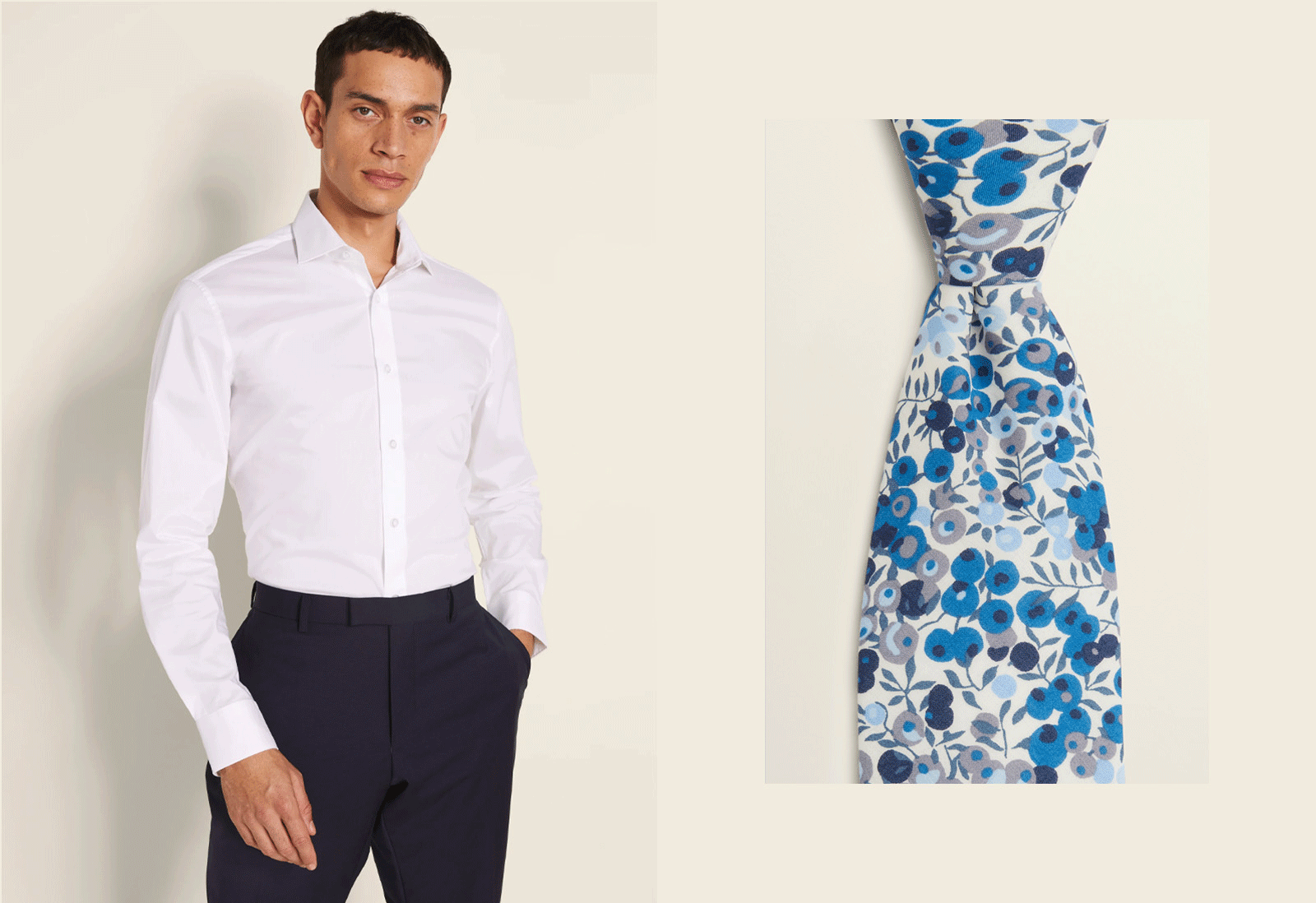 A WHITE SHIRT AND A BLUE FLORAL TIE
 A white shirt is the perfect blank canvas. You can wear pretty much whatever you like with a white shirt, so we recommend really going for it and picking a punchy pattern in bright colours. Our ties made with Liberty fabrics are just the ticket, and this blue one would work great with a grey or navy suit, or even a pastel purple one.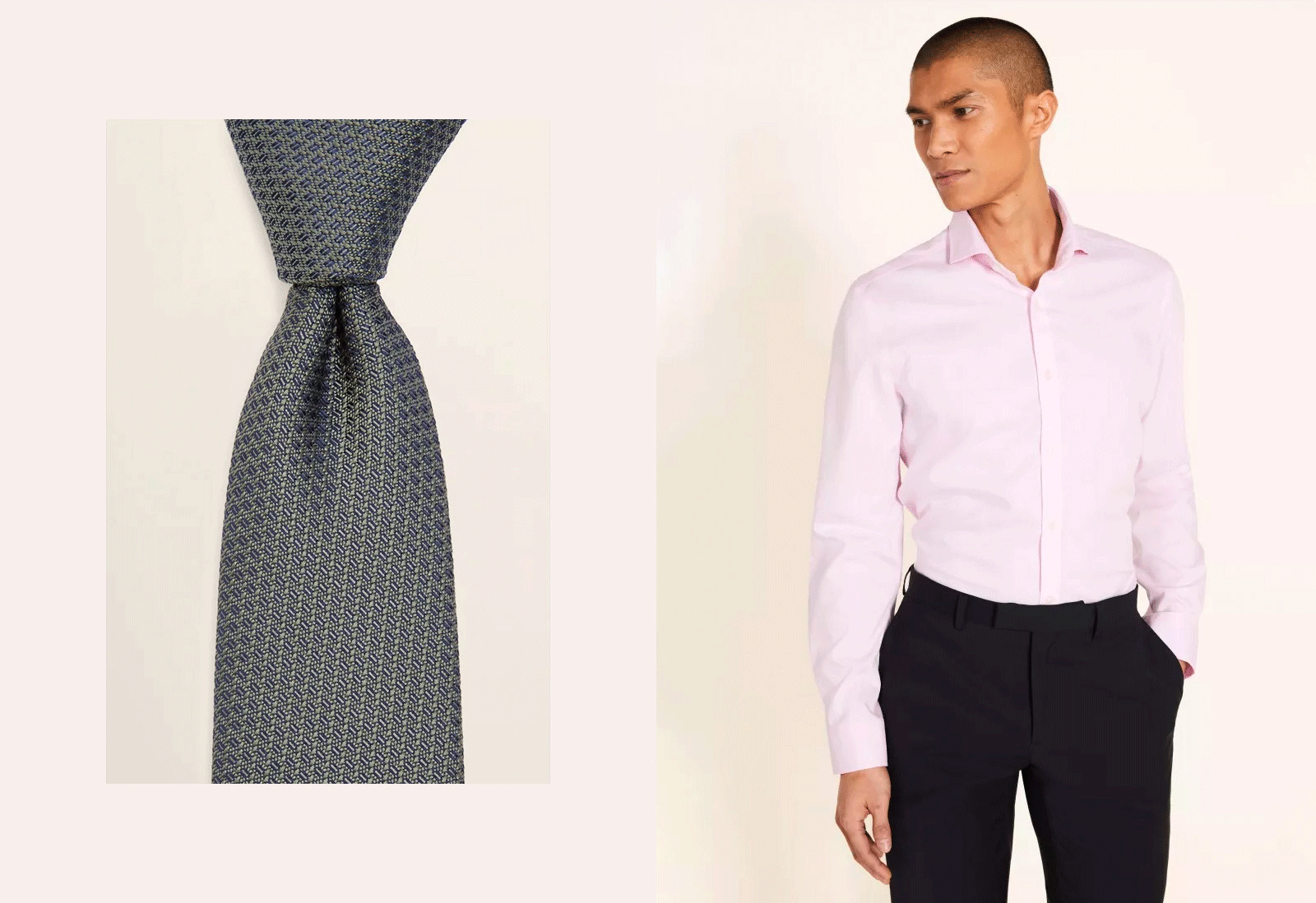 A PASTEL PINK SHIRT AND A METALLIC, TEXTURED TIE
 Again, a solid-coloured shirt is a great blank canvas to start with. But here, it's a soft pink version, which can be a welcome (but still unexpected) twist on a classic white shirt. You'll want to be slightly more subtle with your tie choice and make sure the colour doesn't clash with the shirt. Our pick is this green textured tie with a bit of a metallic finish to it. This combination would go best with a blue or green suit.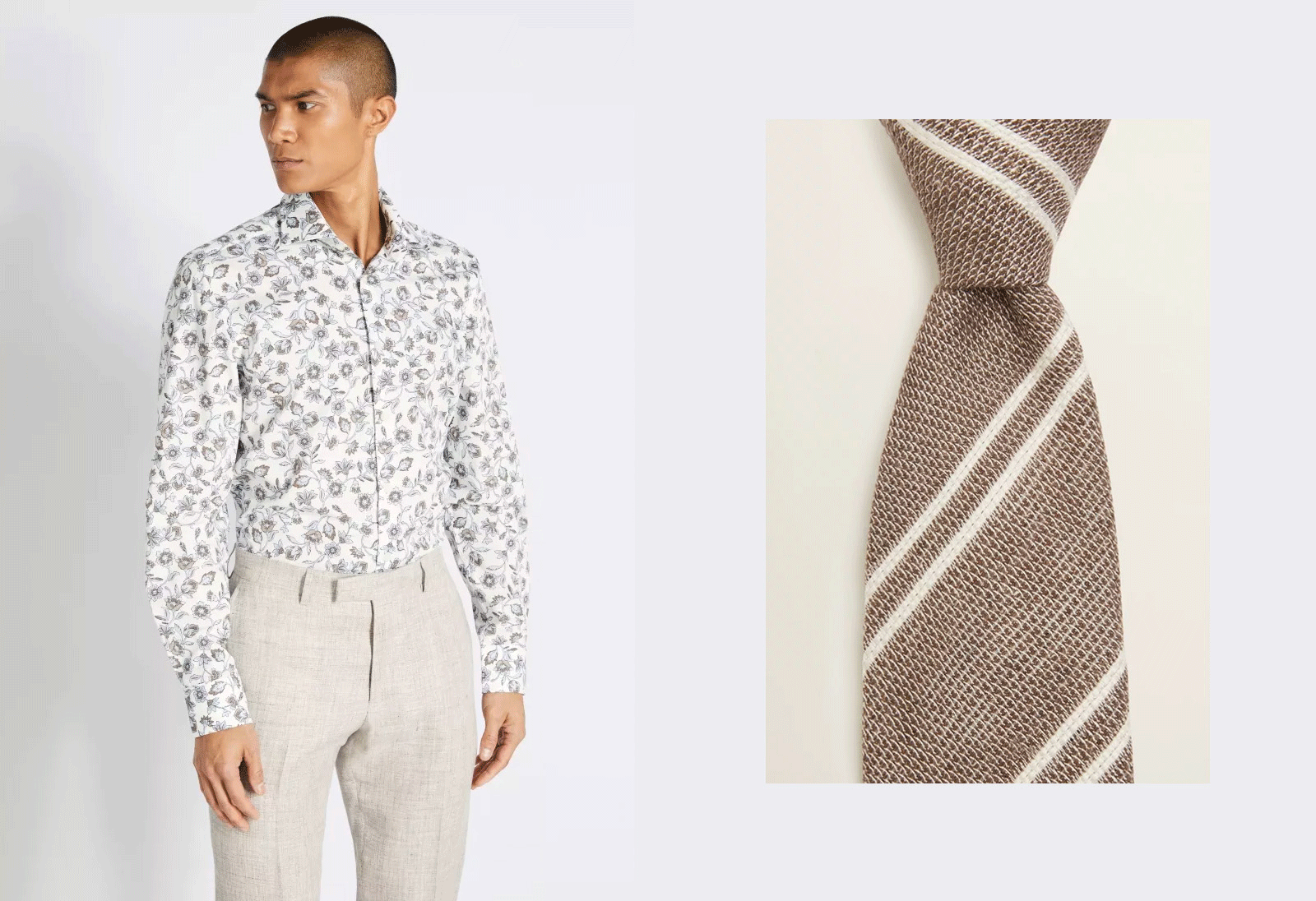 FLORAL SHIRT AND NEUTRAL TIE
 Here's where we might be getting in to unfamiliar territory. Choosing a bolder, printed shirt might make you feel like you've limited your tie options, but don't be nervous about choosing a print for your tie, as well. Just opt for a pattern that's a nice contrast to the shirt's pattern. For example, a striped tie with a floral shirt, or a dotted tie with a striped shirt, and always go for complimentary colours that don't fight with each other. For this particular combination, a navy suit is best.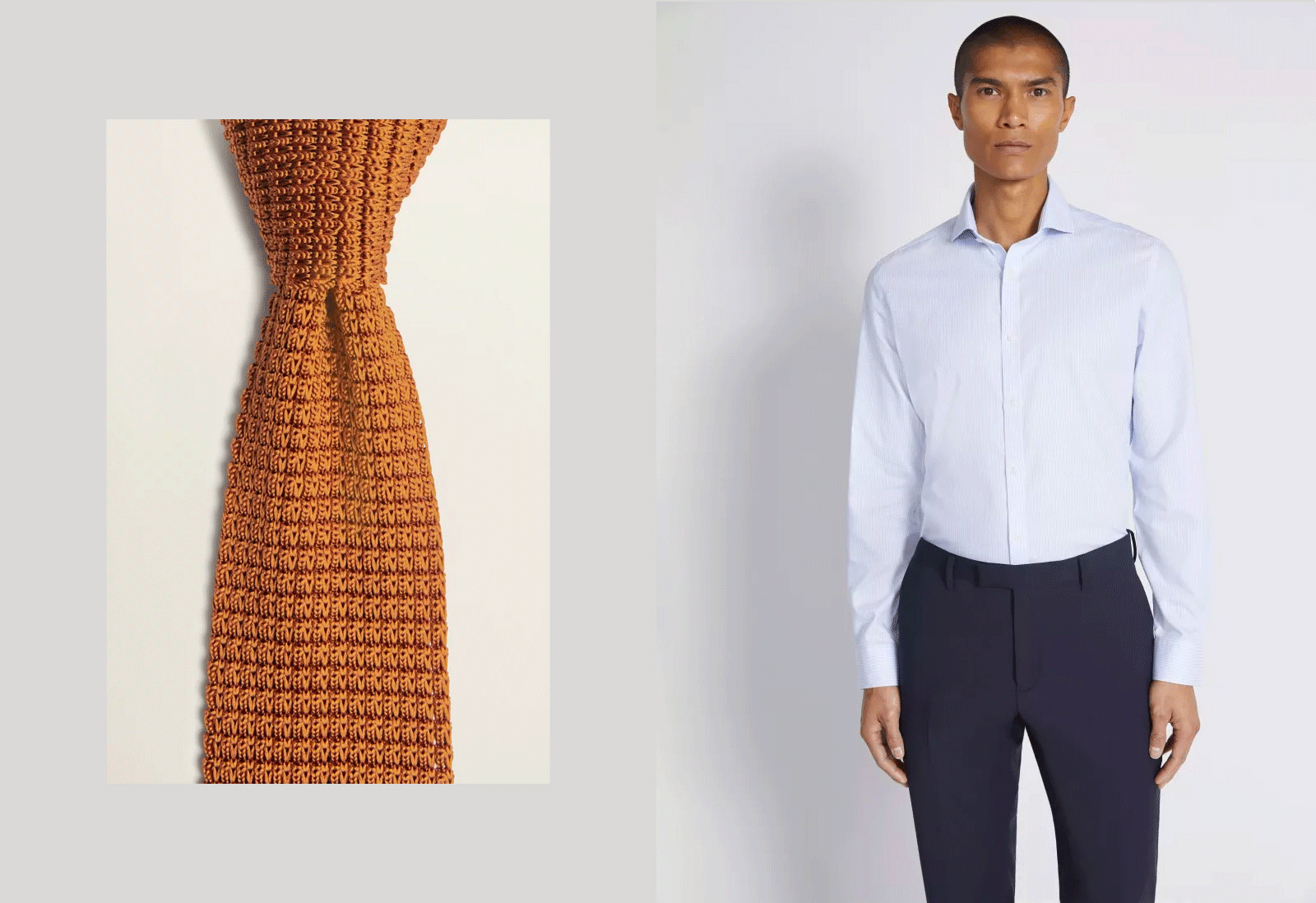 BLUE STRIPED SHIRT AND BURNT ORANGE TIE
 If you're familiar with the colour wheel, you'll know that blue and orange are on opposite sides of it, which means they're complementary. So, if you're going with a subtley-striped blue-and-white shirt, an orange tie is a great option. This one is technically bronze, but has that burnt orange look that'll play off the blue nicely. For this pairing, we'd recommend a blue or navy suit.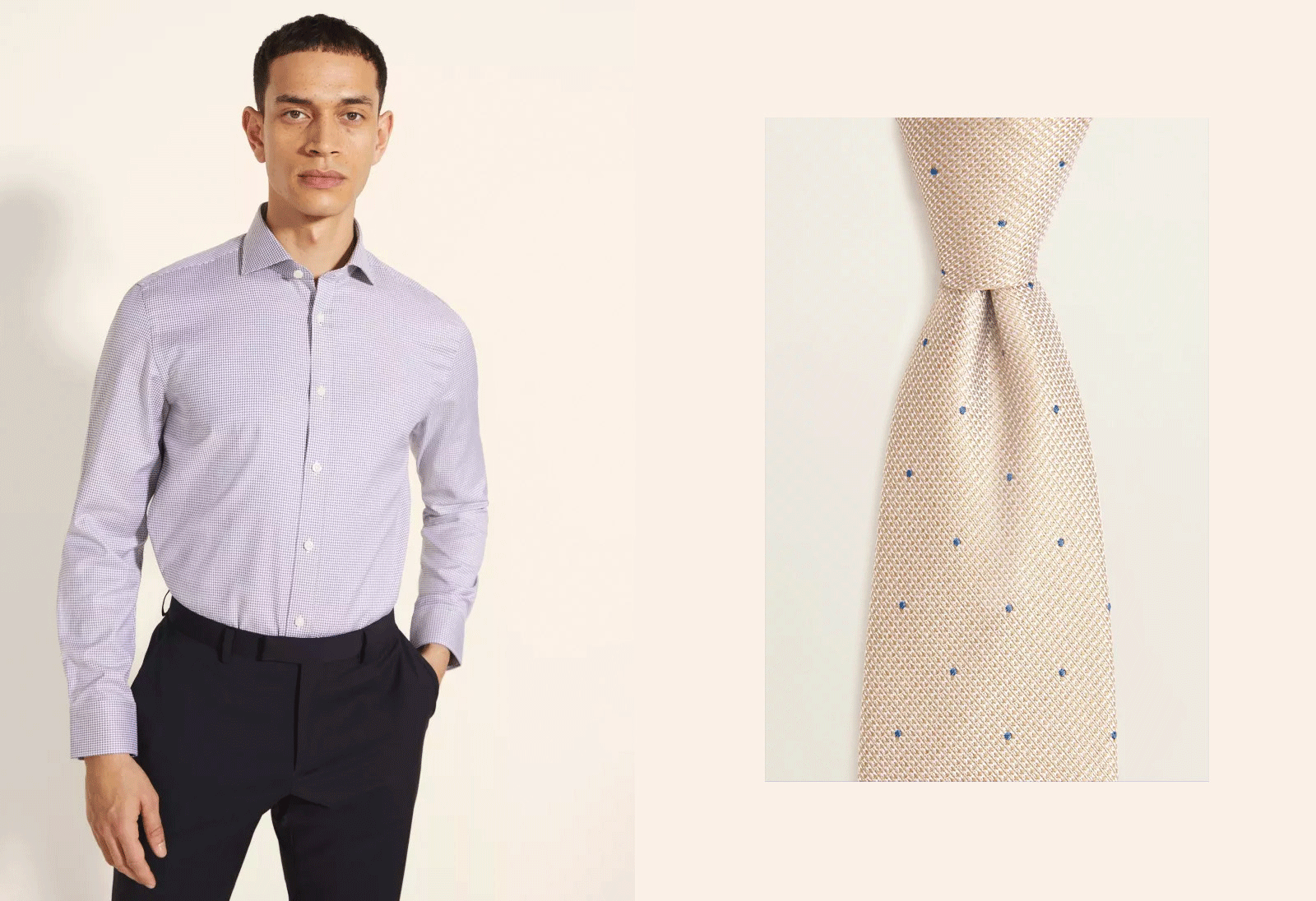 CHECKED SHIRT AND DOTTED TIE
Here's another example of effective pattern mixing. The shirt is a subtle puppytooth print in white and navy, and the tie's dots match that blue, while the background's yellow tone complements all that blue perfectly. If you're big on blue, go for a blue or navy suit, but brown or charcoal grey would also work.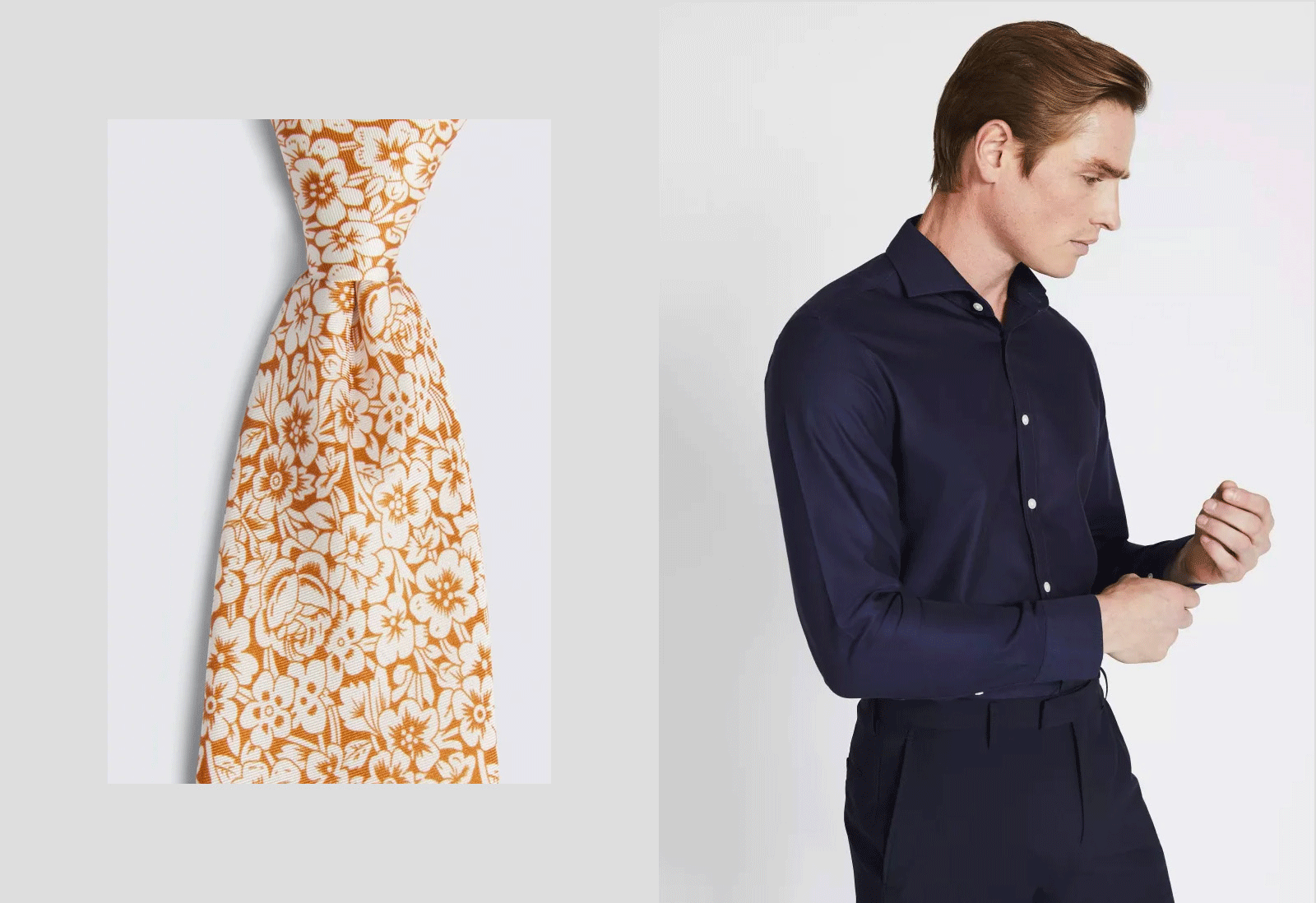 NAVY SHIRT AND FLORAL TIE
 If you're going for a monochrome look and pairing a navy shirt with a navy suit, you'll need a pop of colour. This floral tie's honey gold tone and white print will add a bit of visual interest. You could also wear this shirt-tie combo with a pale blue or grey suit.
 Again, whatever shirt and tie pairing you choose, make sure you feel comfortable in it and you know you'll wear both elements again. But, always be game for stepping outside of your comfort zone a bit. We bet the compliments (and confidence boost) will make it worth it.