WHAT SHORTS GO WITH WHICH SHIRT?
When it comes to the perfect casual summer uniform, shirts and shorts are the obvious choice. But, not at shirts and shorts combos are created equal. And, depending on how casual the occasion is, they might not all be appropriate for where you're headed.
Here, we've rounded up some of our favourite shorts for summer and paired them with the shirts that we think work best. As always, and particularly with a casual combo like this, the most important thing is that you feel comfortable and confident in your choice. But let this be a guide if you're not sure where to start.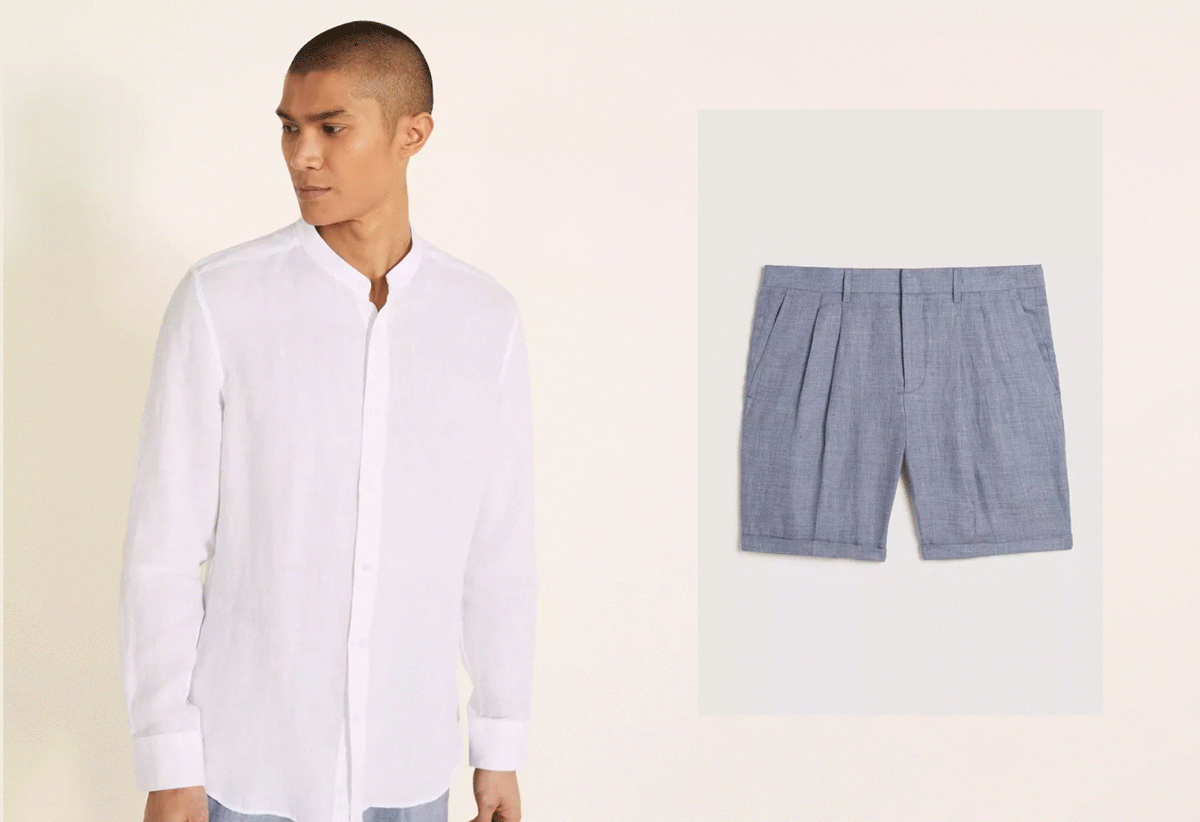 A LINEN SHIRT WITH LINEN SHORTS
 We love linen for summer because it's lightweight and breathable. For those super hot days, go head-to-toe with the fabric and wear your linen shorts with a linen shirt. These shorts are pleated, which makes them slightly more formal than your average, and the shirt's grandad collar gives it a slightly more trendy look than a typical button down. This look is perfect for a smart-casual look if it's going to be super hot, or for a dinner out on holiday.
CHINO SHORTS AND A POLO
 Another classic summer combo is the chino short and a relaxed polo. It's almost as casual as shorts and a T-shirt, but a bit tidier thanks to the polo's collar. As well, our chino shorts have an elasticated waist, which adds comfort without taking away any of that tailored feel. Wear this outfit pretty much anywhere this summer, from a garden party to a pub lunch to a park picnic.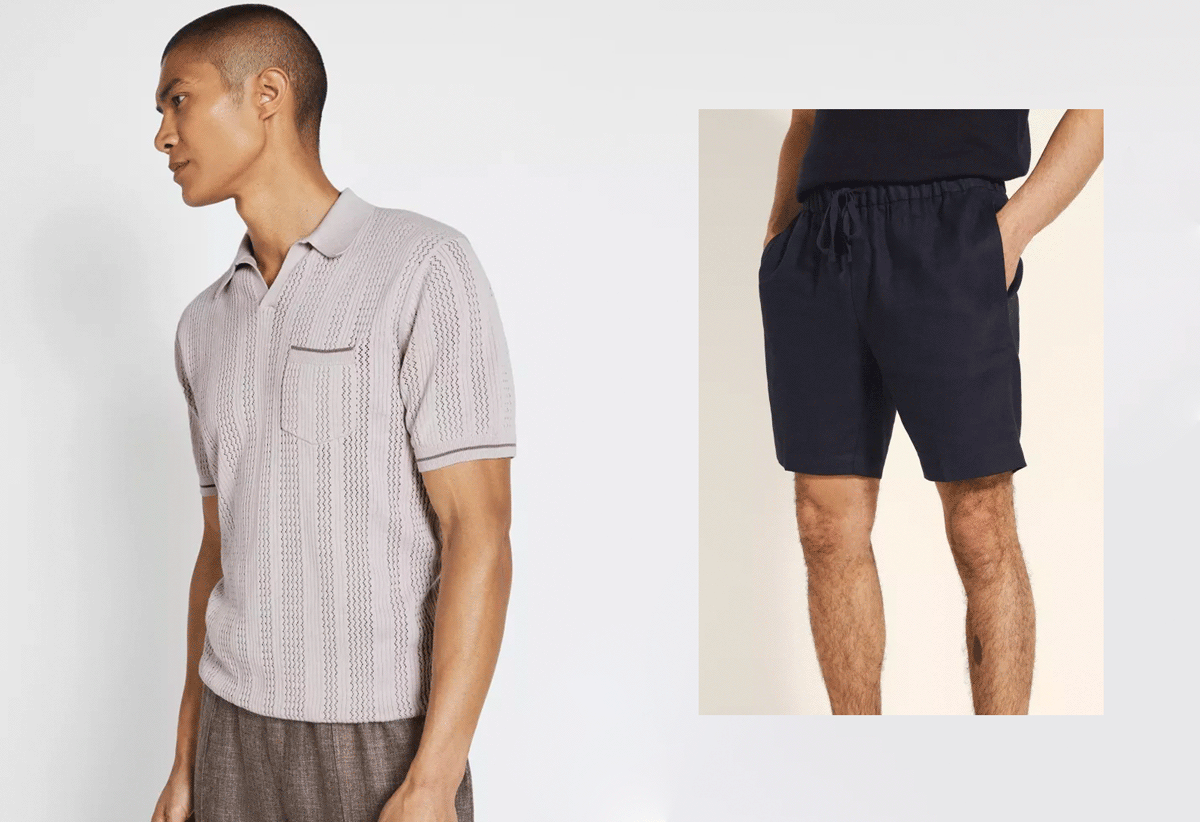 RELAXED LINEN SHORTS AND A SKIPPER COLLAR
 Again, linen is our favourite for the hotter summer months. Here, you get a more relaxed silhouette in linen shorts, which pairs perfectly with a skipper-collar polo. It's a lot like a standard polo, but with a retro feel thanks to the open collar and no buttons. If you're going for darker shorts, choose a more neutral polo to keep it light and summery. Wear this pairing while on a city break, either during the day or to dinner.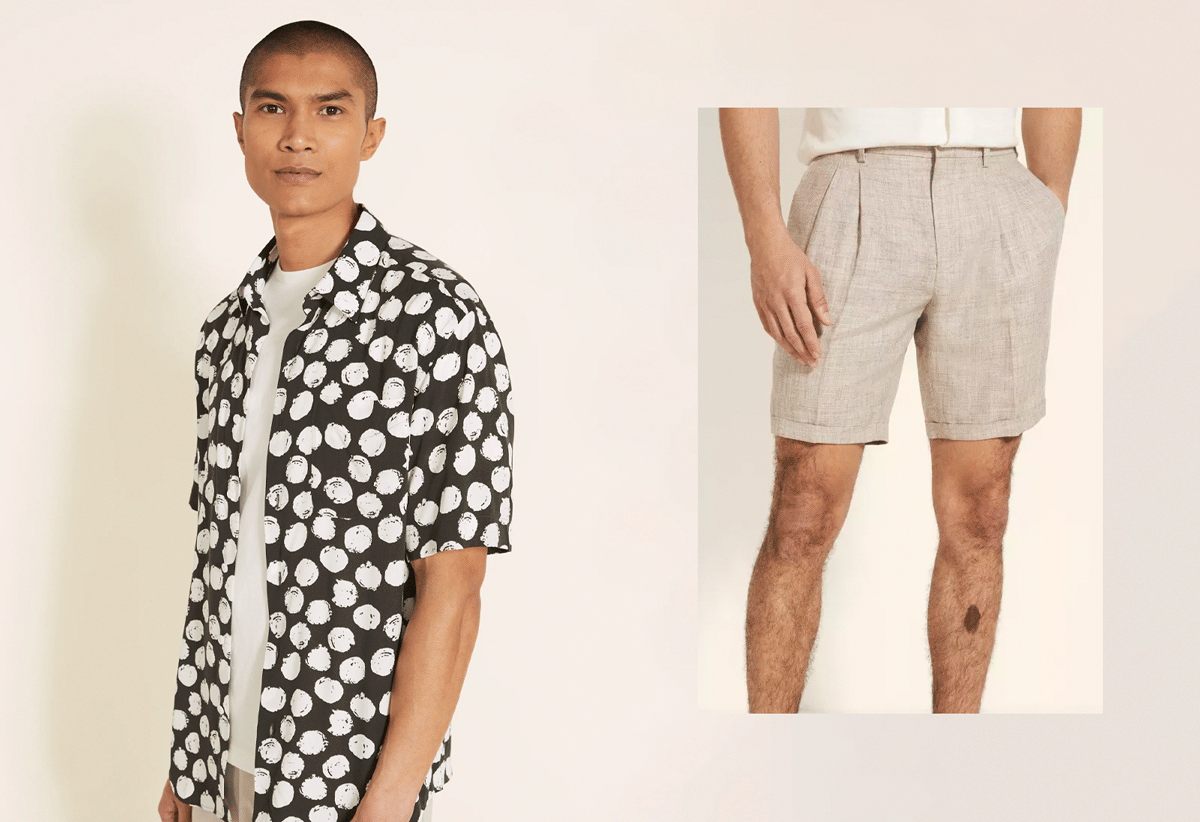 A PRINTED SHIRT AND NEUTRAL SHORTS
A pair of neutral shorts make a great foundation for a summer outfit, because they look great with almost everything. If you're keen to wear a printed shirt, these shorts give you that chance as they won't fight with a bold pattern or colours. This look is a great option for a more smart-casual summer event, or for an evening out.
No matter what short-shirt combo you go with this summer, make sure each piece fits well and you're comfortable. Apart from nailing the pairing, both of those things will help you feel most like yourself and maximise your confidence.