A pinstripe suit, defined by – you guessed it – its vertical stripe pattern, is a look that's stood the test of time. The pinstripe suit has been around for more than a century, and this year, it looks like it's set for a resurgence. Keep reading to learn more about this classic suit, and how you can work it into your wardrobe.
A pinstripe suit is made with a fabric that's got contrasting vertical stripes running through it. This style of suit was originally worn by British bankers, and where those bankers worked determined the width as well as the colour of the stripes.
When the '30s and '40s came around, celebrities and gangsters alike started wearing pinstripe suits (see our favourite, Peaky Blinders). But the pattern reached its most popular in the '60s and '70s when actors, like Serge Gainsbourg, and musicians, like Mick Jagger, started wearing the pinstripe suit in a new way.
Adding Chelsea boots, wearing pinstripe blazers with jeans, and including a waistcoat all became popular ways to style the now-famous suit. Then, when the '80s hit, the pinstripe suit made its way back into offices in a more traditional way. Today, loads of menswear designers are working with pinstripes in different fits and silhouettes, including Moss, of course.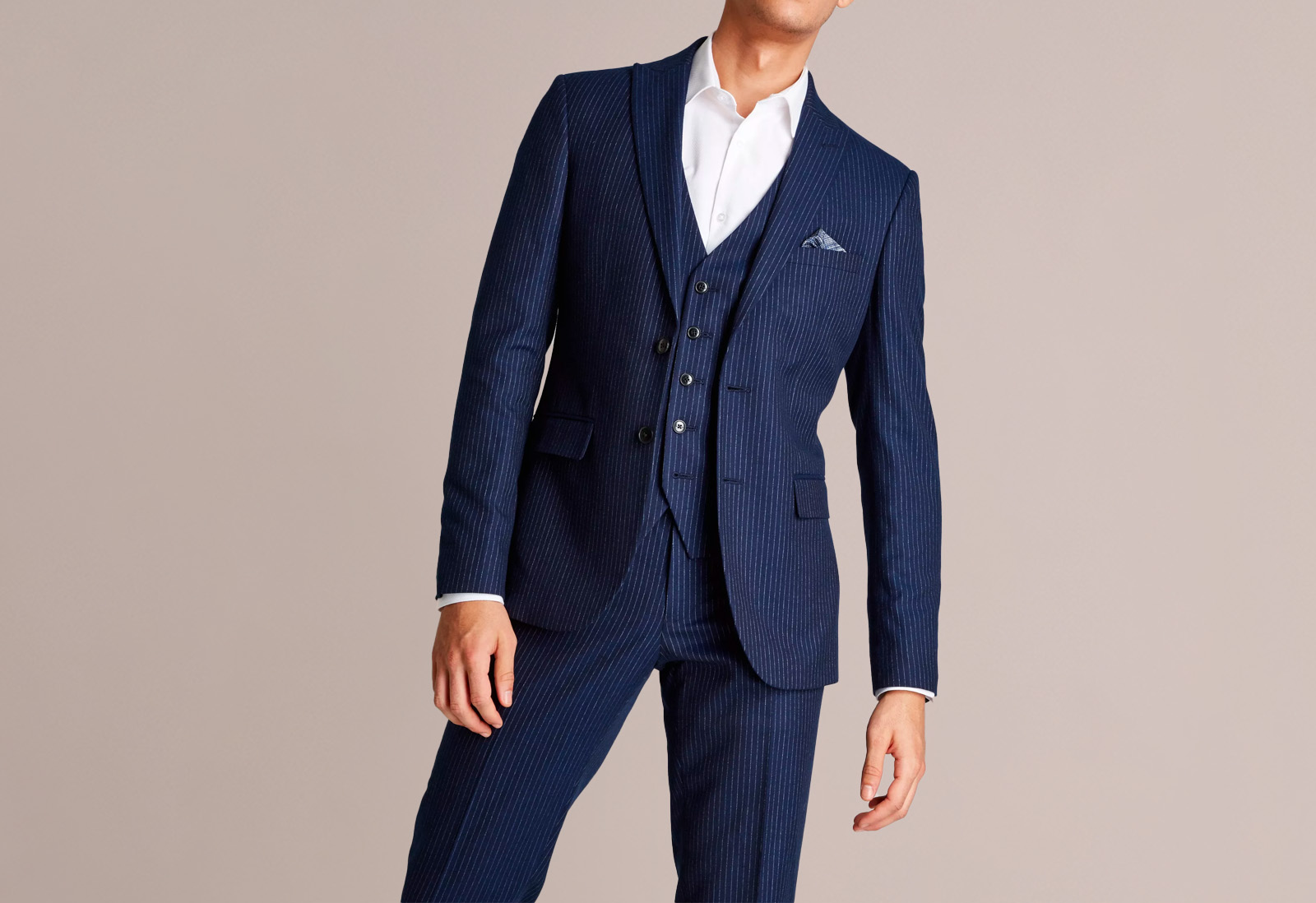 Where to wear a pinstripe suit
There really aren't any rules when it comes to wearing your stripes – you can wear them however and wherever you want. They're a semi-formal style you can wear for work, events, special occasions or whatever takes your fancy. Want some ideas on how to style them? Here's where you can wear a pinstripe suit.
Work
If you want a sharp, tailored look for work then you can't go wrong with a pinstripe suit in a classic colour like grey, black or navy. Pair it with a white shirt, brogues and a tie of your choice for an office-ready outfit that'll keep you looking smart and stylish in the office. They work just as well for an interview or if you want to put your best foot forward at a meeting or presentation.
Business events
Ready to make an impression at a networking event, business event or a sales event? A pinstripe suit can help you stand out, show your authority and feel more confident, especially if it's in a more formal setting. Pair with a matching waistcoat for a perfectly put-together look that'll have you ready to meet your audience.
The races
Looking for a subtle, classic style that doesn't stand out too much in the crowd at the races? That's exactly what pinstripes can do for you. It's a slick, sophisticated style that's ideal for a more formal event. Pair with a silk tie, cufflinks and a pocket square for a dressed-up look that won't leave you out of place at the races.
Weddings
A pinstripe suit is a great choice for a wedding, especially if you're going for a smart, tailored style. Darker charcoal grey suits and black suits work best for formal weddings, though the choice of suit is totally yours whether you're a guest or part of the wedding party. If in doubt, go formal with a three-piece suit and smart accessories.
Formal events
For the same reasons as the races, weddings and business events, pinstripes work for almost any type of formal event. They're understated, professional (if you need them to be) and look smart for any occasion. Go for smaller, closer pinstripes or subtler patterns if you want to look formal but a little more low key.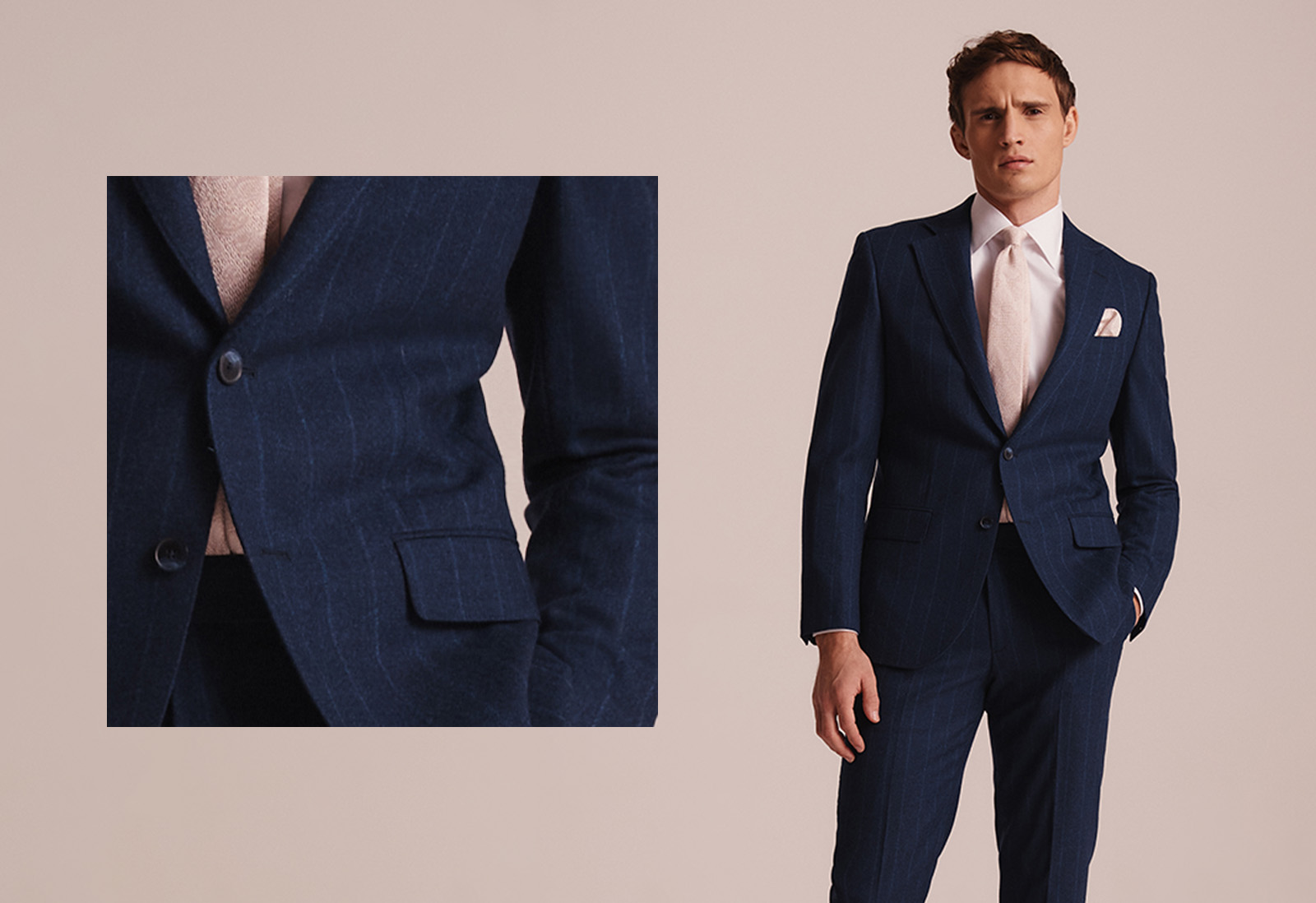 How to wear a pinstripe suit
How you wear a pinstripe suit is up to you. But we have some suggestions. Since this suit style has its roots in vintage trends, try not to overdo it with the accessories that call on that same trend. So, no fedoras, silk scarves or anything that'll make you look like you're heading to a fancy dress party.
Instead, opt for a crisp white shirt, styled open or with a tie. Add the matching waistcoat and tonal accessories to let the stripe stand out. Or, dress it down with a merino roll-neck jumper or even a T-shirt. Then, for shoes, go with a sleek, white trainer if you're feeling casual, or choose a minimal Oxford shoe to dress it up.