Below, we unpick the tuxedo and all its parts so you'll know you're wearing the right thing next time you get a black-tie invitation.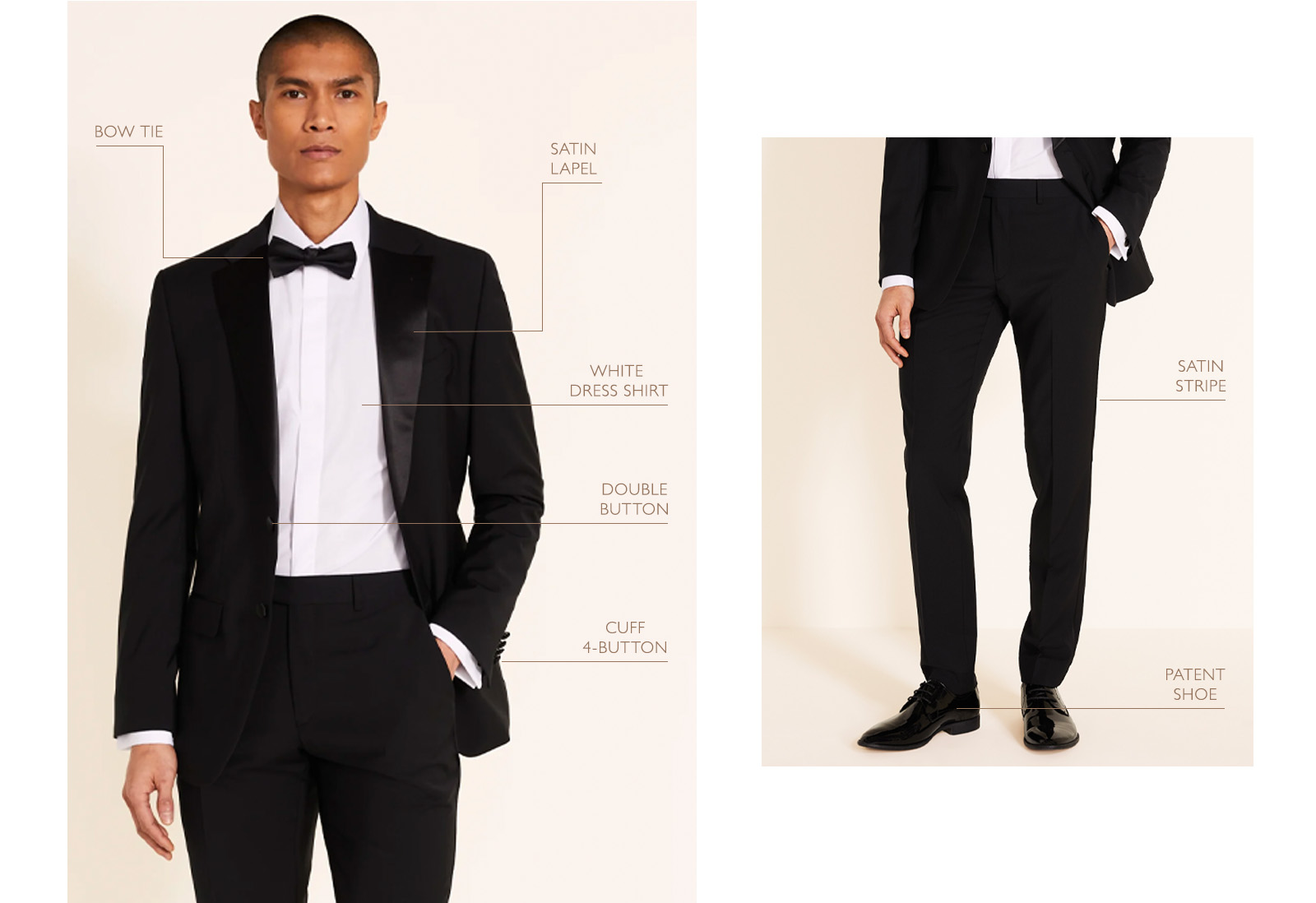 FIRSTLY, IS IT A TUXEDO OR A DINNER SUIT?
 It's actually just in the name. In the UK, we traditionally say dinner jackets; across the pond, they say tuxedos. But now you'll find it called a tuxedo everywhere more and more.
OK, SO SUIT OR TUX?
Both are pretty smart, right? Yes, but the real difference between a tuxedo and a standard suit is that one is more dressed-up than the other. It comes down to satin – tuxedos and dinner jackets have it, suit jackets generally don't. You'll usually see satin adding elegance to the lapels, buttons and pockets of a tuxedo jacket. The satin is black, pretty much universally. So even if you go for a tux in burgundy velvet or navy wool, it'll probably have black satin detailing. The main body material can have a slight sheen too, which you don't normally see on standard suits.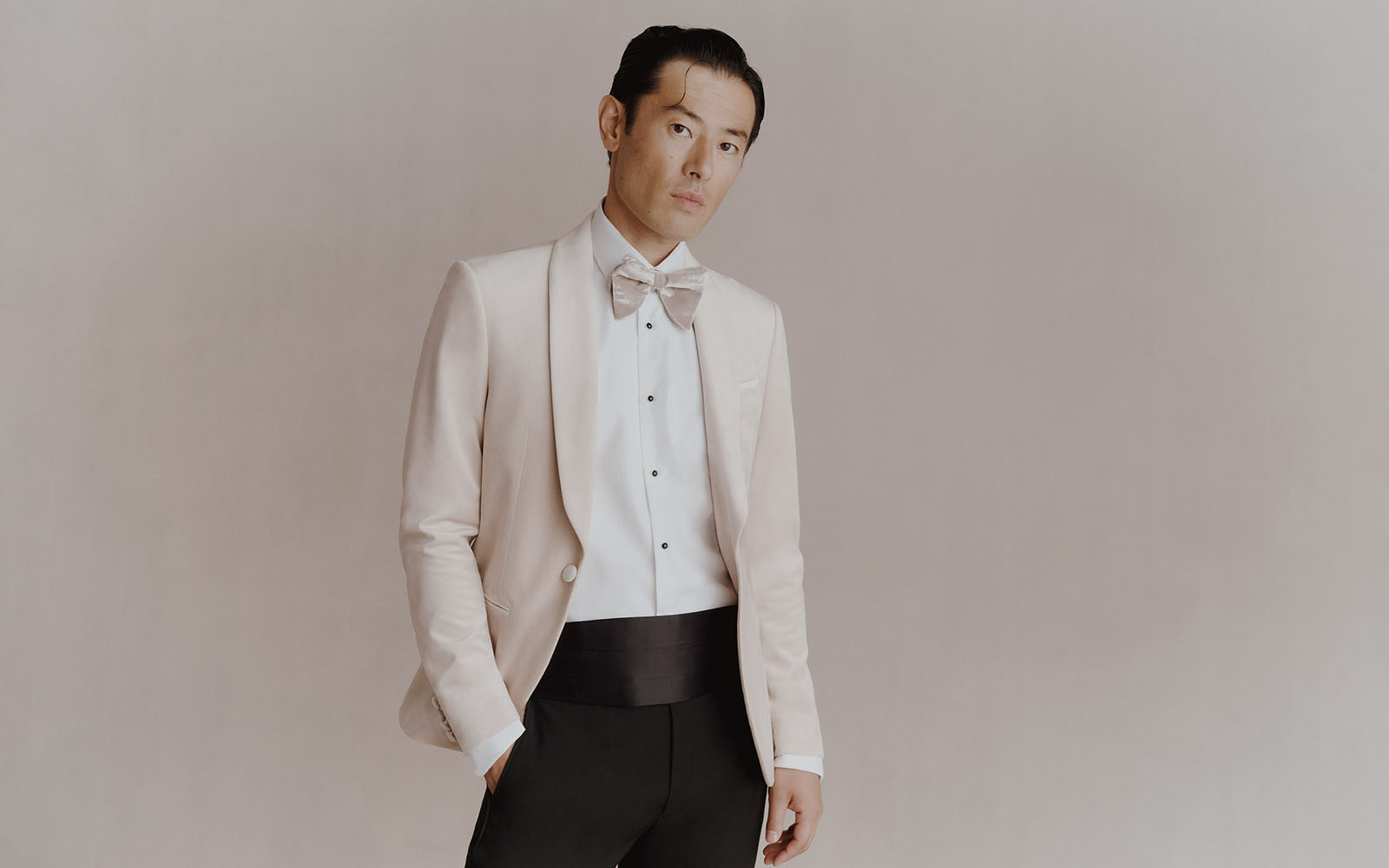 The lapels of a suit and tux are where the lines start to blur. Both evening suit jackets and dinner jackets can have notch and peak lapels, with peak lapels generally standing out as the dressier option. The difference comes with shawl lapels. These are the single pieces of material that sit in an unbroken curve from your collar to your waist, and they're only seen on tuxedo jackets.
You're also more likely to see a single-button fastening on a tux and a two-button fastening on a business suit. It's because, broadly speaking, the fewer buttons there are on a jacket the more formal it is. Both dinner jackets and suit jackets can be double-breasted, so it's best to look at the other pointers to decide which side of the fence it sits on.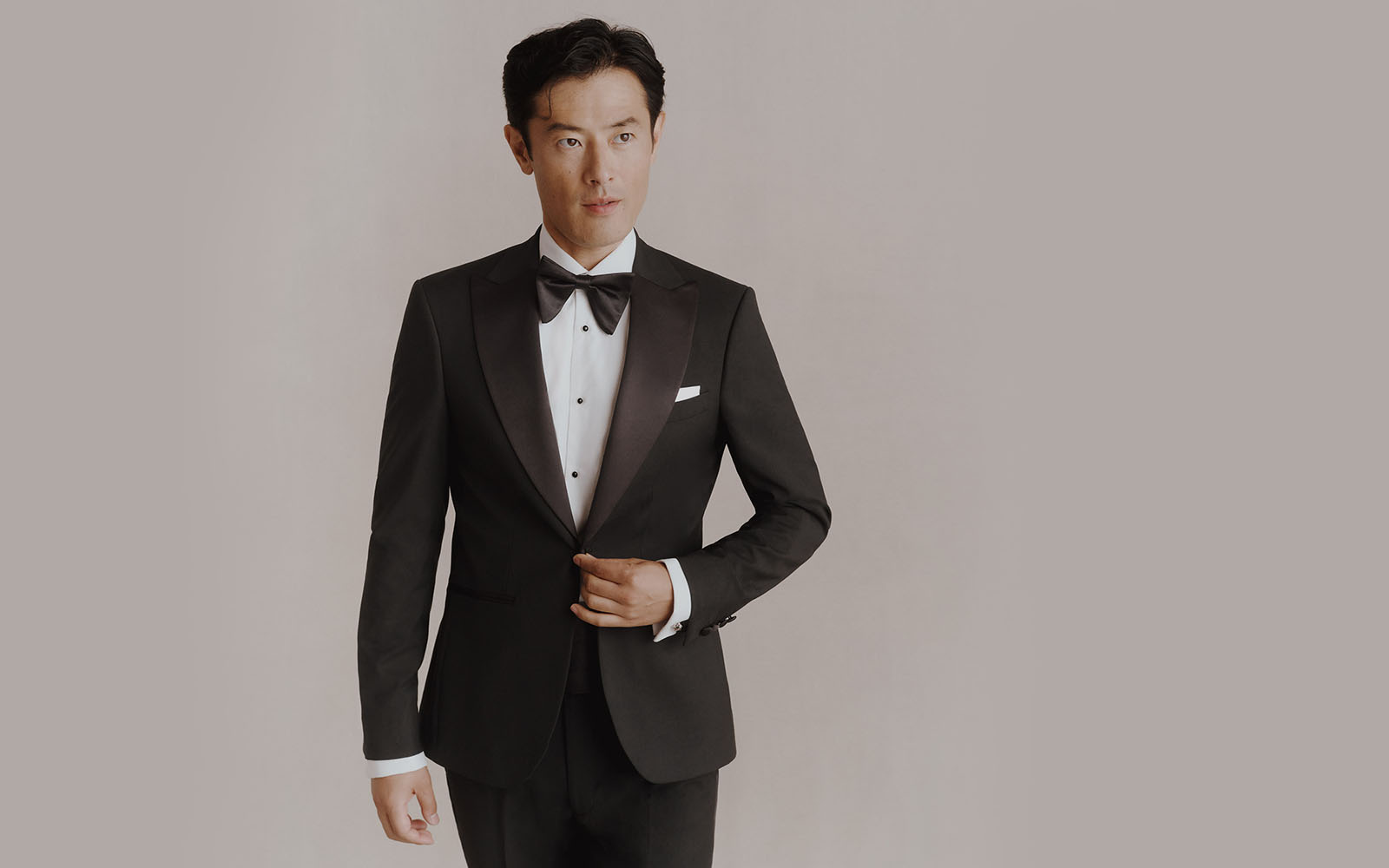 HOW TO STYLE A TUXEDO THE CLASSIC WAY
For black-tie invitations, you've got a dress code to follow. This actually makes styling your tux pretty easy if you want to follow the rules.
The classic partner to your tux is a white dress shirt – it can have either white or black buttons, and will sometimes be pleated down the front. Choose a classic collar, saving wing collars for white-tie, and remember your cufflinks because your shirt will probably have double cuffs too.
Then, add a bow tie (learn how to tie a bow tie here). Play it safe with black or let it be the talking point of your outfit with something bigger or brighter. Finish off your accessories with a white pocket square in a flat fold or in a neat ruffle. You can wear a cummerbund if you want to but it's not necessary.
Finally, choose a pair of dress shoes in black leather or patent, and give them a good polish the night before.
HOW TO DO BLACK TIE YOUR OWN WAY
Rules are good and all, but we think the best looks exist outside the dress code. Try a trending velvet jacket in a jewel shade (or something even brighter). How about flipping the monochrome palette with a white dinner jacket worn over a black shirt? Something more relaxed more your style? A fine woollen rollneck looks just as refined as a shirt and bow-tie, but is all about comfort.