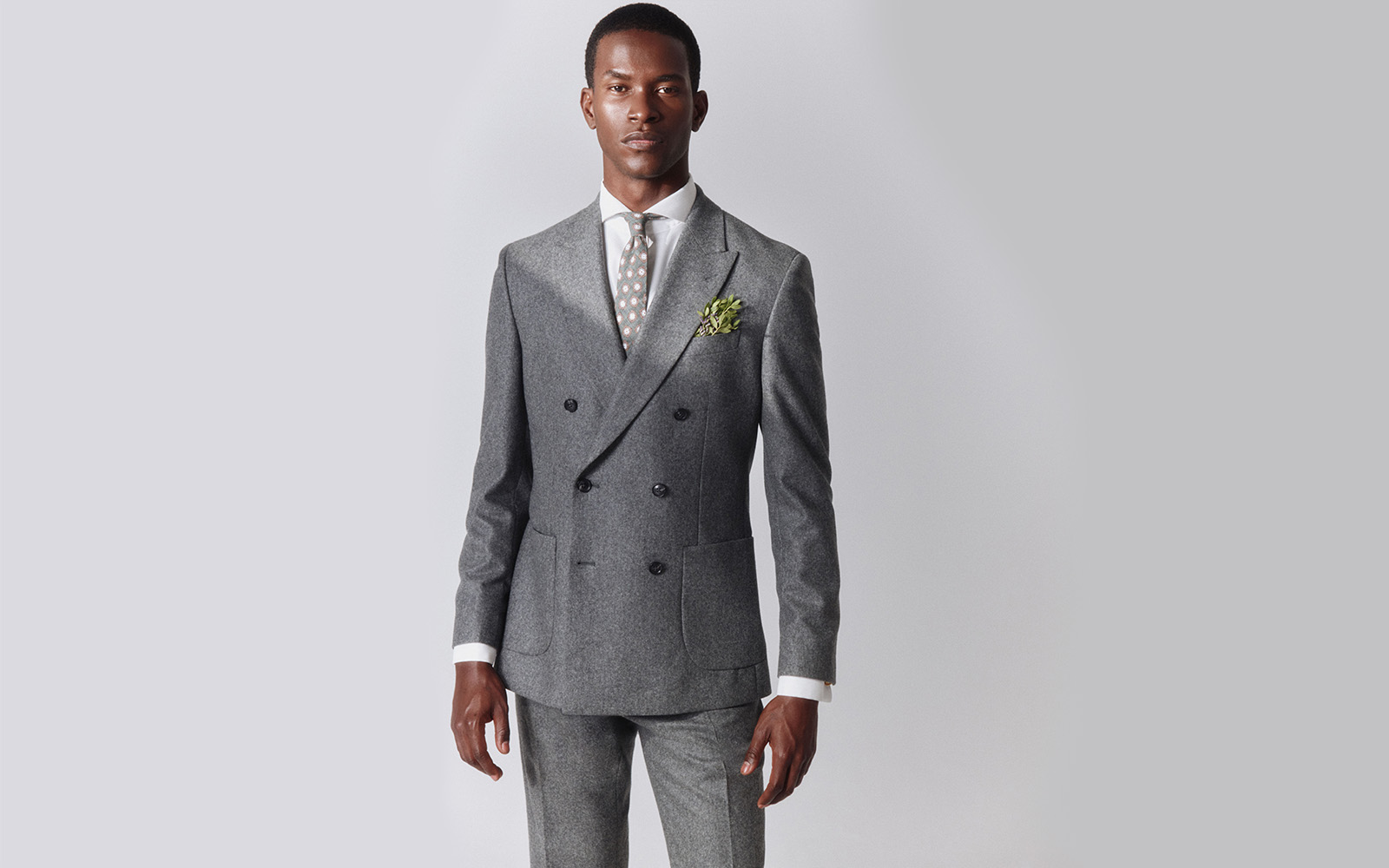 WONDERING WHAT WINTER WEDDING OUTFIT TO WEAR?
Like any wedding you're invited to, a winter wedding is a great excuse to pull out your finest. But it's also a chance to lean into all the best bits of winter wedding outfits when it comes to menswear. Think thicker fabrics, after-dark dressing, stylish men's boots and a really great winter coat.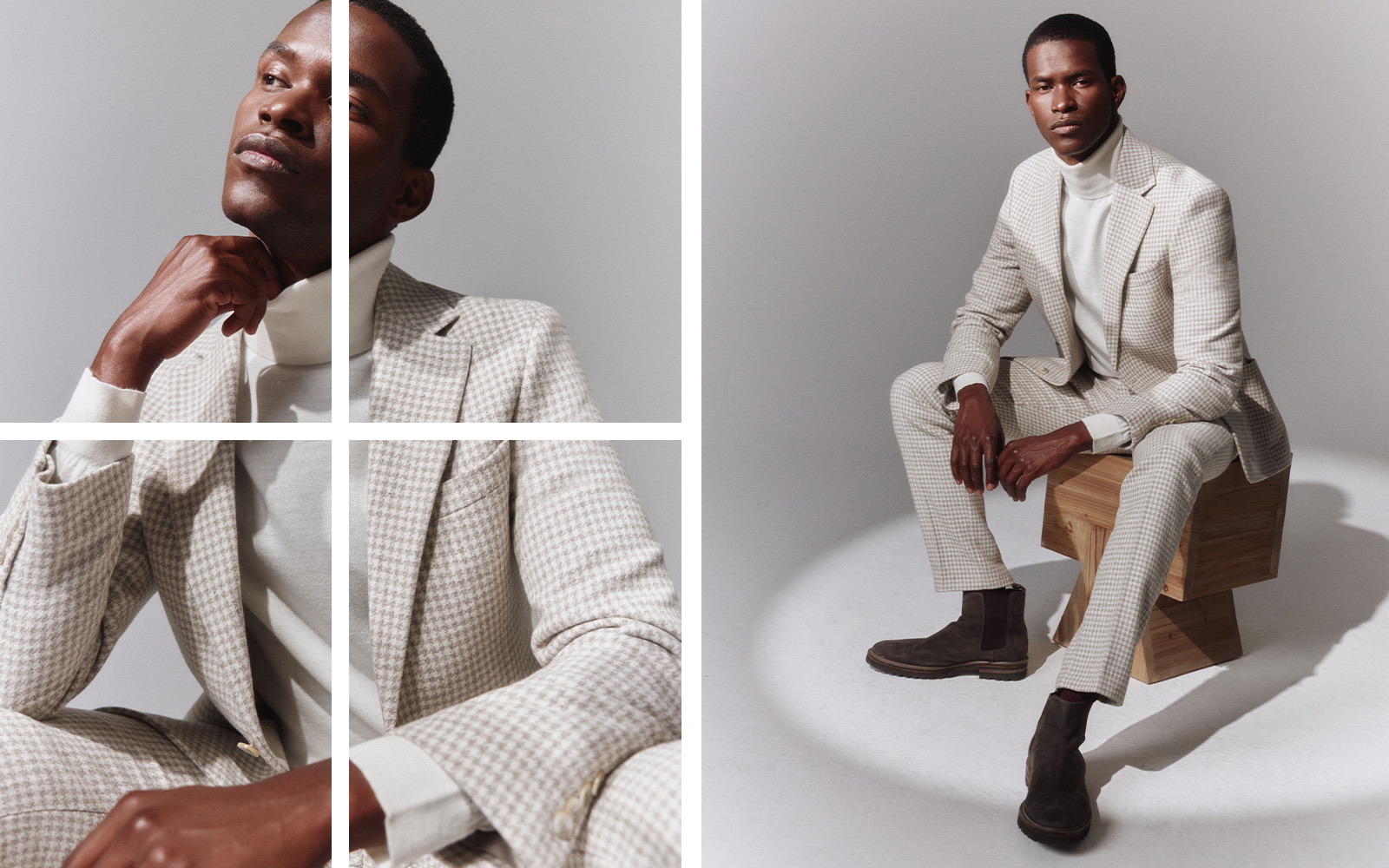 WINTER WEDDING OUTFIT IDEAS
If you've been invited to a UK wedding in the next few months, now is the time to make the most of wintry woollen fabrics like Donegal, tweed or herringbone. These look great as a 3-piece, or a patterned two-piece like our stone houndstooth suit. Both of these outfits are absolutely ideal when it comes to layering too – pair yours with a merino roll neck to keep you warm, so a slightly draughty church, waiting outside to throw confetti or enjoying the dance floor can all be done a little easier.
Tailoring cut from this trio of textiles is a great alternative to the usual lightweight wedding offerings, especially at this time of year. Having such a dense weave, they're brilliant cold-wedding options as they'll trap heat in and keep wintry chills at bay.
DO I HAVE TO WEAR A SUIT TO A WEDDING?
In short, no. Though suits are usually the go-to for most wedding guests, there are plenty of opportunities to look sophisticated without the need of a two-piece.
For weddings that are less on the formal side, or where you're an evening guest, you can keep it more casual. Think smart trousers, a fitted roll neck jumper or a casual shirt, smart shoes and a jacket of your choice. A blazer or suit jacket, such as our white cord jacket, doesn't need to match your trousers and you can easily take it off to change up your look.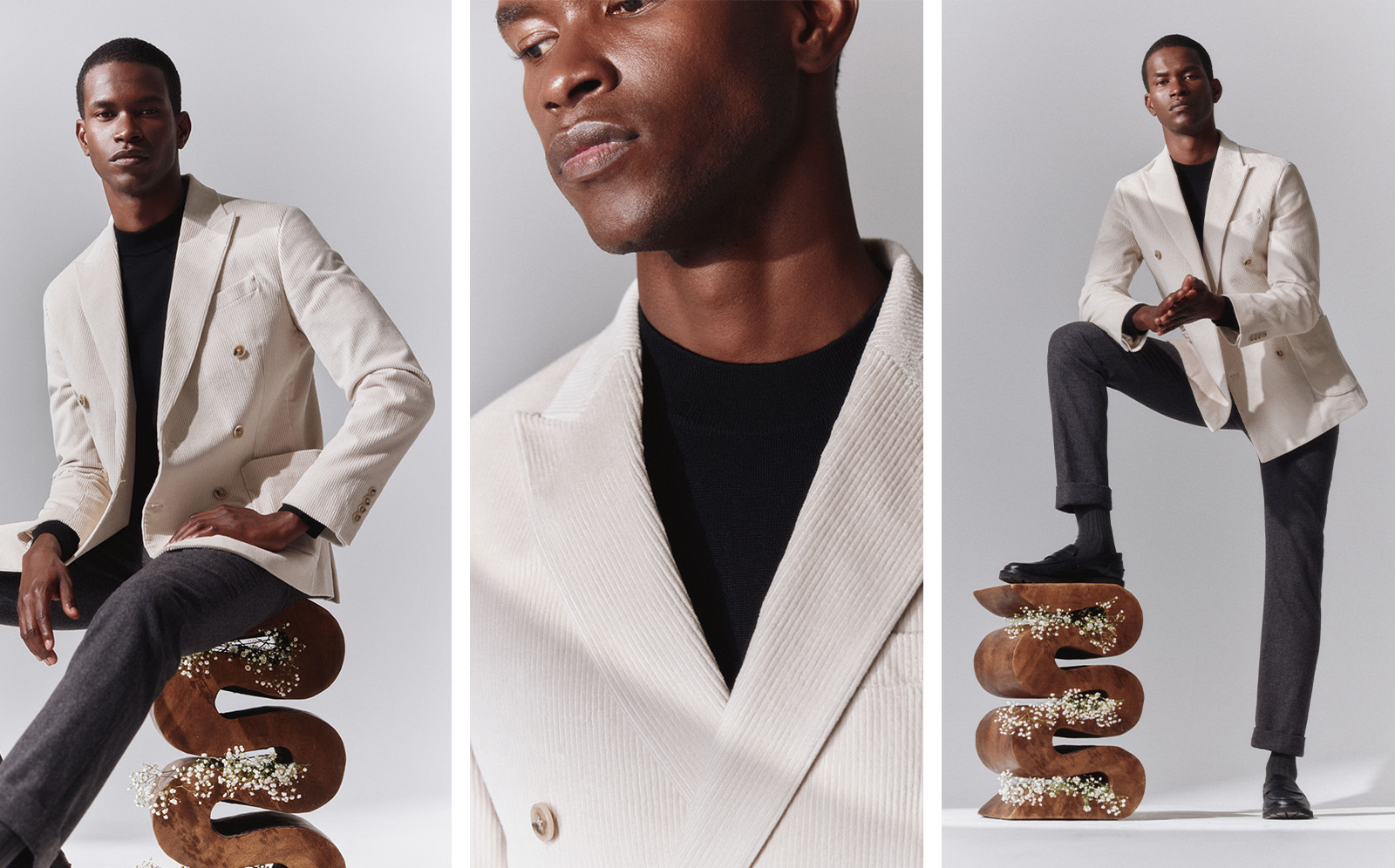 WHAT IF THE WEDDING INVITE SAYS 'BLACK TIE'?
If it's been made clear you're expected to turn up in black tie, there's little leeway for dodging this specific dress code. But as daunting as it might sound, it's actually a really easy rule to follow because, in a way, the decision about what to wear has already been made for you. It doesn't have to be boring – here's how to take on black tie without it feeling dull or you're dressed like everyone else in the room.
That doesn't mean you can't do it your own way, though. Sure, you can play it safe and stick to a traditional men's tuxedo like this slim-fit notch lapel number, but feel free to bend the rules with a tux jacket in coloured velvet over a fine-knit rollneck instead.
CAN I WEAR A COAT TO A WEDDING?
As with most weddings, there's often a fair bit of hanging around outside waiting for the bride or groom. Worse still, you might find yourself listening to unending declarations of love while sitting inside a chilly venue.
Here's where the welcome addition of a suitable piece of outerwear – a well-cut overcoat like this double faced epsom – will come in handy. Like we already said, layering is key when it comes to getting a winter wedding outfit right. Paired with, say, our sage flannel suit, your coat will keep you insulated from the winter weather and prove that you can look both warm and wedding-appropriate at the same time. It's a total finishing touch to your outfit that doesn't have to be a one off.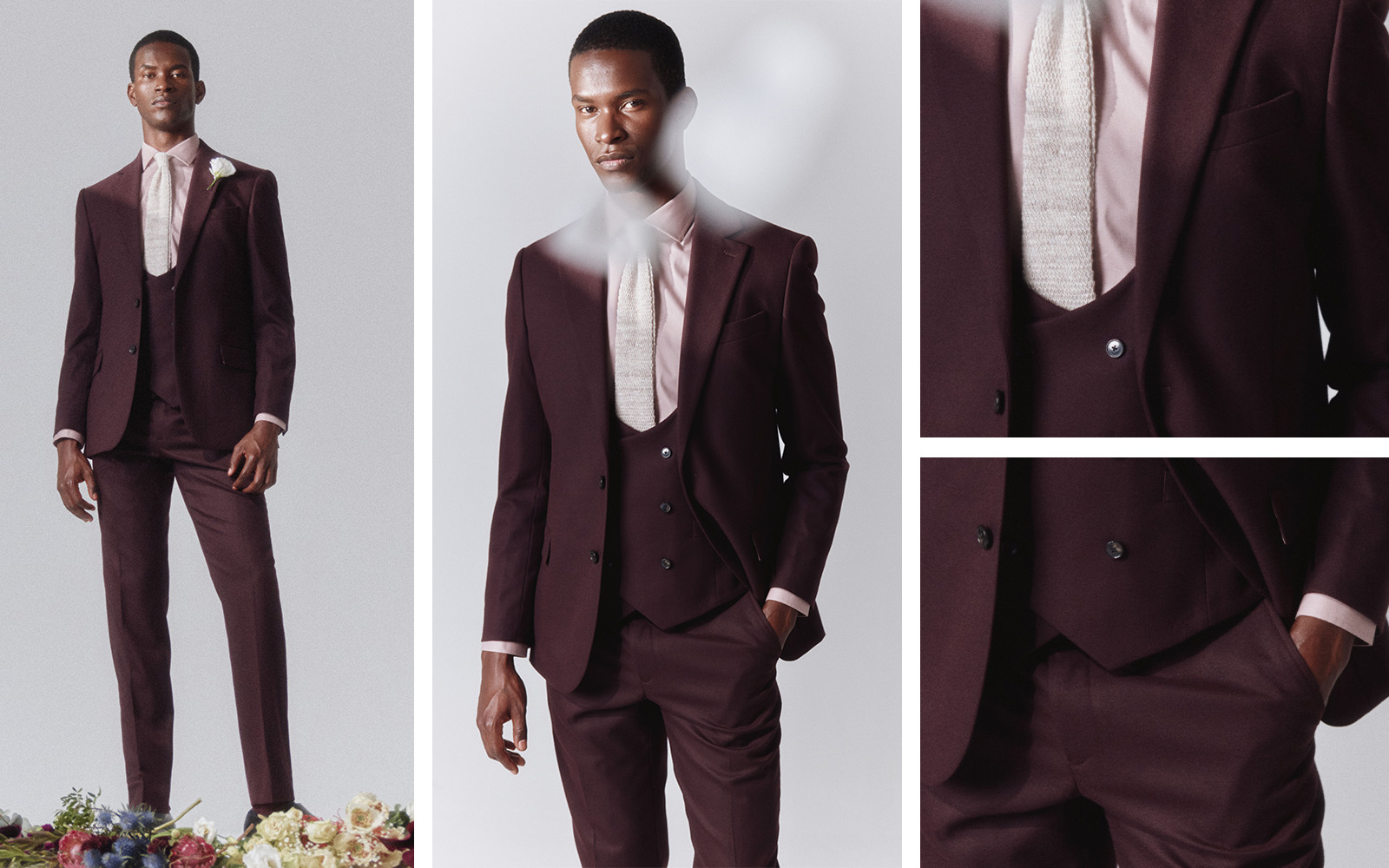 CAN I WEAR COLOUR TO A WINTER WEDDING?
Absolutely. A winter wedding is the perfect opportunity to bring out those deep hues that work so well for the season. Plum, olive, copper and sage are just some of the colours that really shine in the winter months, our claret flannel suit a prime example. Crafted from a comfortable stretch flannel (perfect for long days at the wedding venue), it can be worn as a smart three-piece or paired back as just the jacket and trousers. With a pale pink shirt and champagne tie to finish, you'll feel put together and look the part too.
I'M GOING TO A DESTINATION WEDDING – WHAT DO I WEAR NOW?
Lucky enough to be invited to a set of nuptials somewhere hot and exotic? No-one said a winter wedding had to be cold! A lightweight linen suit is your best bet. But just because this will probably be the most relaxed suit you'll ever own, don't fall into the trap of wearing a suit that's baggy and shapeless – look for something lightly constructed in a trim fit. You can always experiment with different colours and patters for your linen if the neutral look just isn't for you.
If the wedding you're going to is so semi-formal it's almost laid-back – like if they're getting hitched on a beach – leave the tie at home and wear your suit with a crisp white shirt or one in a printed floral design. And just because the weather is going to be undoubtedly hot, that's not an excuse to go barefoot; finish your outfit off with a pair of beach-friendly casual shoes.