Getting married somewhere sunny? You'll need a suit that can hold its own in the heat as well as the style stakes. If you need some ideas for your destination wedding, you're going to want to keep reading.
Why do people get married abroad?
A destination wedding is pretty much what it sounds like: getting married away from where you live, often at an overseas location. This usually means a little more planning and co-ordination but can be completely worth it to tie the knot in somewhere that's meaningful to you or just provides some stunning scenery that you can't get in the UK.
The destination you choose might hold some memories for you as a couple, it might be iconic for weddings (we're looking at you, Las Vegas) or it might be closer to family and friends. Even taking the cost of travel and accommodation into consideration, it can be cheaper to head overseas to get married vs. the UK (especially if it means a smaller wedding party).
One of the extra logistics to think about is your wedding outfit. You need something that'll travel well, is available before you travel and works for the climate where you're going. We suspect that most of the time, people choose to get married abroad to skip the typical British weather and guarantee sunshine on their wedding day.
Let's take a close look at some of the most popular places to get married overseas and some of the style challenges they bring with them.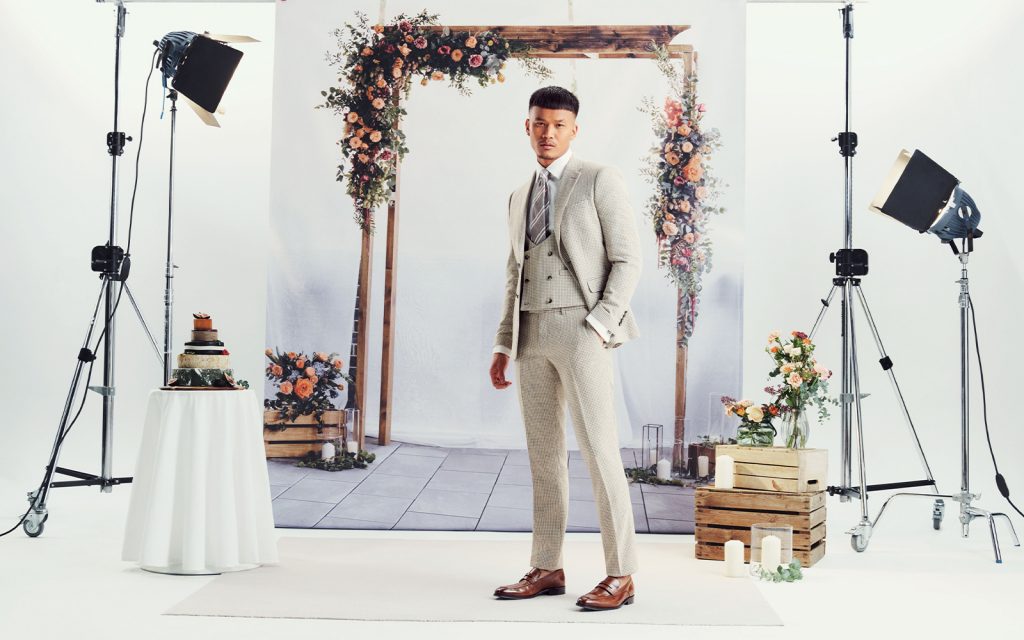 Popular locations to get married overseas
According to Hitched, some of the most popular wedding destinations in 2022 include:
• Istria, Croatia
• Phuket, Thailand
• Amalfi Coast, Italy
• Ibiza, Balearic Islands
• Lisbon, Portugal
• Santorini, Greece
• Var, France
• St Lucia, Caribbean
• Marbella, Spain
• Dubai, United Arab Emirates
Whether you're heading to these sunny destinations for a beach wedding, getting married in a villa or a stately home, heading outdoors or getting married in a beautiful hotel, it's worth thinking about this when it comes to your style choices. A tweed suit looks fantastic as a wedding outfit for example, but it might not be the most practical choice if you're getting married on the beach at midday. Go for lighter fabrics like a linen suit, or relax it altogether and go for shorts and a shirt.
If you're planning a destination wedding at a stately home or a swanky hotel, you might want to up the style stakes and look at a tuxedo, a traditional morning suit or a 3-piece suit so you can layer as needed. That way you can adjust your outfit as the day goes on, or swap into something less formal later.
Planning a more laid-back wedding day? If a Las Vegas-style wedding or a big day in a big city is more your thing, you can go a bit more contemporary with a checked slim fit suit or even play with colour in a pastel suit.
Wedding outfits for men getting married abroad
Remember, it's your wedding day and you get to choose what you want to wear. What's most important is that you feel comfortable ad confident at your wedding, wherever you get married. Remember you can choose to get your wedding outfit tailored, custom made or you can hire a wedding suit depending on what your priorities and your budget are.
Here are some of the most popular styles of wedding suits for men, especially if you're planning a destination wedding.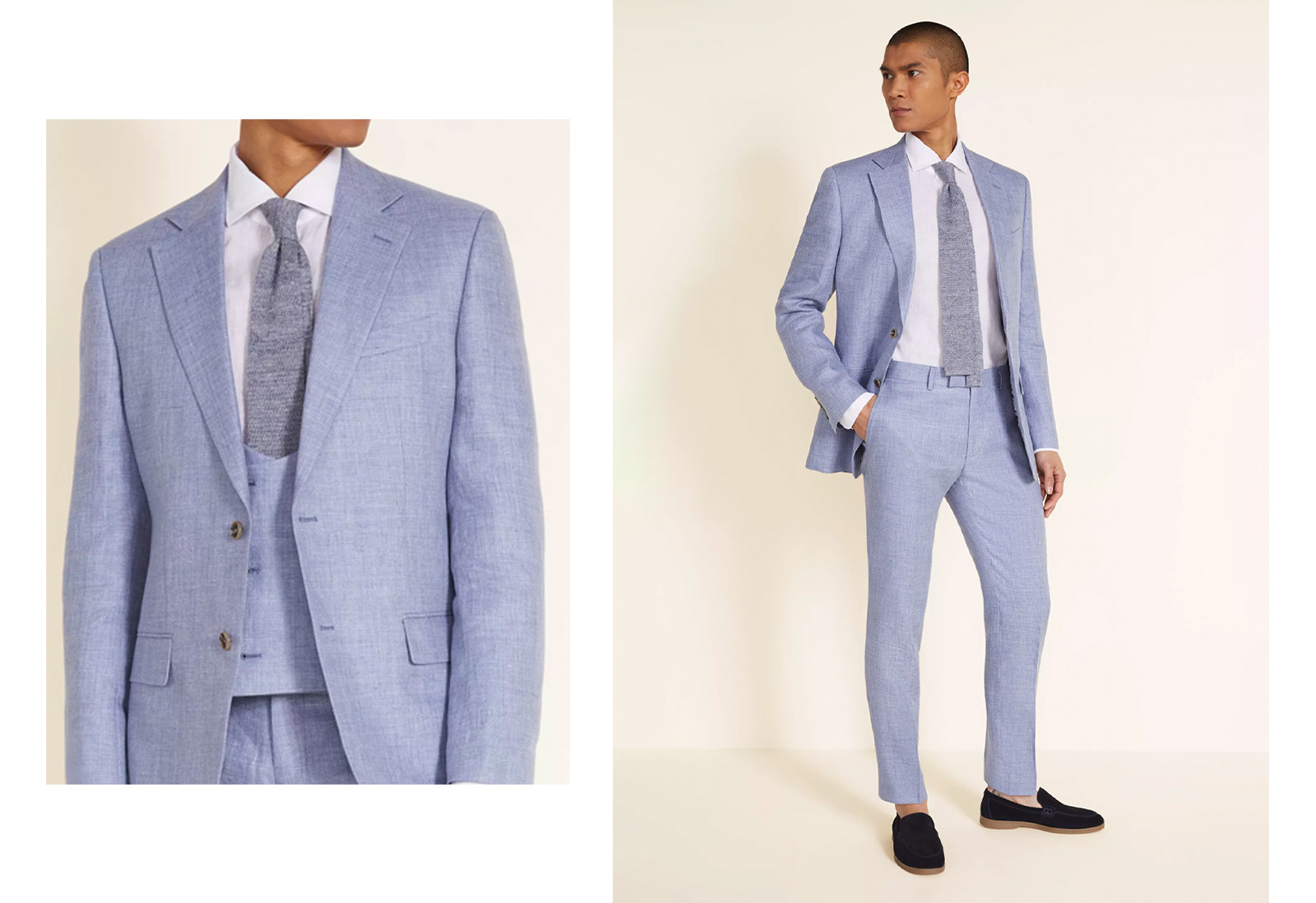 Linen suit
A linen suit is ideal if you're going for a relaxed, more simple wedding day, whether that's on the beach or in a small town. It can be better for keeping cool than some other styles of suit as it's more lightweight and breathable than other fabrics. Linen tends to travel well and is pretty low maintenance. It's maybe not for you if you want a perfect, pristine look on your wedding day but it'll definitely make sure you can relax and enjoy yourself.
When it comes to styling your suit, pair a light-coloured linen suit with a light shirt for a relaxed look. You can add a pocket square for an added touch, and you can even mix a linen suit with a linen shirt.
Pastel suit
A pastel suit is a great style choice for warm-weather weddings, especially more contemporary and modern venues. You might find that choosing a colour for your suit (rather than black or grey) actually works better with your skin tone or hair colour, too. Not everyone suits the same colours. Whether you go for a pink suit, a blue suit or something else entirely, try out some different hues and styles to find your perfect fit.
Style with minimal accessories and try out a matching or contrasting waistcoat if you want to add a touch of refinement to your pastel suit.
Waistcoat
It might sound like an odd choice to add in an extra layer to keep cool, but a 3-piece suit with a waistcoat is ideal for adding or taking away layers depending on the weather. It makes it easy to take your look from day to night, and means you still look put together for the more formal photos (if that's the look you're going for). Some people skip the jacket altogether and go for a trousers and waistcoat combo, which looks stylish and more relaxed.
You can choose a matching waistcoat or one that contrasts completely – check out our waistcoat style guide to find your perfect fit and fabric.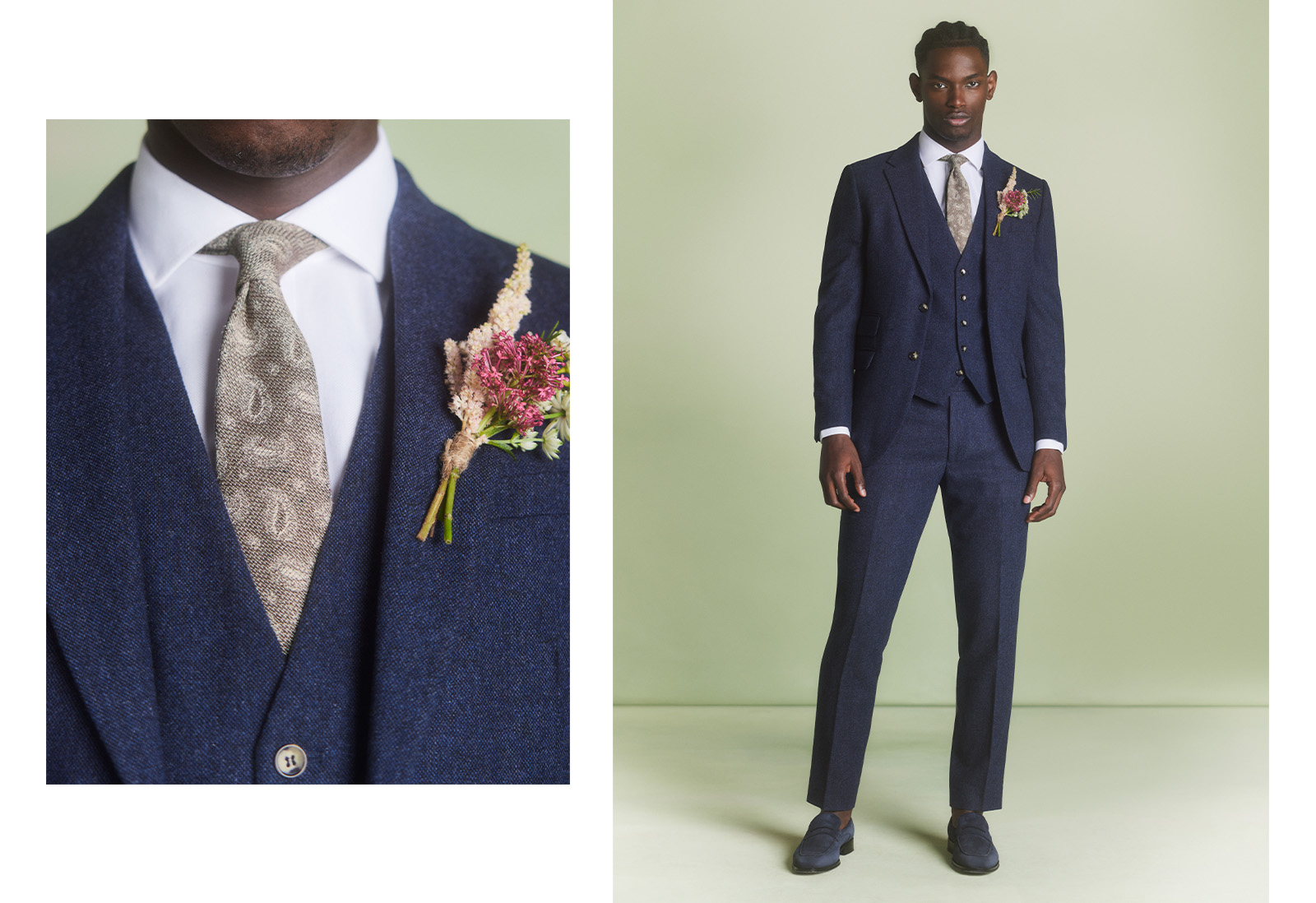 Some final tips for getting married abroad
First of all, you should make a list of what you need to take with you – you don't want to be halfway through a long-haul flight and realise you forgot to pack your suit. Think about everything from shoes to accessories and even your wedding party's outfits. Have a backup plan just in case anything goes wrong with your luggage and keep your wedding outfits apart if you can just in case everything gets lost together.
Keep an eye on the weather for your destination, too. Even if you're heading somewhere with guaranteed sunshine, sometimes just being aware and being able to plan ahead can make a big difference. The same for things like taking a mini sewing kit with you and checking that you have an iron at your hotel. Make sure you check your flight times before you set off as a big priority.
The most important tip for a destination wedding? Enjoy your special day in the beautiful surroundings that you've chosen.
Shop men's wedding suits for all occasions and destinations at Moss.