Moss Oxford Westgate
16, The Westgate
Oxford
OX1 1PB
Moss Oxford Westgate
16, The Westgate
Oxford
OX1 1PB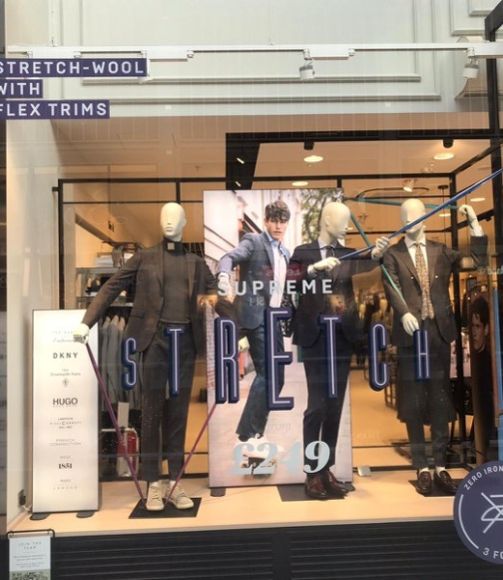 Find us
16, The Westgate Queen Street
Oxford,
OX1 1PB
Get Directions
Opening times
Monday 10am to 8pm
Tuesday 10am to 8pm
Wednesday 10am to 8pm
Thursday 10am to 8pm
Friday 10am to 8pm
Saturday 9am to 8pm
Sunday 11am to 5pm


Telephone number
01865661745
Browse now
MEET OUR STORE MANAGER
Please introduce yourseld
Hi, I'm Ben and I'm from Staffordshire.
How long have you been at Moss?
I started at the end of 2021.
Why do you love working at Moss?
I think it's purely what we do. The company slogan is all about catering to those on-point kind of moments. The business, as well, because I come from a background of luxury retail and it's so busy and the customer experience instore is paramount. That's where I thrive. And it's not just about the products but our services, and offering a brand experience.
What makes the Oxford store special?
There are two things. The first is the team. Since I've been there, the team hasn't changed a lot, so it's given that consistency to the team, and confidence and ownership to move them forward so they feel more comfortable. The second is the feel of the store, which is hard to put your finger on. I had customers come in recently, and they wiped their feet on the mat as they walk in. It's light, bright, and you can see all the colours. It's a place where you want to shop, and you don't always get that feeling in other stores.
What's your favourite part of the store?
The Styling Suite. I think it's important for what I've had in my experiences with other brands. It's a great feature to Moss as we move forward, to have that section at the back of the store and offer the experience of Custom Made, Hire and dresswear. It's an area you can take the customer to, they can sit down, they can have a drink, and it gives a nicer brand experience rather than just a shop.
Have you had any special interactions with customers lately?
It's more so a shift in the feeling of the store. The brand has been in Oxford for many years. But when it moved to the Westgate Centre, it was two stories with a huge floor space. And then, when we moved to the temporary unit, we went from biggest in the company to the smallest. But now we've made this transformation and although people have shopped here for many years, this is what they were waiting for.
What's your favourite thing to wear right now?
As a store manager, I like to be in a suit. But, we have the extensive causal range, and some of my colleagues do dress more causally. And now that I've been here for just over a year, I might start looking at more casual pieces. Where I used to wear a three-piece suit with a shirt and tie, I might wear a brighter suit I just bought without a tie, more of a smart-casual look.
Is there another place near the Oxford store you frequent?
Westgate itself, where the store is, has a rooftop terrace and a cinema, and they encourage customers to spend the day there. There's loads to do right here after you've done your shopping.
Nearby stores
Moss Reading Oracle
Monday 9:30am to 8pm
Tuesday 9:30am to 8pm
Wednesday 9:30am to 8pm
Thursday 9:30am to 8pm
Friday 9:30am to 8pm
Saturday 9am to 7pm
Sunday 11am to 5pm
Moss Swindon
Monday 10am to 8pm
Tuesday 10am to 8pm
Wednesday 10am to 8pm
Thursday 10am to 8pm
Friday 10am to 10pm
Saturday 9am to 9pm
Sunday 11am to 5pm
Unit 113-114 Great Western Designer Outlet Village
Swindon ,
SN2 2DY
Get Directions
Moss Newbury
Monday 9am to 5:30pm
Tuesday 9am to 5:30pm
Wednesday 9am to 5:30pm
Thursday 9am to 5:30pm
Friday 9am to 7pm
Saturday 9am to 6pm
Sunday 10:30am to 4:30pm