Moss Bristol
Unit 36
Bristol
BS1 3BX
Moss Bristol
Unit 36
Bristol
BS1 3BX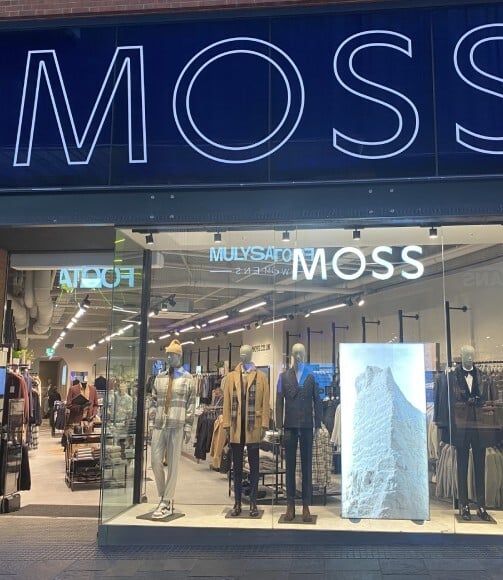 Find us
Unit 36 Cabot Circus
Bristol,
BS1 3BX
Get Directions
Opening times
Monday 10am to 8pm
Tuesday 10am to 8pm
Wednesday 10am to 8pm
Thursday 10am to 8pm
Friday 10am to 8pm
Saturday 10am to 8pm
Sunday 11am to 5pm


Telephone number
01172359629
Browse now
MEET OUR STORE MANAGER
Please introduce yourself
Hi, I'm Jamie. I was born and raised in the small town of Tetbury in Gloucestershire, about 45 mins north-east of Bristol.
How long have you been at Moss?
I started with Moss mid-October 2022.
Why do you love working at Moss?
Moss is leading the way with menswear, so being a part of that is really exciting. The mission at Moss is to delivery an outstanding customer experience, so being able to coach and develop my team to deliver that outstanding service drives me each day. I'm very much a people person, so interacting with customers on a more personal level is excellent.
What makes the Bristol store special?
The Bristol store is unlike most other Moss stores, because we're a sort of template for how all the new Moss stores will be in the future. Customers will notice the wider range of casualwear, formalwear and dresswear, so we can accommodate whatever needs they have. With the wide diversity of customers in and around Bristol, it's perfect.
What's your favourite part of the store?
My favourite part has to be the Hire, Custom Made and dresswear area. It's a different feel from the rest, designed to give a more personal experience away from the standard retail lines.
Have you had any special interactions with customers lately?
Me and my team strive to make every interaction noteworthy, but one that stands out was a woman looking to find a suit. We were able to take her to our Custom Made area and build her a suit to her exact fit and personality. To be able to provide that service to every individual is great. "I was SO impressed by Jamie and Alice's welcoming approach. Alice spent a long time helping me to understand your (awesome) selection and guiding me through the process to get a couple of suits I'm really pleased with and excited to wear in a few weeks' time. The line of your work means that you probably already know what a difference the 'right' clothes can make - thank you to Alice and Jamie for helping me get there today, for the first time in many years."
What's your favourite piece in the collection right now?
For me, it has to the Blue Tailored Fit Herringbone Suit. It's a great fit, a great colour and an excellent choice for weddings.
Is there another place near the Bristol store you frequent?
The other shop I always seem to pop in to on a regular basis is Vans. As Bristol is my nearest City, I do spend a few nights out here, so the number place I go to is V-Shed just on the Waterfront.
Nearby stores
Moss Bath
Monday 9am to 5:30pm
Tuesday 9am to 5:30pm
Wednesday 9am to 5:30pm
Thursday 9am to 5:30pm
Friday 9am to 5:30pm
Saturday 9am to 5:30pm
Sunday 10am to 4pm
Moss Cardiff
Monday 9:30am to 8pm
Tuesday 9:30am to 8pm
Wednesday 9:30am to 8pm
Thursday 9:30am to 8pm
Friday 9:30am to 8pm
Saturday 9:30am to 8pm
Sunday 11am to 5pm
Unit Lg35, Bridge Street Arcade 11 St Davids Way
Cardiff ,
CF10 2EF
Get Directions
Moss Cribbs Causeway
Monday 9:30am to 8pm
Tuesday 9:30am to 8pm
Wednesday 9:30am to 8pm
Thursday 9:30am to 8pm
Friday 9:30am to 9pm
Saturday 9am to 8pm
Sunday 11am to 5pm
Unit 137 Upper Mall The Mall, Cribbs Causeway
Bristol ,
BS34 5DG
Get Directions